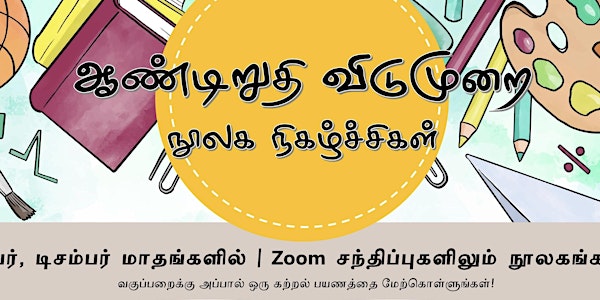 [Tamil Holiday Programmes] An Introduction to Popular Tamil Fiction
பிரபலமான தமிழ் புனைகதைகள் - ஓர் அறிமுகம்
About this event
உயர்நிலை 1 முதல் 5 வரையிலான மாணவர்கள், பிரபலமான சமகாலகப் புனைகதைகளையும், காலத்தைத் தாண்டிய அவற்றின் சிறப்புகளைப் பற்றியும் இந்தப் பயிலரங்கில் அறிந்துகொள்வர்.
Learn about popular contemporary stories and how they have transcended time to be known as the best of Tamil fiction. This programme is suitable for Secondary level students.
The programme will be conducted via Zoom. Meeting details will also be shared with a confirmation note 3 days before the programme.
(Meeting ID: 948 7840 0397, Passcode: 894467)
About the Speaker
Latha is the author of two collections of poetry in Tamil : Theeveli (Firespace) (2003) and Paampuk Kaattil Oru Thaazhai (A Screwpin in Snakeforest) (2004).
Her short story collection, Nan Kolai Seyium Penkkal (The Women I Murder) (2007) won the Singapore Literature Prize for Tamil Fiction in 2008. It was translated to English and published under the reworked title, The Goddess in the Living Room, in 2014 by Epigram Books. Her works have since been translated into French and German as well.
Her poems and short stories have been published in Words, Home and Nation, a multilingual anthology published by The Centre for the Arts and National University of Singapore (1995); Rhythms: A Singaporean Millennial Anthology of Poetry, published by the National Arts Council (2000); Fifty on 50 and Tumasik, published by the National Arts Council (2009); and various Tamil literary journals in India, Malaysia, Sri Lanka and France.
She has been interviewed by literary platform Writing the City and various news outlets such as The Straits Times and Yahoo! News Singapore. She has also been an invited panelist for the Singapore Writers Festival. She is currently the Associate Editor of Tamil Murasu, Singapore's Tamil daily newspaper.