Description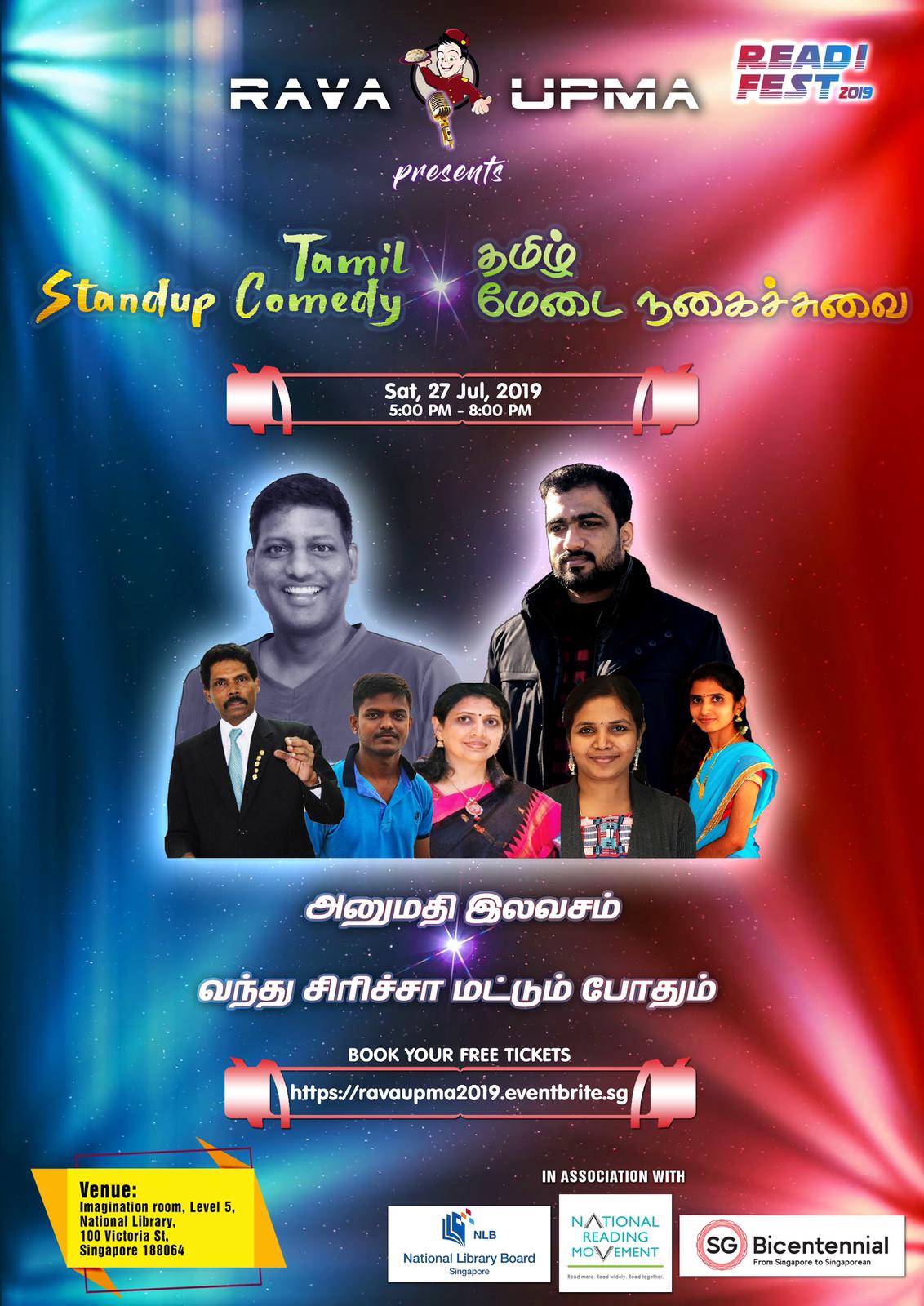 First ever Tamil Standup comedy open mic in Singapore.
Synopsis:

நகைச்சுவை என்பது அனைவராலும் ரசிக்கப்படும் ஒன்று. அதிலும் வயிறு குலுங்க வைக்கும் நல்லதொரு நகைச்சுவையைக் கேட்டு ரசிக்க உங்களுக்கு ஆர்வம் உண்டா? ஆமெனில், ஜூலை 27-ஆம் தேதி ரவா உப்புமா குழுவினர் படைக்கும் நகைச்சுவை விருந்துக்கு உங்களை அன்புடன் அழைக்கிறோம். சுமார் 2 மணி நேரம் நிகழவிருக்கும் இந்நிகழ்ச்சியில் பார்வையாளர்கள் வயிறு குலுங்க சிரிப்பதோடு மட்டுமல்லாமல், நல்ல தமிழைக் கேட்ட ஆனந்தத்தில் புன்னகை மாறாமல் செல்வார்கள் என்பது திண்ணம். சொந்த வாழ்க்கை அனுபவங்கள், சமூக நிகழ்வுகள் இவை அனைத்தையும் நகைச்சுவையாக சொல்லவல்ல நல்ல பேச்சாளர்களை உங்கள் முன் நிறுத்தும் நிகழ்ச்சி இது. வாசிப்பைப் போற்றும் வாசிப்பு மாதத்தில் வாழ்க்கையை நகைச்சுவையாகப் படிக்க நல்லதொரு வாய்ப்பு.

Everybody loves humour. On top of that do you want to hear humour that makes you laugh till you cry? If you do, then Rava Upma invites you to their comedy banquet on 27th July 2019 at the National Library Building. At the programme which will last for 2 hours we hope that you will not only be entertained till you laugh out loud but that it will also give you the satisfaction of going back home happily with the experience of having heard good Tamil. In this event we are going to feature good speakers who will talk about their personal life experiences and social incidents in a humour filled manner. This is a good opportunity for you to read your life in humour during the Read Fest month which celebrates reading.

There will also be a special reading session to celebrate reading. If you read for 30 minutes you will be doing a wonderful service. The longer you read, NLB will provide free books for children in need. We invite you to join us and have a fun time laughing at the humour and at the same time reading for charity.
Come Come Come. Laugh and make others laugh. and all in நம்ம தமிழ் !
We will have half hour of reading for charity (yeah! you can donate books to charity just by reading) followed by Tamil standup comedy acts that will give you non stop laughter!
Note: RSVP is to get an approx count of audience & their interest to attend the event. Seating is limited and seats are not reserved for any one. Seating is purely based on first come first basis only! However we will try to accomodate as many people as possible inside the room even if there are no seats to be seated! It will feel good to stand and laugh :-)