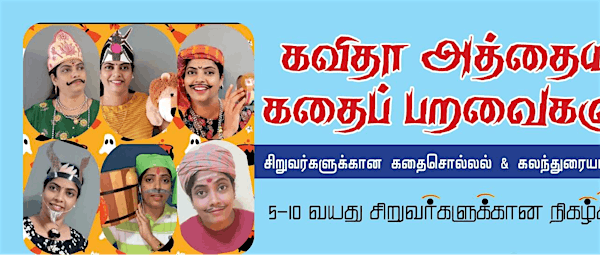 Tamil Storytelling: கவிதா அத்தையும் கதைப்பறவைகளும்
Tamil Storytelling: கவிதா அத்தையும் கதைப்பறவைகளும் / Kavitha Athaiyum Kathai Paravaigalum
By GoLibrary | National Library Board, Singapore
Date and time
Friday, July 14 · 7 - 7:30pm +08
Location
Sengkang Public Library - Programme Zone 1 Sengkang Square Compass One #03-28 & #04-19 Singapore, 545078 Singapore
About this event
கவிதா அத்தையும் கதைப்பறவைகளும்
Kavitha Athaiyum Kathai Paravaigalum
14 July 2023, Friday
Sengkang Public Library
Programme Zone, Level 4
7pm to 7.30pm
All are Welcome! Free Admission!
சிறுவர்களுக்கான கதைசொல்லலும் கலந்துரையாடலும்
5 - 10 வயது சிறுவர்களுக்கான நிகழ்ச்சி
ஒவ்வொரு மாதமும் இரண்டாம் வெள்ளிக் கிழமை  7மணி
10-Mar,14-Apr,12-May,9-June,14-July,11-Aug,8-Sep,13-Oct,10-Nov,8-Dec
About the organizer
The National Library Board (NLB) manages a network of 28 libraries, the National Library and the National Archives of Singapore. NLB promotes reading, learning and information literacy by providing a trusted, accessible and globally-connected library and information service through the National Library and a comprehensive network of libraries.