Description
Join us to celebrate the graduates of the TechLadies Bootcamp #4, our first JavaScript bootcamp!
If you're interested in coding or considering working in the tech industry, a tech company looking to hire, or a programmer who's looking to give back to the community, join us to celebrate this special occasion and be inspired by our 6 TechLadies!
TechLadies Bootcamp is a 12-week part-time accelerated learning program designed to help women with some basic programming background become professional programmers. These ladies were taught by industry experts as they create products for non-profit organizations with various JavaScript libraries and frameworks.
We recently concluded the TechLadies Bootcamp #4 where 6 ladies created applications for 2 organizations:
Centre for a Responsible Future (CRF), a non-profit that engages people and organisations in Singapore to adopt more responsible practices for a better future.

Sustainability Solutions Network (SSN), a non-profit that aggregates organizations and events that champion environmental issues in Singapore.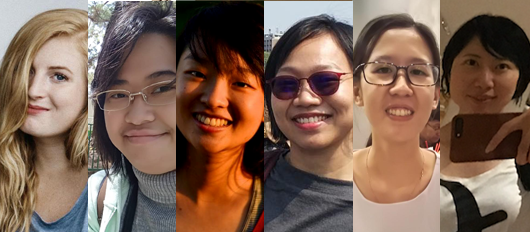 These ladies come from a variety of backgrounds, including a HR professional, an application engineer, a recent grad, a Youtuber, and more. But they all have one common goal - to learn how to code while contributing back to the community.
Join us for dinner and hear from our newly minted TechLadies as they show you the apps they have built and share lessons learned from their coding journeys!
Agenda
6:30pm: Registration & Light Refreshments
7:15pm: Introduction to TechLadies
7:25pm: Presentations by the TechLadies Bootcamp #4 grads + Q&A
8:25pm: Closing + Mingling
9:00pm: End
Event Details
Seats are limited and light meals are provided. Do note that this event is not a coding workshop.
As we are trying to improve the gender ratio of the tech industry, women are given priority for registration. We are for-women, but we are not anti-men. Men are still welcome to attend!