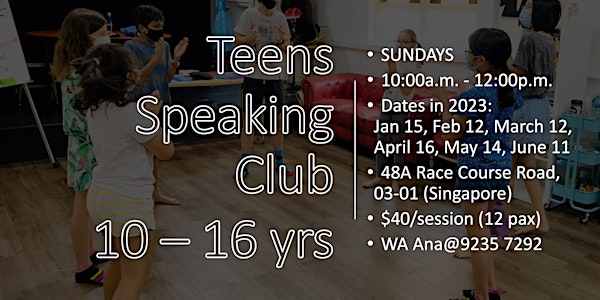 Teens Speaking Club
Monthly meetings for teens to develop their public speaking skills in a safe and fun space.
Date and time
Sunday, February 12 · 10am - 12pm +08
Location
48A Race Course Rd 48A Race Course Road Singapore, 218561 Singapore
About this event
Monthly meetings for teens to develop their public speaking skills in a safe and fun space.
SUNDAYS
10:00a.m. - 12:00p.m.
Dates in 2023: Jan 15, Feb 12, March 12, April 16, May 14, June 11
48A Race Course Road, 03-01. Singapore
$40/meeting (12 pax)
WA Ana @ 9235 7292
Meeting structure:
1. Prepared speakers, 1 to 2 speakers per meeting present a speech, prepared outside the meetings.
2. Non prepared speakers can participate by timing each speech, counting filler words and providing an evaluation of the speeches.
3. Mini-workshop on a public speaking or storytelling skill; everyone can practice the skill by doing impromptu speeches.
Fees
The fee per session is $40. Two people per meeting will be coached free of charge, to present a speech at the next meeting, over 2 coaching sessions with Ana Sousa Gavin, on zoom.
If you pay for 3 meetings in advance, the fee is $30 per meeting.
To register please contact Ana @ 9235 7292.
The meetings can run when there is a minimum of 4 teens registered.
Cancellation & Refund Policy
Unfortunately, no reimbursement is possible for any missed meetings.
About the Trainer
Ana Sousa Gavin is a public speaking coach and a member of Toastmasters. She creates a safe space for groups and individuals, to discover their strengths and build their confidence as public speakers. Her holistic approach to coaching results from a varied background in social and organizational psychology, fitness coaching, early years education, storytelling and improvisation theatre.
About the organizer
The Organic Storytellers is for anyone who is interested in improving their storytelling and public speaking skills. We hold workshops, courses, one-on-one coaching and storytelling events for adults and children. By participating in our events, you will learn how to structure your thoughts and how to connect with your audience, whether you are in a social or in a formal setting. It's a great place to find like minded people and make new friends.
Founded in 2016 by Ana Sousa Gavin, Storyteller and Storytelling Coach.