Description
Thai Literacy Workshop by Khun Kruu Noot, WisePolyglot
Date: Sat 18th August 2018
Time: 9AM-5PM
Training Venue: SLV Hub (few mins walking distance from Payah Lebar MRT)
Address:115 Eunos Ave 3 #02-04 Singapore 409839
Trainer/Coach: Khun Kruu Noot (www.linkedin.com/in/natalieguo)

This Thai Literacy Workshop is designed to share the overview of Thai reading and writing to Thai learners who are not new to speaking Thai but new to/in the mid of learning Thai reading and writing. The knowledge from this workshop will help you learn how to read and write Thai by yourself more systematically and effectively. Once you become literate in Thai language, with the ability to read Thai script materials and text Thai people directly in Thai without having to rely on any transliteration system or romanized Thai, it will be a lot more convenient for you to elevate your Thai language skills to เจ้าของภาษา jâo-kãwng-paa-sãa level (native speaker level) with full access to real Thai world's reading materials.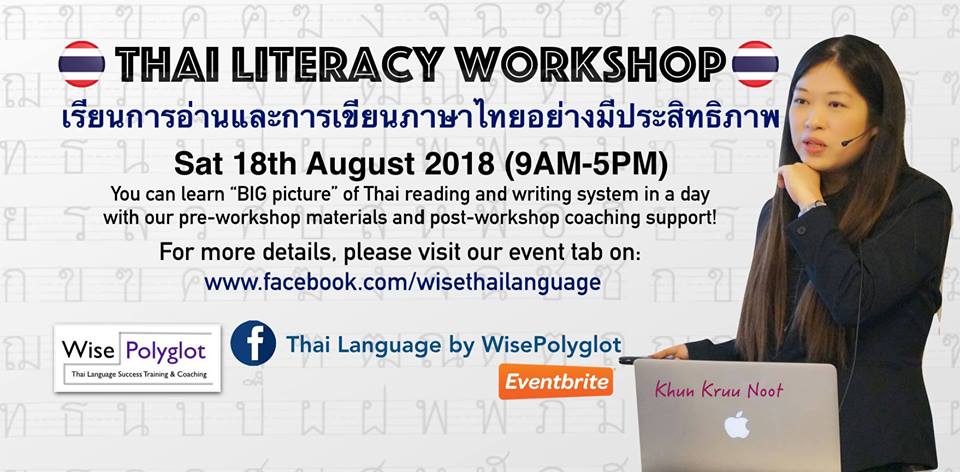 The main objectives of this workshop are to provide the participants with:
1) A systematic overview of Thai language reading and writing system
2) Effective Thai language learning tips and techniques to help you learn by yourself more effectively in a shorter time frame
3) Opportunity to practice Thai immediately after learning each topic through the highly engaging activities
4) Mindset for foriegn language learning success for sustainable long-term self-learning
5) Useful and practical insights and course materials to bring home to continue to expand your knowledge in the Thai language after the workshop
Course outline:
Introduction to Thai reading and writing
Thai consonants recognition & writing
Thai vowels recognition & writing
Thai vowels + the "Transformers"
Unwritten vowels
Thai tone marks
Dead syllables - "the killers"
Live syllables - "the life givers"
Tone rules in absence of tone marks
Tone rules in presence of tone marks
Tone rules application
Tone marks application
Reading practice
Special spelling rules
(อ นำ, ห นำ, ร หัน, unwritten ะ, โอะ, 20ไม้ม้วน)
The reading practice of common words
Special exceptions in Thai writing system
Words with tricky to read spellings

Pre-workshop material samples: www.facebook.com/wisepolyglotthai
WisePolyglot Thai Language Workshop Reviews:
www.facebook.com/pg/WisePolyglotThai/reviews

The course fee is $188 per person which is inclusive of:
1) A uniquely innovative Thai learning experience in a professional training venue by a professional coach
2) New knowledge in the workshop and learning materials to bring home
3) Certificate of workshop completion, issued by Khun Kruu Noot, WisePolyglot
4) Networking opportunities/new friendships
5) Lunch, refreshments and beverage
Learning any new language requires a lot of self-motivation, determination, and effort in integrating the language into the learners' daily life. Please note that our workshop is a totally different concept with any typical language course with series of lessons, therefore, we believe the big picture and concept of how to learn Thai effectively can be achieved in a day. If you are a motivated learner who would like to experience an unconventional way of learning Thai language to help you learn Thai yourself more effectively, then this workshop is for you.

Registration Options:
Option 1) Purchase a workshop ticket on Eventbrite by selecting "Order Now" button, key in your details and make payment via PayPal or Credit Card.

Option 2) RSVP on WisePolyglot website: www.wisepolyglot.com/events
and make payment via Paylah /PayNow or Bank Transfer options.

Refund Policy:
No refund will be made after the registration (If you are unable to attend the workshop due to some unforeseen circumstances, you can contact us to request for the change in participant's name or credit transfer)

Contact us:
PM Khun Kruu Noot: www.facebook.com/wisethaicoach
Email: coaching@wisepolyglot.com
Whatsapp: +65 81288531
PM Khun Kruu Noot: www.linkedin.com/in/natalieguo