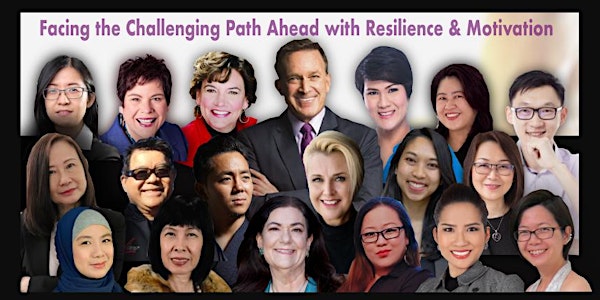 The 1st Virtual LIVE Women Executives Conference
1st VIRTUAL LIVE Conference for Women Executives- Together let's face the challenging path ahead with resilience! HRDCORP CLAIMABLE!
By EventsMastery Asia Pacific (In Alliances with Strategic Partners & Content Owners)
Date and time
Wed, 2 Jun 2021 18:30 - Sat, 5 Jun 2021 03:00 PDT
Refund Policy
Contact the organiser to request a refund.
About this event
The pandemic may have left many of us in challenging situations, emotionally, financially or in terms of our career. Things are just not the same as it was and we just need to learn to be better, to adapt to the abnormal or what we now call the NEW NORMAL.
What better ways to do that than to equip ourselves with new knowledge, new skills and and new ways of doing things, maybe different ways that can help bring more desirable and better outcomes.
Take this opportunity to learn from this 1st Asian Virtual Summit for Women Executives, regardless if you are working for someone else in the Corporate World or if you are your own boss.
In this Virtual LIVE Conference, we have many local & international Speakers, sharing and talking about facing the challenging path ahead...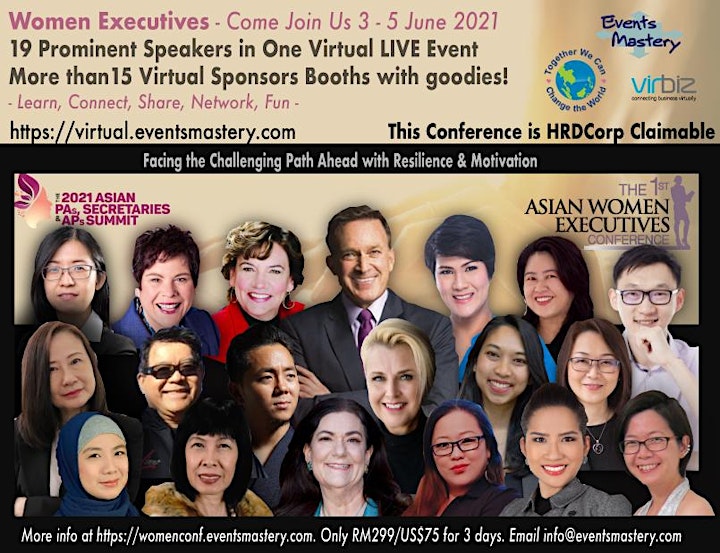 𝙎𝙤𝙢𝙚 𝙤𝙛 𝙩𝙝𝙚 𝙚𝙭𝙘𝙞𝙩𝙞𝙣𝙜 𝙩𝙤𝙥𝙞𝙘𝙨 𝙥𝙡𝙖𝙣𝙣𝙚𝙙 𝙛𝙤𝙧 𝙮𝙤𝙪 𝙞𝙣𝙘𝙡𝙪𝙙𝙚𝙨:
✔️Celebrate! The Secret to Winning in the New Abnormal by Scott Friedman, Certified Virtual Presenter, Former President of the National Speakers Association (NSA), Chief Celebration Officer at Friedman & Associates
✔️Building YOUR Resilience During Disruption by Christie Ward, Leadership Facilitator and Principal of The Impact Institute (CSP)
✔️Lead Where You Are: Developing Your Inner Leader to Make a Positive Difference and Drive Results by Ava Diamond, Fortune 100 Manager, Executive Director of a Not-for-Profit Agency, Organizational Consultant, Entrepreneur
✔️Emotional Disconnection is the Reason Why Relationship Fail. Learn How to Reconnect and Maintain a Relationship by Azah Yazmin, Counsellor, TV Personality, Master of Ceremony, Event Manager
✔️Can You Be Better Than Your Boss When It Comes To Social Media Stuff? Learn Now and Get Updated With The Latest Info! by Alexander Ang, CEO of Media Funnel Sdn Bhd, Certified NLP Practitioner, NLP Coach, Digital Marketer
✔️Managing Your Money with the Jar System by Adila Shakir, Professional Voice Over Artist
✔️Turn Stress into Positive Energy by Jessica See, Health Coach, Trainer, Author, Clinical Nutritionist, Stress Consultant- Health Coach International
✔️How to Build Undying Resilience in Life by Master Alan Thong, Asia's Leading Mental Breakthrough Facilitator & Transformational Coach, Reborn Master Enterprise
✔️How to Turn Aching and Aging Body into a Vibrant and Young Body while Sitting at Your Desk by Yuki Christie, Health, Exercise & Dance Coach
And many more... (refer https://virtual.eventsmastery.com for latest list of topics/speakers)
Hurry send all Women Executives/ leverage on your HRDF Levy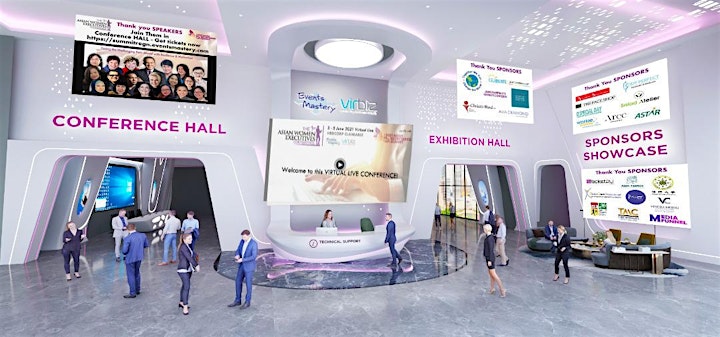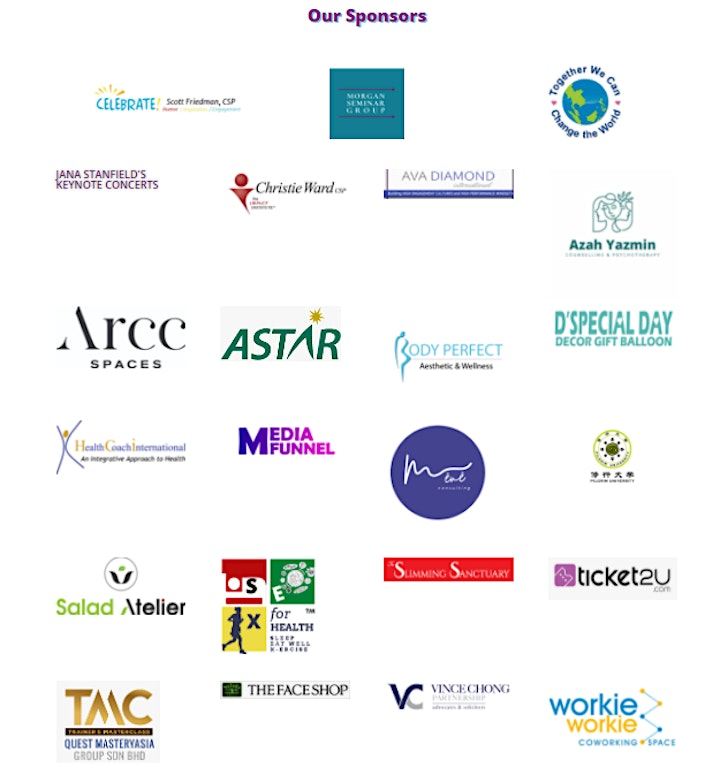 So hurry REGISTER NOW to get FULL 3-Day PROGRAMME ACCESS to the Virtual platform, built with lots of learning and activities created for you.
Normal Fee per delegate is RM299 (HRDCORP SBL-KHAS CLAIMABLE)
Group offers - Send 5 Pay 4
Send 10 Pay 8
CLICK HERE TO SEE OUR SPONSORS FREE GIFTS/PRIZES TO BE WON !
For more information email us at info@eventsmastery.com
THIS CONFERENCE IS JOINTLY ORGANISED WITH THE COMING 2021 ASIAN PAs, SECRETARIES & APs SUMMIT - VIRTUAL LIVE!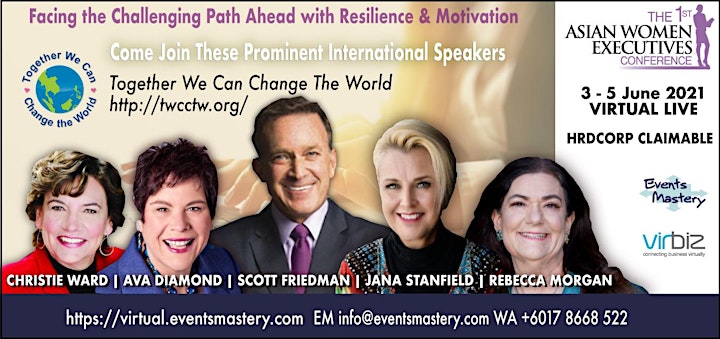 About the organiser
Our vision is to productize and provide quality and useful informative contents to individuals and corporations to help enhance their quality of life and for higher performance; through knowledge and skills enhancement programmes (events/products); in partnership with contents owners (authors) leveraging on both online and offline technologies, including events, training & coaching, elearning, books & publications and other infopreneuring products & solutions.
We work with contents experts to develop and promote more professional training and coaching programmes and help the content owners to provide such programmes to the local market especially in the areas of events management, branding, investment/ wealth creation, professional training, digital marketing/ social media/ mobile apps, wellness, and publishing/infopreneuring. We also help them to productize their expertise into formats that can be shared, including books, training materials, elearning, online products etc
Some of our current projects include
- Events Management & Master of Ceremonies programmes, products and services (with Quest Learning, Bright Consulting & Beacon Synergy). 
- The Certified Professional Trainer's programme is promoted on behalf of MasteryAsia/Quest.
- The SoLoMo workshop is promoted on behalf of NetProfitQuest Sdn Bhd
- Investment Talks on behalf of Dawnstar Pte Ltd (Singapore)
- Digital & Online Marketing on behalf of ClickEvents/World Internet Academy (SG & Mal)
- Wellness talks (SAB, Peace Clinic, Medical Qigong etc)
- Programmes on behalf of Institute Marketing Malaysia and many more
For more info, email marketing@eventsmastery.com or go to www.eventsmastery.com