The 2nd China (Shenzhen Luohu) Innovation & Entrepreneurship International...
Description
OVERVIEW
Shenzhen Luohu District Science and Technology Innovation Bureau is organising the 2nd China (Shenzhen Luohu) Innovation & Entrepreneurship International Competition for the first time in Singapore.
EVENT PROGRAMME
09:30 - 10:00 Sign in
10:00 - 10:30 Speech by leaders & guests
10:30 - 12:00 Startups pitching
12:00 - 13:30 Lunch and Network
13:30 - 16:00 Startups pitching
16:00 - 17:00 Prize Presentation
REGISTRATION INFO
To pitch, fill up this registration form and email your business plan to:
Lily Email: cy@chuangcapital.cn
Dave Email: Daveluzhou@outlook.com
COMPETITION OUTLINE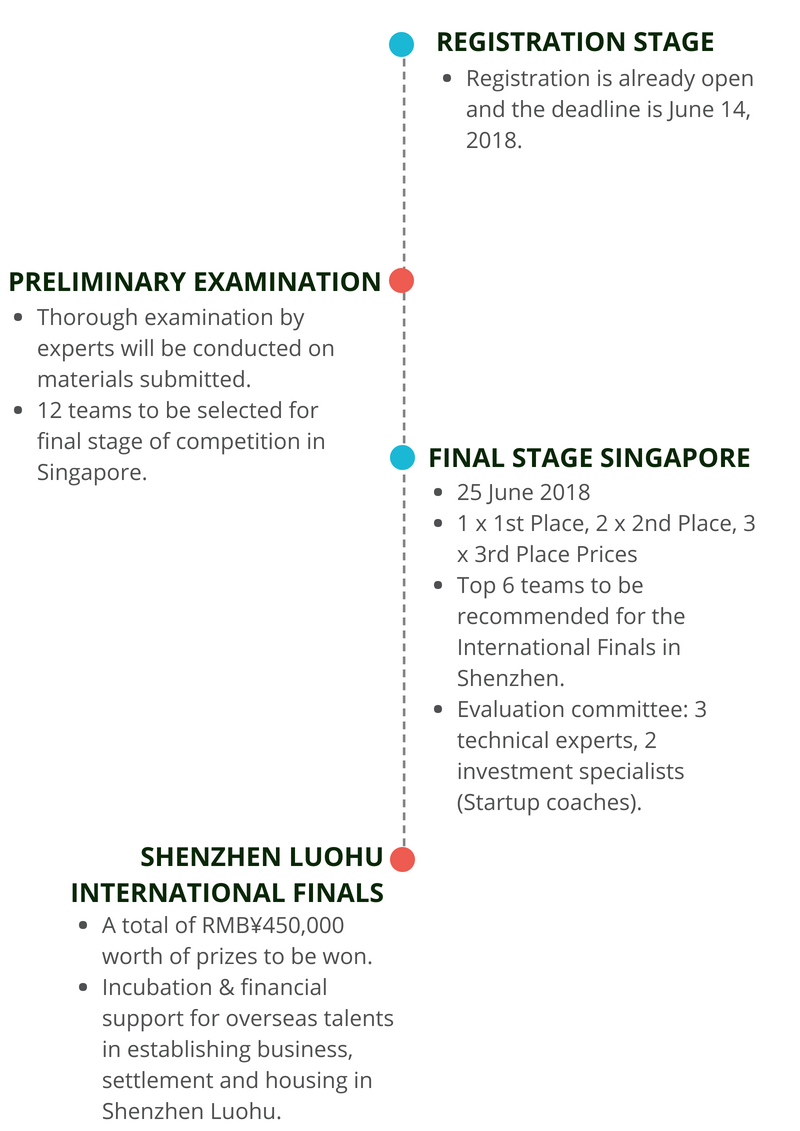 ELIGIBILITY
Participants who have the intention to settle in Shenzhen Luohu District, regardless of nationality.

The competition idea, product, technology and related patents, must belong to the participating teams, and there is no intellectual property dispute with other units or individuals.

The entry is centered on technological innovation and entrepreneurship, mainly around artificial intelligence, intelligent manufacturing, aerospace, biotechnology, optoelectronic chips, information technology (Quantum science, blockchain, internet of things, big data, etc.), new materials, new energy and other sophisticated technologies a) Rewards consists of; one 1

st

prize, two 2

nd

prizes and 3 3

rd

Prizes. Honorary certificates and bonuses will also be given out.

Guidance: During the Finals in Singapore, opportunities for exchanges will be available with relevant leaders of governance from China and Singapore, investment institutions.