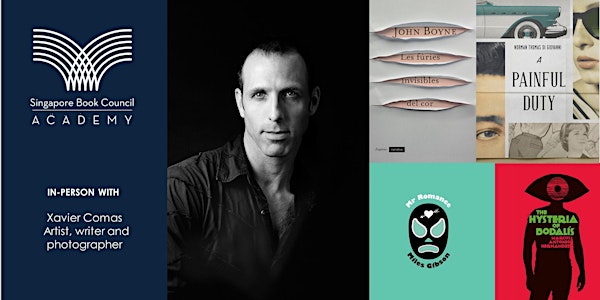 The Birth of a Book Cover Concept
Translate words into visual concepts in the making of book covers with Xavier Comas.
When and where
Location
SBC Training Room Singapore Book Council, 90 Goodman Road, Block E, #03-32, Goodman Arts Centre *Please note that there is no lift access to the Training Room Singapore, 439053 Singapore
About this event
1. Introduction and sharing about the creative process to build a book cover concept using books designed by Coverkitchen as case-studies.
2. Group exercise that focuses on brainstorming techniques to translate words into visual concepts using a brief from an actual project assignment at Coverkitchen. Participants will read the brief individually and will analyse it together. Following, they will engage in a group session to brainstorm and interact with each other together with trainer, recording the flow and ramifications of the process.
3. Workshop will conclude with the definition of 3 cover concept proposals and the group will assess them.
There is no need to design the final cover, only a quick draft of the cover concept and composition. Participants may bring laptops, tablets or smartphones to research the book's theme, source images or sketch ideas.
Participants will acquire or hone their skills to work as a team translating literature into visual concepts.
Facilitator:
Xavier Comas (1970, Barcelona) is a Fine Arts graduate of the University of Barcelona and Spanish graphic designer, photographer and author with a 30-year experience in book cover design. He is the founder of Opalworks, one of the foremost book cover studios in Spain. In 2004 Xavier moved to Asia and founded Coverkitchen, an award-winning book cover design studio working for international publishers such as Penguin-RandomHouse, Planeta, Tuttle and Wiley. His cover design for the European bestseller Viajo Sola was selected by leading art directors in the publishing industry as one of the best cover designs in Spain of 2014. Xavier's second book, Inside The House of the Raja, was published in 2018 by Monsoon Books.
Cancellation:
The workshop can be cancelled or postponed two weeks before the workshop date if the minimum number of participants is not met. Participants will be fully refunded for workshops cancelled by us.
Participants who are unable to attend a workshop they have registered for are to inform us of the reason two weeks before the workshop date. They will be fully refunded in the event of extenuating and mitigating circumstances (E.g. illness, bereavement, accidents). Those who inform us up to 5 working days before the workshop date will receive a 50% refund. Those who did not turn up at the workshop will not receive a refund.
Upon registration, you are deemed to have read and understood the cancellation and withdrawal policy and accept the terms contained therein.