The CEO who admires the Dung Beetle - In Search of Purpose #15: An Evening...
Description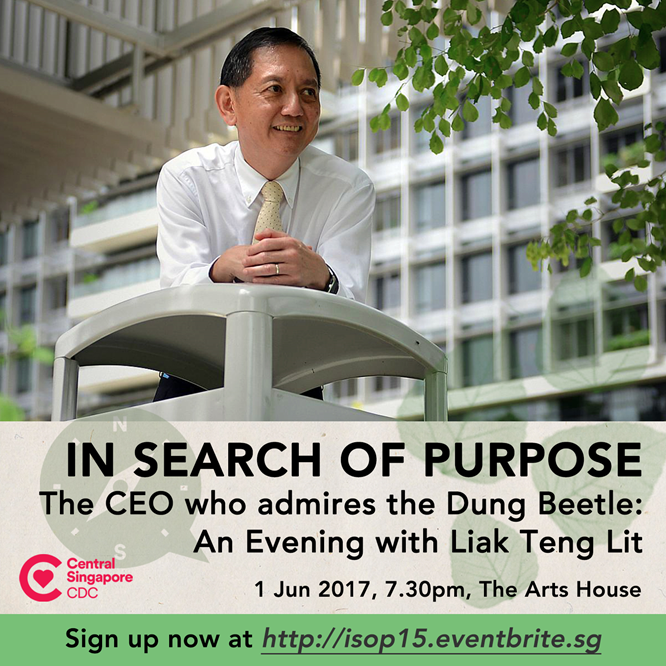 About the Speaker
Join us on Thursday, 01 June 2017 as Mr Liak Teng Lit, Group Chief Operating Officer (COO) of Perennial Real Estate Holdings shares with us his values and insights at the next In Search of Purpose talk.
The former Chairman of the Public Hygiene Council, Mr Liak's personal mantra is "Learn from everyone, follow no one, look for patterns, work like hell". He drives the Keep Singapore Clean Movement and leads by example, picking up every piece of rubbish in sight and clearing tables of cups left behind. In an interview with The Straits Times, he shared that his obsession with cleanliness began with the fear of communicable diseases spreading.
Now, he worries that the disease is in Singapore's societal values. He believes that Singapore is clean only because of its 70,000 cleaners (a staggering number he calls "ridiculous"). The majority of Singaporeans who do not litter, Mr Liak says, are equally guilty if they choose not to correct litterbugs in the act.
He adds that his hero is the dung beetle, which feeds on faeces. "They walk the ground, burrow underground, clean up the environment, recycle nutrients and improve soil aeration. Most of all, they solve problems others leave behind." He has served on the board of several organisations, including NTUC Health, the National Environment Agency and Pathlight School. He led the following hospitals as CEOs previously: Toa Payoh Hospital, Changi General Hospital, Alexandra Hospital and Khoo Teck Puat Hospital.
Invite your family and friends today, and register now to avoid disappointment! We hope to see you there on 01 June 2017!
About the In Search of Purpose Talk Series
In Jan 2015, Central Singapore Community Development Council (CDC) launched the In Search of Purpose Talk Series (ISOP), a TED-style inspirational talk series that seeks to help adults and youth discover their bigger role in society. Speakers, either local or overseas, are invited to share their personal stories and experiences about various topics that we hope will encourage the audience members to give back and be part of a more caring community in Singapore. The bimonthly talk is hosted by Ms Denise Phua, Mayor of Central Singapore District.
Speakers featured in previous ISOP talks include:
Mr Lim Siong Guan, group president of GIC
Ms Ann Medlock and Mr John Graham, founders of Giraffe Heroes Project
Mr Benny Se Teo, CEO and founder of Eighteen Chefs
Mr Kenny Low, founder of City College and O School
Ms Eunice Olsen, founder of WomenTalkTV
Dr Tan Lai Yong, lecturer and director for outreach and community engagement at NUS College of Alice & Peter Tan
Mr Louis Ng, executive director and founder of Animal Concerns Research and Education Society (ACRES)
Ms Chia Yong Yong and Ms Leslie Chia, special needs advocates
Dr Goh Wei Leong, chairman and co-founder of HealthServe
Ms Kuik Shiao-Yin, director and co-founder of The Thought Collective
Ms Belinda Lee, goodwill ambassador for World Vision Singapore
Mr Bob Lee, renowned photographer
Mr Jack Sim, Founder of the World Toilet Organisation
Mr Adrian Tan and Ms Tan Shook Wah, Founder of Ad Planet and the Dare to Dream Scholarship respectively
Our previous ISOP sessions are available on our Youtube page here.
If you have any speaker or a particular topic that you will love to hear in our future talks, drop Jeremy an email at Jeremy_LOH_from.TP@pa.gov.sg.


#InSearchofPurpose #ISOP #CentralSGCDC