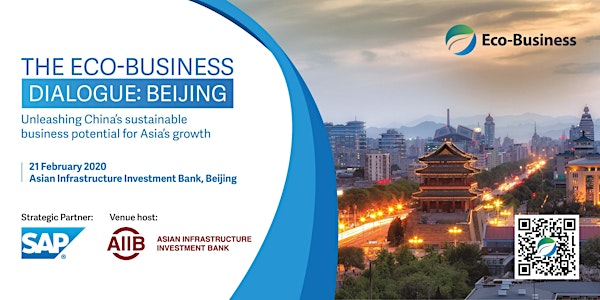 The Eco-Business Dialogue: Beijing
.
When and where
Location
Asian Infrastructure Investment Bank B-9 Financial Street, Xicheng District Beijing, 100033 China
About this event
*The event has been put on hold due to the 2019-nCoV virus outbreak. Further information will be made available in due course. If you are interested to be kept informed of this event, please email events@eco-business.com with your relevant details. Thank you for your understanding.
Over the past decade, China has been at the forefront of the world's progress in sustainable development. The success of the Asian giant's largest poverty alleviation campaign in history, massive investments in clean technology, innovations in green finance and growing legislation on industry standards have not only improved the livelihoods of nearly one-fifth of the world's population, its achievements have put country on the world map of leaders on climate change.
However, many questions remain. China's companies may finally be catching up with their global peers in sustainability standards, but many observers fear that the buck stops at compliance and disclosure.
Beyond the efforts of the Chinese central government, are businesses in China truly investing in sustainable development? Are they effectively integrating sustainability into business strategy?
In order for China to reach its sustainable development policy goals, businesses will have to play a crucial role beyond disclosure. But how will they do so?
Join us for a robust discussion of these key business issues at the inaugural Eco-Business Dialogue in Beijing, held in partnership with SAP, and our host-partner the Asian Infrastructure Investment Bank (AIIB).
The full agenda is available here.
Eco-Business Dialogue is a regular event and convenor of sustainability professionals and thought leaders in the private and public sectors who share a similar vision of advancing China's business potential in Asia's development story.