About this Event
Amid calls for urgent action against climate change, sustainability issues are taking centre-stage across all industry sectors. How can investors consider ESG in their decision-making? Find out more at our forum.
*Complimentary refreshments provided
Programme
6.30pm - Registration
7.00pm - Introduction speech by Pauline Wong, The Edge Singapore
7.05pm - Sustainable investing: Increasing transparency around ESG risk by Ray Tay
7.25pm - The business case for ESG in finance by Aditya Renjen
7.45pm - Break
8.15pm - How should investors best approach and identify ESG investment by James Gifford
8.45pm - Fireside chat moderated by Pauline Wong, The Edge Singapore
Our Speakers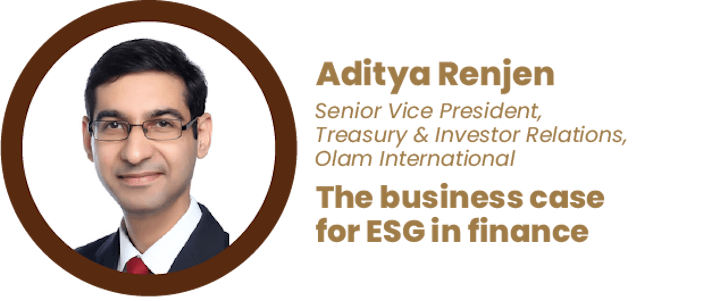 Topic: The business case for ESG in finance
Aditya Renjen is the Senior Vice President of Treasury & Investor Relations at Olam International Limited (a leading food and agri-business supplying food, ingredients, feed and fibre to over 19,800 customers worldwide), and heads the centralized Treasury and Investor Relations functions of the Olam Group globally. He is a member of Olam's Management Committee and the Finance Executive Committee, the senior finance leadership team of Olam.
Prior to Olam, he has handled multiple finance roles including Investor Relations, Business Finance, FP&A and Audit in companies across the Pharmaceutical, Telecom and Consulting space in India and the US.He is an MBA in Finance, a Chartered Accountant and holds a Bachelor's degree in Commerce.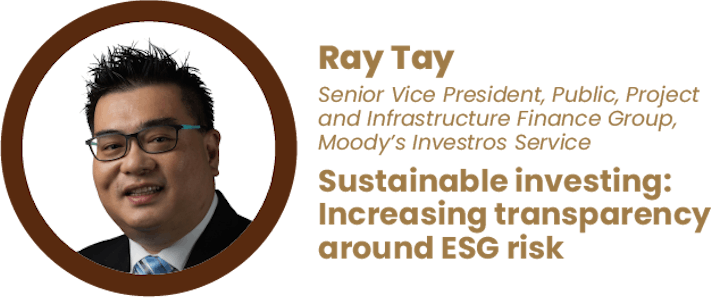 Topic: Sustainable investing: Increasing transparency around ESG risk
Ray Tay is a Senior Vice President in Moody's Public, Project and Infrastructure Finance Group.
Based in Singapore, Ray covers project finance, transport, utilities and other infrastructure credits in Southeast Asia and India. Ray also covers sub-sovereign issuers in Southeast Asia.
Before joining Moody's in 2012, Ray was a Director with the Global Infrastructure & Projects Group in KPMG. In this role, he advised public and private sector clients on a variety of infrastructure projects in Asia Pacific and the Middle East.
Ray has also worked as a Senior Business Analyst with the Singapore Power Group, focusing on regulatory economics in each of its principal local operating subsidiaries.
Ray holds a Bachelor's in Economics with honors from the National University of Singapore.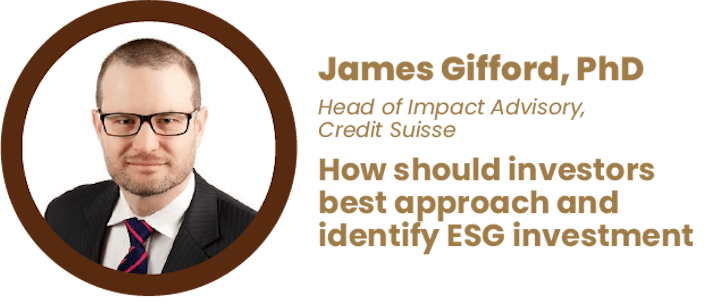 Topic: How should investors best approach and identify ESG investment
Dr James Gifford is Head of Impact Advisory for Credit Suisse, working with the bank's clients, advisors and product specialists to mobilise capital into impact investing. He is a Senior Fellow at the Centre for Sustainable Finance and Private Wealth at the University of Zurich and teaches a program at the Harvard Kennedy School on impact investing for the next generation of ultra high net worth family members. He was the founding Executive Director of the UN Principles for Responsible Investment, and built the organisation from inception in 2003 over the following 10 years into the pre-eminent global initiative on responsible investment with 1200 signatories representing $40 trillion in assets. Previous roles included Head of Impact Investing at UBS and Director of Impact at Tau Investment Management, a supply chain impact fund focused on sustainable apparel. James was also He has published numerous articles and book chapters on responsible investment. James has a PhD from the University of Sydney on the effectiveness of shareholder engagement in improving corporate environmental, social and governance performance, degrees in Commerce and Law, and a Masters in Environment Management. He is an Adjunct Professor at Griffith University and was named by the World Economic Forum in 2010 as one of 200 Young Global Leaders.