Description
Real Estate Investment Trusts (REITs) are one of the most reliable way to invest as they generate steady and consistent tax free cash flow. REITs also open up access for investors to participate in a diverse range of real estate assets with low capital outlay.
Our speaker and community member, Tam Ging Wien will teach you:
Foundational understanding of REITs
Characteristics of various real estate sectors
How to perform financial evaluation on a REIT
How to value and buy undervalued REITs
How to hedge your REIT portfolio
Common REIT investment traps and how to avoid them
During the sharing session, various case studies and Singapore-listed REIT examples will be used.
There will also be a Q&A and mingling session so that members of the community may engage in open dialog and discussions in order to deepen their understanding of REITs.
Ging Wien will offer sufficient breadth and depth to benefit both novice and seasoned investors alike.
Mark your calendars for 25th January, Thursday. Registration starts at 6.30pm.
Mingle and network with other fellow users after the seminar. Do bring along your notebook and pen to take down notes. There will be a short 15 mins presentation by CityIndex Singapore.
No refreshments provided. Limited seats only.
---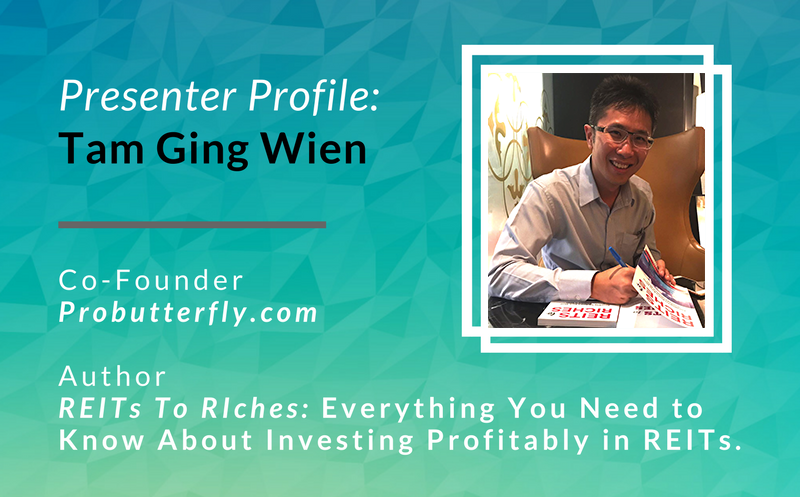 Tam Ging Wien has been an avid equities and real estate investor for over 10 years.
He is the founder of Probutterfly.com, an independent investment website that focuses on the stock markets of Singapore. His passion for financial education and training stems from a desire to help others help themselves achieve financial freedom. In 2017 he published his first book entitled REITs to Riches: Everything You Need to Know About Investing Profitably in REITs.
He runs his website and also contributes actively to our community as @gingwien.