Description
(Tickets are no longer available for this event. Please email info@designingleaders.com for more information)
Growing up, you learn a certain way of doing things. Whether in school, in extracurricular groups, or in attachments and internships, you learn how to interact with others. Once you finish school and start your career, you will find that some of those expected behaviors change. Every company, non-profit group, and government agency has its own culture, but there are some aspects of today's working environment that are pretty common among the most successful organizations.
This session is for recent and soon-to-be graduates who want to know what will be expected of them in the workplace and how they can be successful there. You will learn about those expectations and how to work in a way that meets them. With this understanding you will be able to:
interview with self-confidence and an understanding of what companies are looking for
transition into your new role quickly, and
maximize your performance and the value that you add to the company
What is most important in the modern working environment? In the last few years we have seen new workplace cultures start to emerge in successful companies, and more and more firms in Singapore are expecting their employees to focus on:
COMMUNICATION
Rather than "top-down" communication, many organizations expect ALL employees to offer ideas, not only providing suggestions to their seniors but also working across departments, in addition to being direct and transparent with clients. You need to be comfortable and ready to speak up in a way that adds value to the conversation.
COLLABORATION
Having individual skills is important, but the real value comes from combining your skills with others' to create a powerful team. Many firms evaluate your performance as a team player as well as your achievements as an individual.
CRITICAL THINKING
Industries change rapidly, so your firm expects you to be able to analyze a problem, come up with different options, and implement the best one quickly. The best solution usually is not found just because you are great at memorization – you need analytical skills to use the information you have.
CAREER DEVELOPMENT
Nobody will care about your career as much as you do. You need to take control of your career planning, find the best development opportunities, and know when it's time to move up or move out.
COMMITMENT & ETHICS
Your will be expected to follow through on the commitments you make, so be careful what you sign on for. Though the idea of staying in the office until your boss leaves may not be as common as it once was, your organization will still have values and priorities that they will expect you to follow.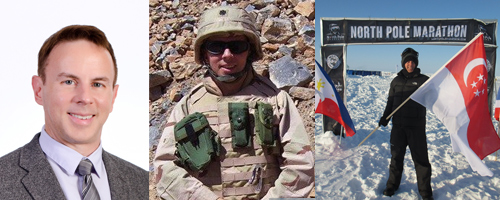 Our facilitator for the session is Dr William Thomas. Dr Thomas is the Chief Teaching Officer for Designing Leaders, bringing his business, military, and athletic background to conduct coaching seminars for both leaders and new employees in growing organizations.
Dr Thomas retired from the US Air Force as a Lieutenant Colonel in 2010, after serving as a nuclear officer, a strategic planner for special operations, and an international affairs specialist at the Pentagon. Seven years of his 21-year career were spent as a professor at the US Air Force Academy, where he focused on small-unit leadership and organisational change, and he also served in both Iraq and Afghanistan. From 2012 through the end of 2014 he was based in Singapore as the Executive Advisor for CEB Corporate Leadership Council, where he advised the Chief HR Officers at over 50 organizations across Asia in such industries as airlines, banks, telecoms, government agencies, and more. An international marathoner, he is one of the few people in the world to have completed the Marathon Grand Slam: running a marathon on all 7 continents and at the North Pole. He is the author of Cross the Lines: A Journey to Complete The Marathon Grand Slam.
Dr Thomas has also taught as a professor at Georgetown University in Washington, DC, and as a Fulbright Scholar at Nanyang Technological University. He holds a PhD in Public Policy and an MBA.
FAQs
Is my registration/ticket transferrable?
Registration may be transferred to another individual. Please let us know if someone is coming in your place.
Can I update my registration information later?
For updates or changes to your registration, please write to info@designingleaders.com.
What is the refund policy?
Cancellations more than 14 days before the event will receive a 50% refund. No cancellations will be processed after that point. We suggest that, instead of cancelling, the registration be transferred to another participant, if possible. In the event that exceptional circumstance require Designing Leaders to cancel the workshop, all of those registered will receive a 100% refund.
Is financial support available for training?
Singapore companies should explore subsidies for employee training such as the Productivity and Innovation Credit program.
Where can I contact the organizer with any questions?
You can reach us at info@designingleaders.com

Visit our website at DesigningLeaders.com