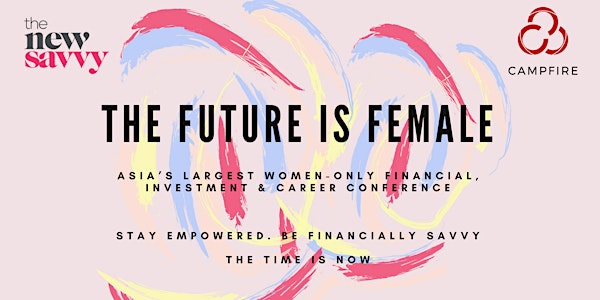 The Future is Female Conference - The New Savvy
When and where
Location
Campfire Collaborative Spaces 13/F, Zung Fu Industrial Building, 1067 King's Road, Quarry Bay
Description
THE FUTURE IS FEMALE
HONG KONG CONFERENCE 2018
Asia's largest women-only financial, investment & career conference
Change your game with inspiring conversations, panels + workshops.
Redefine success with strong, smart and ambitious women like yourself.
Savour every moment of learning, connecting and unwinding.
FREE tips to manage your finances better in a fun, non-judgemental zone.
Celebrate. Love life and get excited about the future!
EXPERIENTIAL CARNIVAL: REDEFINING THE WAY WOMEN ENGAGE WITH FINANCIAL SERVICES
Let's face it – investment conferences are boring, dated and failing to interest women. More often than not, 60%+ of the attendees are males. Why be a part of another yawn-inducing event where you have no emotional connection with? Or, an expensive, exclusive conference in a hotel?
The Future is Female is an exciting lifestyle destination that focuses on experiential learning, Instagram-worthy setup and unparalleled networking opportunities.
WHAT TO EXPECT
Be introduced to the concept of Personal Finance Management.

Learn about investment products, money management, and financial know-how.

Be provided with a structure on how you can manage your finances effectively.

Hear from men and women from across industries and generations who have redefined conventional pathways to success.

Explore common issues in the personal and professional lives of modern women.

Figure out how you can uncover your inner genius to overcome gender discrimination and thrive in a male-dominated environment.
WHO SHOULD ATTEND
If you are… struggling to manage your finances…
… dreaming of taking your financial position to the next level…
… feeling intimidated by the various investment options and financial markets out there…
… trying to take full control of your finances but you have no idea how or where to start…
We are looking for someone like YOU !

AGENDA:
9.00-5.30: Conference (includes lunch + 2 refreshment breaks)
5.30- 7pm: Networking drinks

Detailed Agenda & Speakers List: https://hk18.thenewsavvy.com/

Lunch is provided as well as snacks and refreshments throughout the day.

We round off the day with networking and bubbles courtesy of Liquidz Hong Kong!
Ticket price includes an exclusive goodie bag for all attendees!
You are empowered and ready for a positive change. The time is now.

WHY THE NEW SAVVY?
We are here to empower you to reach your true potential. We want to help you align your career aspirations you can achieve success on your own terms. It does not matter what stage you are in your life. You can be successful regardless of where you are. We represent what you are meant to be — strong, smart, modern, independent and powerful. The New Savvy offers you what traditional and mainstream media fail to provide. We cater specifically to modern, independent-minded women who are ready and keen to make smarter decisions about their finances. Decisions that can and will transform your relationship with your finances — and change your life. We simplify financial concepts to suit the interests of women specifically. The future is female, and you need to be ready. We know just what you need to make it happen.