The Game Creator Station - A SkillFuture Festival Workshop
Description
Are you passionate about Games and wonder how you can create games for a living? If yes, this workshop is for you!
Not only you will get an inside look at how AAA games are created, you will also get to learn how you can turn games into a profitable business? This is an event hosted by three experts of their respective field.
Let's Talk Game TECH! – Thomas O'Dell

In order to create an excellent game there are numerous hurdles to clear, among all the most confused part is to understand all the technologies that are needed. Thomas O'Dell, who is an Adjunct Lecturer at Republic Polytechnic will help to simplify this complicated process!


How to Successfully Start a Game Company in Singapore - Keane

Ever dream of making your own games, or even better to start your very own game company? Want to know how you can turn your gaming passion into a successful profitable business? Attend this seminar to find how you can do just that in Singapore!



Meet the Artist behind AAA Games - Adeeb

Attend his talk to find out the intricate process of how a blockbuster game is being made! Md. Adeeb was previously an artist / animator at Ubisoft and was involved in crearting multiple AAA Games such as Assassin's Creed. He is currently a Co-founder and Director of Kinetiquettes.



What's More:
Get your questions answered during a Q&A with experts.

Network with fellow Gamers/Enthusiasts tidbits & tea
Limited Seats! Sign up now to find out how you too can be Successful by creating Profitable Games in Singapore!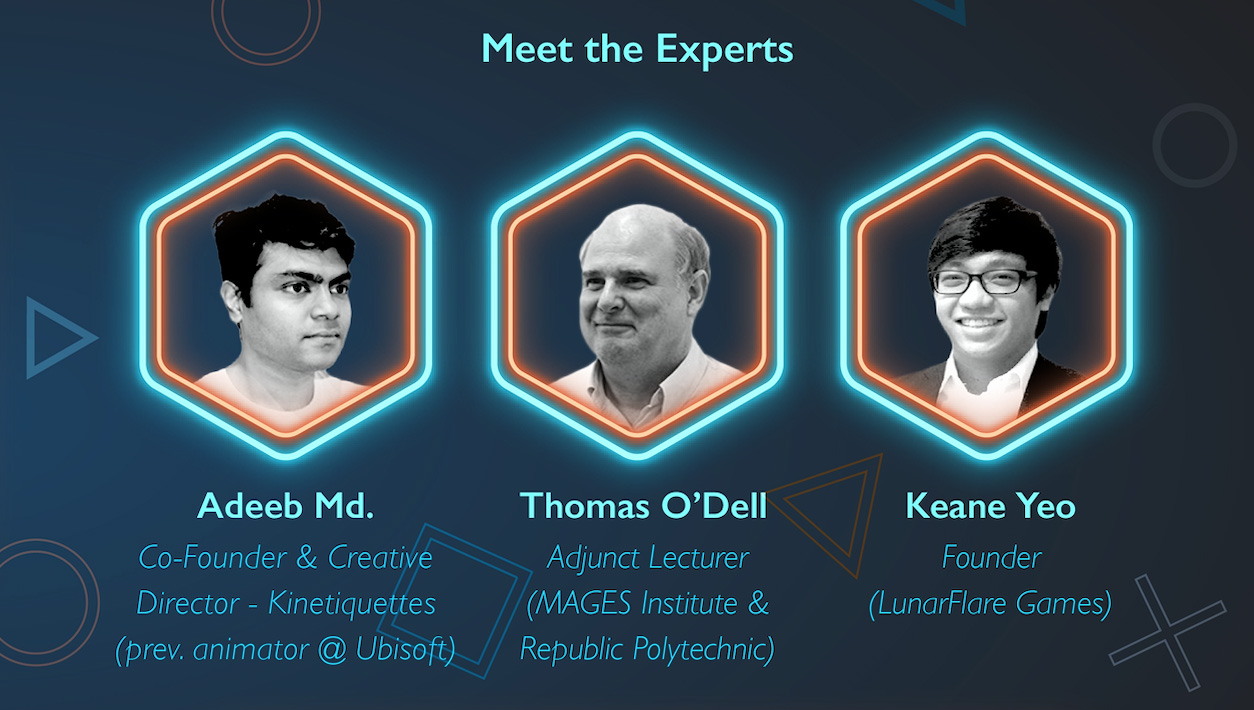 Adeeb Md.
Diploma in Visual Effects (Specialisation in Animation)
Director and Co-Founder of Kinetiquettes
Adeeb is the Co-founder and Creative Director at Kinetiquettes. Adeeb has 11 years of professional experience. Adeeb has worked as an Animator at Ubisoft Singapore with over 7 years. He also worked at Tecmo Koei, known for their Dynasty Warrior series. He specializes in game animation and development of interactive cinematic experiences. He most notably worked on the behaviour animations for the underwater missions in Assassin's Creed IV: Black Flag.
Thomas O'Dell
Adjunct Lecturer in MAGES Institute of Excellence and Republic Polytechnic
B.A Honours in Computer Science, University of Toronto, Canada
With over 25 years of working experience, in companies such as ICONIX International and Delcan Corporation in Toronto, Canada. Thomas has played a key role in developing the Automatic Fare Collection System for the Taiwan High Speed Rail in Taipei. His significant experience in the IT industry enriches both his industrial training and his academic teaching. He has teaching experience in subjects like Games Programming at various Singaporean institutions.
Keane Yeo
Specialise Diploma in Game Entreperneurship
Founder of LunarFlare Games
Keane has vast experience in developing games locally in Singapore. So far he has four games under his belt and had also successfully launched his very own game company in Singapore - LunarFlare Games. Despite his busy schedule, he managed to successfully coached numerous local indie game makers and is widely recongised for his canny ability to simplify complex games' principles.
Notes:
Registration starts at 1:30PM.
MAGES value your privacy. In accordance with the DNC regulations, by registration you are consenting MAGES to contact you with regards to the execution of this seminar.