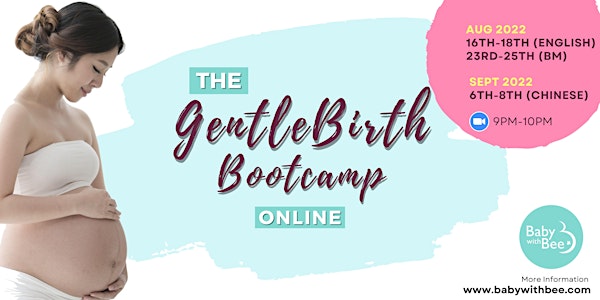 The Gentle Birth Bootcamp Online (English)
A 3-day class to help you prepare for your baby's gentle birth.
About this event
Are you pregnant and afraid of childbirth pain? Maybe you want to avoid a cut at the vagina during birth but you're afraid of tearing? Do you want to avoid drugs but don't know how? How will you know when you're in labor? When should you go to the hospital? Maybe you don't know how to push your baby out! What if your baby is too big? ​​How can your husband help you during labor?
If you're an expecting parent and want answers, the Gentle Birth Bootcamp is for you!
EDUCATE YOURSELF! WHAT YOU WILL LEARN:
Why Birth Experience Matters?
Understanding the Birth Process
Healthy Body, Mind and Pregnancy
Birth Plan, Do I Have a Choice?
Introduction to HypnoBirthing
Who Should Attend?
First time mums-to-be
Experienced mums wanting a better birth experience
Mums with previous cesareans
Want Vaginal births after c-sec (VBAC)
Dads who want to know how to support your wife
LIMITED SEATS!! BOOK NOW!!
Terms & Conditions
1. The information shared during the Gentle Birth Bootcamp is of a general nature only and is in no way intended to be represented as medical advice nor as a prescription or avoidance for medical procedure. You are aware that you should seek the advice of a health‐care provider to answer any health‐related or pregnancy‐related issues surrounding your pregnancy, labour or birth.
2. Baby With Bee shall not be held liable for any losses or damages before, during or after the event. By attending the event, you & your family / associates agree to indemnify Baby With Bee Education Sdn Bhd, its instructors, owners, representatives and associates against any losses or damages or health conditions or any special circumstances that could arise as a result of your pregnancy, labour or birth.
3. We will use any photos or videos taken during the event for future marketing purposes. By signing up, you agree for your photos or videos to be used for this purpose.
4. No recording of any part of the talks is allowed. We reserve the right to delete the media files on your devices.
5. We will collect your data for future marketing purposes but we will NOT share your data with third parties without your permission. We hate spam too.
6. By disclosing your data you agree for Baby With Bee to contact you in the future.
7. No cancellation is allowed and paid fee is not refundable. The tickets, however, is transferable so do pass the ticket to a friend who might find it useful.
8. Baby With Bee reserves the right to change the workshop details and terms and conditions without prior notice.