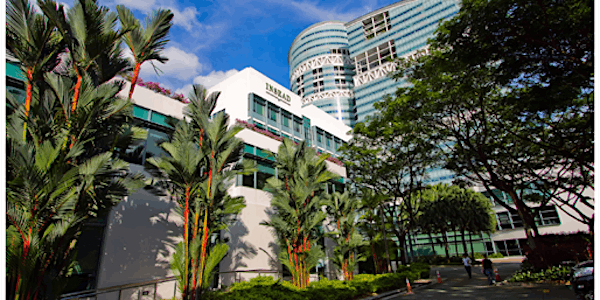 The Global Cosmopolitan Mindset with Professor Linda Brimm
By INSEAD Alumni Association Singapore
Date and time
Wednesday, February 27, 2019 · 7:30 - 9pm +08
Location
INSEAD 1 Ayer Rajah Avenue Singapore 138676 Singapore
Description


The Global Cosmopolitan Mindset: Lessons from the New Global Leaders
with Professor Linda Brimm
Wednesday 27 February, 7pm at INSEAD



Alumni are invited to an Evening with INSEAD Prof Linda Brimm discussing her new book - The Global Cosmopolitan Mindset: Lessons from the New Global Leaders.
INSEAD Professor's new Book explains the unique competencies and complex issues facing multi-national, multi-cultural "citizens of the world."A global mindset is essential in international business and in solving complex problems . A rapidly increasing number of people have multiple passports or live outside their country of citizenship. By accident, by design or necessity, people are moving across the world in greater numbers, despite the backlash against "citizens of the world". Given their life and work experience across borders, "they have a great deal to teach us about the new ways to address some of the complicated challenges of today.
The new book is the sequel to her first book "Global Cosmopolitans: The Creative Edge of Difference", which introduced the famous "7Cs Model of Change and Development" that helps people understand and approach the changes they're likely to face on a global journey. Her new book delves deeper into the mindset that Global Cosmopolitans develop, the identities they form for themselves and what they have to consider when they want to return home or retire. More about Professor Linda Brimm
INSEAD Alumni NAA Members and a guest each pay: $15
INSEAD Alumni NAA Non-members a guest each pay: $45
DUAL Members $45
Become an NAA SG member now and contact us for the promo code so you can enjoy all the benefits, including special prices on this event. Note: NAA SG event tickets are non-refundable. However tickets are transferable and may be resold/given away to fellow INSEAD alumni. Contact us for more details. This event is limited to INSEAD alumni and a guest each. If you signed up erroneously, we will reimburse you, but deduct the admin processing fee. We hope you understand. Check out the NAA SG Blog here.
About the organizer
We are one of the largest and fastest-growing national chapters of the INSEAD Alumni network. With 3,000+ alumni in a compact urban setting and the benefit of INSEAD's Asia campus, we have an active community offering a rich variety of events and benefits to its members that enables a vibrant platform for alumni to connect, meet, exchange ideas with each other for business and social purposes.