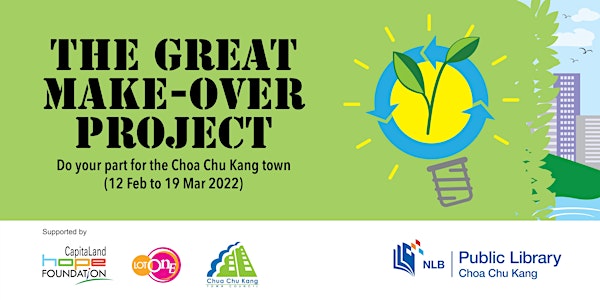 The Great Make-Over Project: Do Your Part for the Choa Chu Kang Town
Event Information
Location
Choa Chu Kang Public Library - Programme Zones 1 & 2
21 Choa Chu Kang Avenue 4
Lot One Shoppers' Mall, #04-01/02 and #05-06
Singapore, 689812
Singapore
Register your interest to participate by 31 Jan 2022.
About this event
The Great Make-Over Project:
Do Your Part for the Choa Chu Kang Town
Are you passionate about the environment but don't know what to do or where to start? Or you are brimming with ideas and want to bring your green solutions to life?
We have a platform for you – The Great Make-Over Project!
Over the course of 6 weeks, you will venture deep into the world of sustainability, meet other passionate individuals and bring to life possibilities that will transform Choa Chu Kang town into a place that supports sustainable living. Your ideas may be showcased to the public after the project.
Participants must be 18 years old and above. Join as an individual or as a group of 2 to 5 participants.
Event Details
12 Feb – 19 Mar 2022
4 – 6 hours a week
Zoom and Programme Zones 1 and 2, Choa Chu Kang Public Library
How to Participate
Register your interest to participate here by 31 Jan 2022.
Submit a statement of interest, confirm your commitment, and select the cause you would like to work on via https://go.gov.sg/gmoreg
Only shortlisted candidates will be contacted.
This project is supported by CapitaLand Hope Foundation, Lot One Shoppers' Mall and Choa Chu Kang Town Council.
About The Great Make-Over Project
This annual project aims to encourage community co-solutioning to reimagine and reinvent spaces to promote sustainable living through engaging hands-on experiences and resources.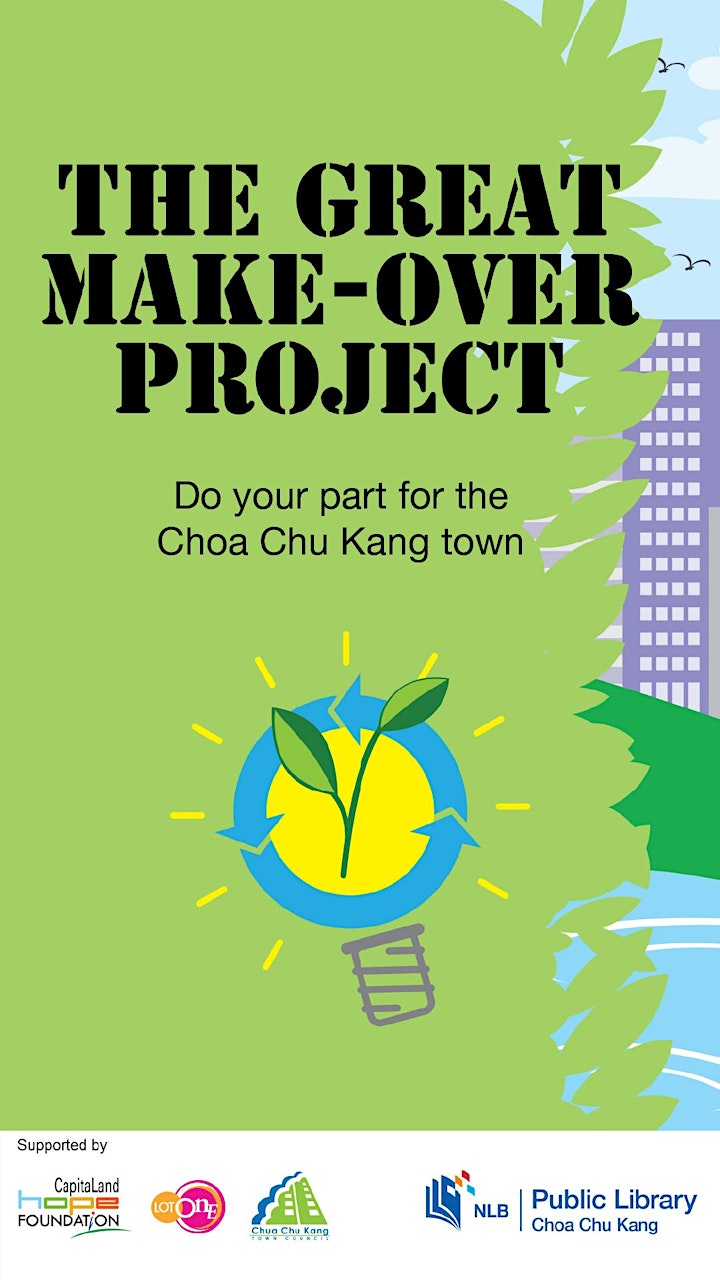 Date and time
Location
Choa Chu Kang Public Library - Programme Zones 1 & 2
21 Choa Chu Kang Avenue 4
Lot One Shoppers' Mall, #04-01/02 and #05-06
Singapore, 689812
Singapore