Description
If you can't buy tickets here,
please proceed to the Arts House by 3.15pm to purchase tickets at the door.
Tickets at $20 and $50 are still available.
Thank you for your support.
The Great Singapore Debate:
An advocate as useful as an avocado
An avocado is packed with nutrients, helps lower cholesterol levels, and is enjoyed by rich and poor alike.
An advocate speaks up against social injustices, tries to bring about change, and is viewed with suspicion by many.
Which is more useful? Is it better to have an avocado in your belly or an advocate with fire in his or her belly? Which does Singapore need more?
Some of Singapore's most opinionated and entertaining personalities will debate this very important topic. Come listen to the cut and thrust of their arguments, to their rapier sharp observations and thought-provoking postulations.
Debaters and Moderator
Adrian Tan - lawyer and author of The Teenage Textbook and The Teenage Workbook. A judge on Channel NewsAsia's debate show.
Choo Zheng Xi – lawyer and co-founder of The Online Citizen at age 20. He made his Speaker's Corner debut at age 14.
Colin Goh - film maker, satirist and cartoonist best known for his Singlish website and award-winning movies, Talking Cock and Singapore Dreaming.
Gwee Li Sui - literary critic, poet, and graphic artist. His graphic novel Myth of the Stone is Singapore's first full-length graphic novel.
Huzir Sulaiman - co-founder and Joint Artistic Director of Checkpoint Theatre. His works include Atomic Jaya, Election Day and Occupation.
Kirsten Han - blogger, journalist and filmmaker who is involved in the We Believe in Second Chances campaign for the abolishment of the death penalty.
Pam Oei - actress and comedian. A member of the irreverent cabaret trio Dim Sum Dollies.
Paul Ananth Tambyah is Professor of Medicine and Senior Consultant ID physician at a major teaching hospital in Singapore. He is also active in MARUAH, Action for AIDS, some migrant work, healthcare reform and other worthy causes. He used to make an avocado salad but now just eats what he is served.
----------------------------------------------------------------
All proceeds will go to the Singapore Advocacy Awards, which aims to recognise, affirm and celebrate civil society organisations and individuals in Singapore.
Organiser: Singapore Advocacy Awards
Venue Supporter: The Arts House
Enquiry: sgadvocacyawards@gmail.com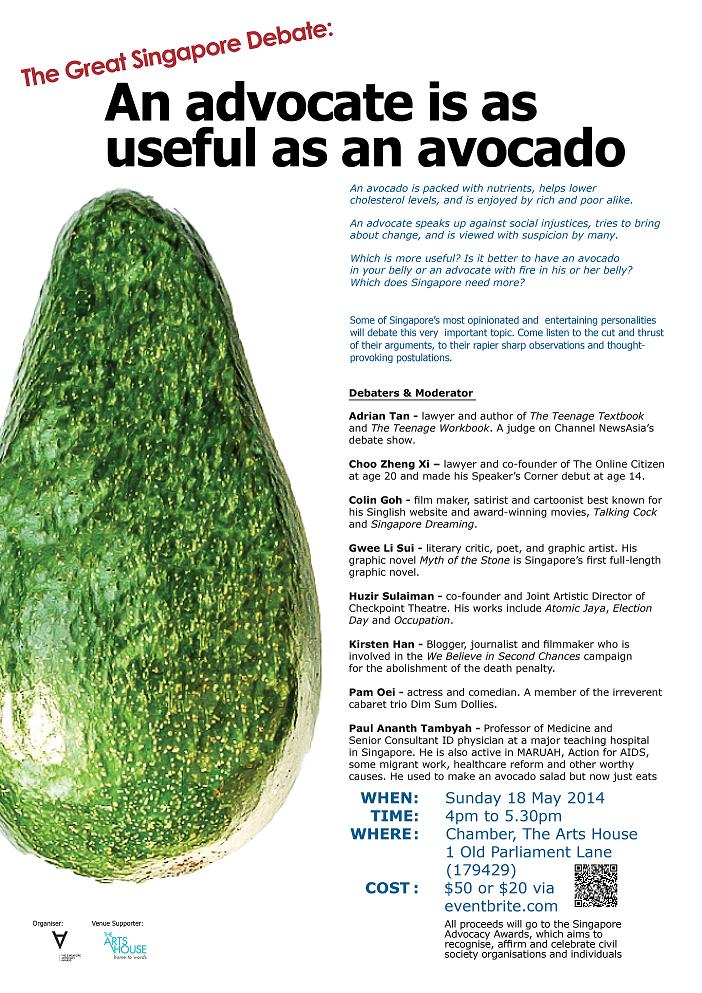 Organizer of The Great Singapore Debate: An advocate is as useful as an avocado