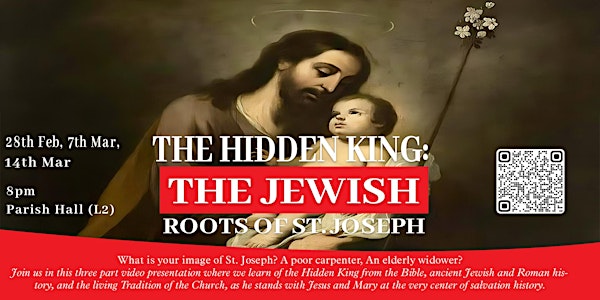 The Hidden King: The Jewish Roots of St. Joseph
A three part video presentation of St. Joseph discovering how he stands with Jesus and Mary at the very center of salvation.
When and where
Location
Church of Divine Mercy, Parish Hall (L2) 19 Pasir Ris Street 72 Singapore, 518771 Singapore
About this event
Dates: 28th Feb, 7th March and 14th March
Note: You need only register once for all three sessions.
What is your image of St. Joseph? A poor, humble carpenter, or the hidden King of the Jews? An elderly widower, or a man in his prime, the chaste spouse of Mary? The mere legal guardian of the child Jesus, or the earthly shadow of the heavenly Father?
In this series, Dr. Brant Pitre takes the popular figure of Saint Joseph and open up the mysteries of his hidden identity, his relationship with Mary, and his role as the earthly foster-father of Jesus. In it, you will learn about:
• How Joseph was the Hidden King of the Jews• Why Joseph was a threat to the Fake King Herod• Why Herod Murdered his own Wife, three Sons, and the Infants in Bethlehem• Why Joseph Accepted of Mary's Jewish Vow of Virginity• How Joseph Hid the Virgin Birth from Satan• Joseph's Relation to the "Brothers" of Jesus• Apocryphal Legend of the Elderly Joseph• The Biblical Age of Saint Joseph• The Persecution of Joseph's Family• How Joseph is the earthly Shadow of Jesus' heavenly Father
Many books on Saint Joseph focus on apocryphal legends and private revelations. In this Bible Study, Dr. Pitre focuses on what we can learn about Saint Joseph from the Bible, ancient Jewish and Roman history, and the living Tradition of the Church. As you will discover, although Joseph is silent in pages of the New Testament, when looked at through ancient Jewish eyes, he stands with Jesus and Mary at the very center of salvation history.
So, if you already have a devotion to Joseph, or if you would like to deepen your relationship with him, or if you just want to understand what the Bible really teaches about the man who was closest to Jesus, then this Bible Study is for you.