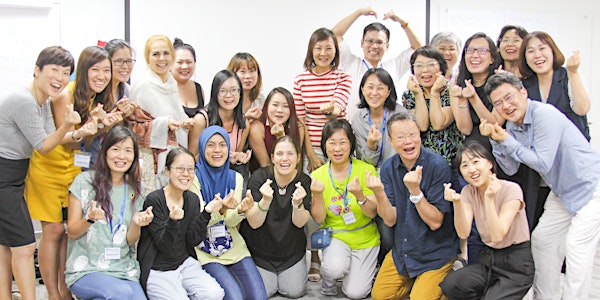 The Incredible Years® Basic Parenting Group Leaders Training 2023
Get certified to coach parents in internationally-recognised The Incredible Years® Basic Parenting Programme (Toddler to School Age)
By Morning Star Community Services
Date and time
Sun, 13 Aug 2023 6:00 PM - Mon, 21 Aug 2023 9:15 PM PDT
Refund Policy
Contact the organiser to request a refund.
About this event
Get certified to coach parents in internationally-recognised The Incredible Years® Preschool and School Age Basic Parenting Programme
𝐋𝐄𝐀𝐑𝐍 𝐌𝐎𝐑𝐄
www.morningstar.org.sg/happening/iybp-group-leaders-training-2023/
𝑾𝒉𝒂𝒕 𝒊𝒔 𝑻𝒉𝒆 𝑰𝒏𝒄𝒓𝒆𝒅𝒊𝒃𝒍𝒆 𝒀𝒆𝒂𝒓𝒔® 𝑩𝒂𝒔𝒊𝒄 𝑷𝒂𝒓𝒆𝒏𝒕𝒊𝒏𝒈?
The Incredible Years® Series is a set of interlocking, comprehensive, and developmentally based programs targeting parents, teachers and children. The training programs that compose The Incredible Years® Series are guided by developmental theory on the role of multiple interacting risk and protective factors in the development of conduct problems. The programs are designed to work jointly to promote emotional, social, and academic competence and to prevent, reduce, and treat behavioral and emotional problems in young children.
The Incredible Years® Basic Parenting Group Leaders Training
Toddler to School Age (2 - 12 yrs)
14, 15, 16, 17, 18, 21 & 22 Aug 2023
Time: 9 am – 12.15 pm
Platform: Zoom Online
This 7-day workshop will cover in depth the group-based Preschool and School Age Basic Parenting Programme, which is designed to promote positive parenting strategies and assist parents in managing children's behaviour problems, building school readiness skills and partnering with teachers and day care professionals so they can promote children's emotion regulation and social skills.
𝑷𝒓𝒐𝒈𝒓𝒂𝒎𝒎𝒆 𝒕𝒐𝒑𝒊𝒄𝒔 𝒊𝒏𝒄𝒍𝒖𝒅𝒆
Helping toddlers feel loved and secure
Strengthening children's social, emotion regulation and school readiness skills
Encouraging cooperative behaviour
Effective limit setting, rules & routines
Handling misbehaviour
Promoting positive behaviours
Reducing inappropriate behaviours
How to support child's education
𝑮𝒐𝒂𝒍𝒔 𝒐𝒇 𝒕𝒉𝒆 𝑻𝒓𝒂𝒊𝒏𝒊𝒏𝒈
Promoting children's social & emotional development
Child-directed play skills to promote positive relationships
Promoting toddler's language with descriptive commenting
Establishing rules and predictable routines
Handling separations and reunions
Academic & persistence coaching to promote school readiness
Positive attention, praise & incentives to promote cooperative behaviour
Setting developmentally appropriate limits
Positive discipline and using distractions, redirections & ignoring to effectively handle misbehaviour
Teaching children time out
Helping children learn to calm down & self-regulate
Teaching children beginning problem solving steps through stories & games
𝑨𝒃𝒐𝒖𝒕 𝒕𝒉𝒆 𝑻𝒓𝒂𝒊𝒏𝒆𝒓
Kimberlee Shoecraft has been a social services practitioner for more than 14 years and a Certified Mentor and Trainer for The Incredible Years® since 2009. She has facilitated parent groups, parent and infant groups and children groups for many years with high-risk populations. Kimberlee also provides training programs for social service professionals both in America and internationally. Kimberlee has a B.S. in Sociology, Master's in Social Work and a Post Graduate Certificate Program in Psychological Trauma.
𝑾𝒉𝒐 𝒔𝒉𝒐𝒖𝒍𝒅 𝒂𝒕𝒕𝒆𝒏𝒅
Nurses
Teachers
Therapists
Counsellors
Social Workers
Special Education Teachers
Family Life Education Trainers
Social Service Professionals
Psychoeducation Therapists
𝑪𝒐𝒖𝒓𝒔𝒆 𝑭𝒆𝒆𝒔
S$1,880 per participant
A 'Certificate of Attendance' from The Incredible Years® will be presented to participants after completion of the programme
Space is limited. Register early!
Registration closes 26 May 2023
𝐋𝐄𝐀𝐑𝐍 𝐌𝐎𝐑𝐄
www.morningstar.org.sg/happening/iybp-group-leaders-training-2023/
For enquiries and to register, please reach out to
☎️ Sarah at +65 8932 4808
📩 training@morningstar.org.sg with subject title "IYBP Group Leaders"
About the organiser
Morning Star Community Services is a registered charity and Institution of Public Character which aims to enrich and strengthen family relationships in Singapore. By empowering individuals and families, we strive to build vibrant communities that can make a difference to society.
In a world where challenges to harmonious family relationships are increasing in intensity, Morning Star Community Services also provides upstream, preventive and early intervention programmes, family life education workshops and counselling services.