Location
Stamford Arts Centre
155 Waterloo Street
The Black Box (lvl 2)
Singapore, SG 187962
Singapore
Refund policy
Refunds up to 7 days before event
Eventbrite's fee is nonrefundable.
A weekend of 'not family-friendly' improv shows for the appropriately-aged to enjoy!
About this event
OVERVIEW
Turn down the lights! Clear your Search History! And don't bring the kids! For one exclusive weekend, we'll be very - VERY - naughty with our improv. Join us as we (intentionally) trace our fingers within the outer rim of the local classification code. Expect violence, vulgarities, and penetrations into topics that people might not consider clean or comfortable.
(But seriously, though - no kids allowed for this occasion.)
[Rating to be advised // All shows will be performed in English]
[Art Credits: Bhavani Bala @bhankadraws]
ADMISSION
Venue:
The Black Box, Lvl 2 Stamford Arts Centre
55 Waterloo St, Singapore 187962
Ticketing:
General Admission = $15-$20
As this is an R-18 event, you must be 18 years old and above to attend. Please bring a form of identification (NRIC, FIN Card, or Passport) for age verification. Persons who cannot verify their age will be turned away without refunds.
Discounts:
TIC Vouchers (Please enter your voucher code when prompted by the ticketing page)
20%-off Early Bird Sales (Use Promo Code 'pineapple'; ends Fri 20 May 2022 (11.00pm))
PERFORMANCE LINEUP
Fri 27 May 2022
8.00pm = 'CANCELLED' by The Modern Schemers
We live in the era of Cancel Culture, where one wrong tweet can blow up your life and live comedy is the ultimate daredevil act. So welcome to the first ever improv comedy show you can cancel as you watch it!
The Modern Schemers will enact wild and wacky scenes based on your suggestions. But at any point in time, the audience can #cancel the show to totally change how the story goes. Finally, you have all the power. Will you use it wisely? Or risk being #cancelled yourself?
CAST: Luke Somasundram | Amil S. Adam | Hee En Hua | Govind Singh | Too Xing Ji | Mou Zongxiao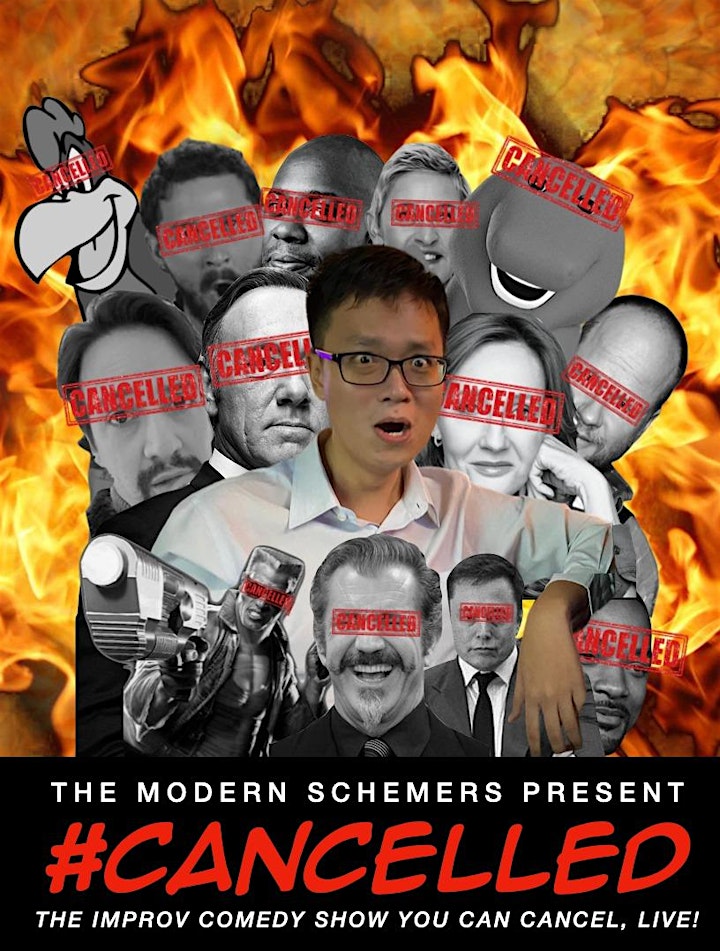 Sat 28 May 2022
2.00pm = 'BENEATH THE SURFACE' by Stories of Singapore & I'mPOV
This is a double-bill with two performances.
For the first half, a group of Singaporeans and friends come together to show you how we live on the little red dot. "TMD, everyone's trying to steal our lunch when the pie is so small, HDB so small." What are our 5Cs now and are they still the hot thing? Join Stories of Singapore as we talk about what the kopitiam uncle and auntie want to talk about and find out what it means to find HAPPINESS, PROSPERITY, AND PROGRESS.
For the second half, I'mPOV whisks you through time and space as they play around with how the same events can be pecieved differently by individuals. What could possibly happen during a blended inter-faith family gathering? That's entirely up to you, dear audience. But wait! Is what you see really what you see? In CAN'T MAKE THIS S**T UP, deep dive into the perspectives of different characters as our performers try to figure out how to be in relationship with themselves and others.
CAST (Stories of Singapore): Lewis Liu | Wong Jie Yi | Al Hafiz Sanusi | Jonas Ng | Kau Fun | Vidhya Thomas | Pang Chiaw Yong | [dir. Jon Cancio]
CAST (I'mPOV): Roslina Chai | BX Tang | Dave Melvani | Kashmira Chawak | Nicole Ng | Vidhya Thomas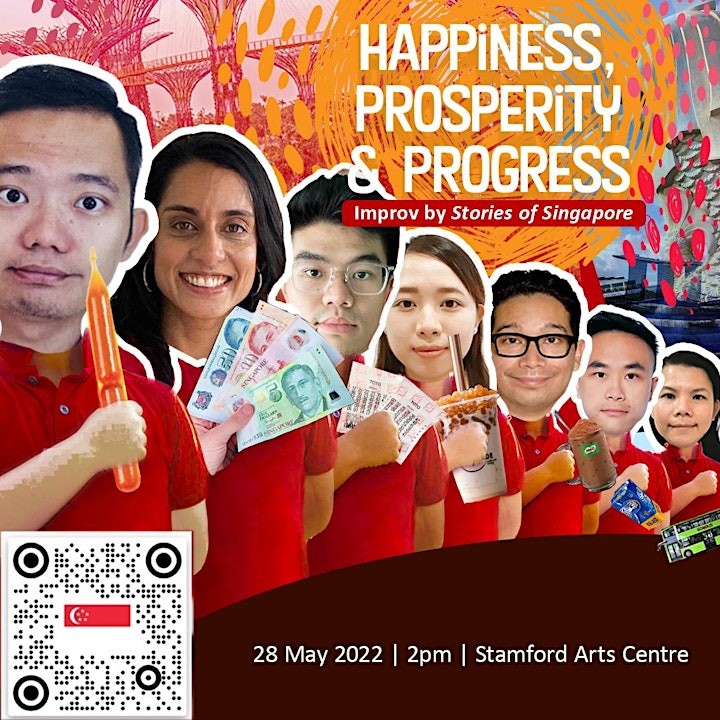 5.00pm = 'YOU CAN'T SIT WITH US' by Glitch Perfect
// Do not engage. They won't understand. They're not like us. //
Have you ever felt judged because of your beliefs? Join Glitch Perfect as we explore the struggles of navigating controversial ideas.
CAST: Alayna Seah | Andee Tay | Wang Chen | Claire Ban | Tan Ee Sang | Ho Hui Sze | Mary Gileva | Chong Wei Kiat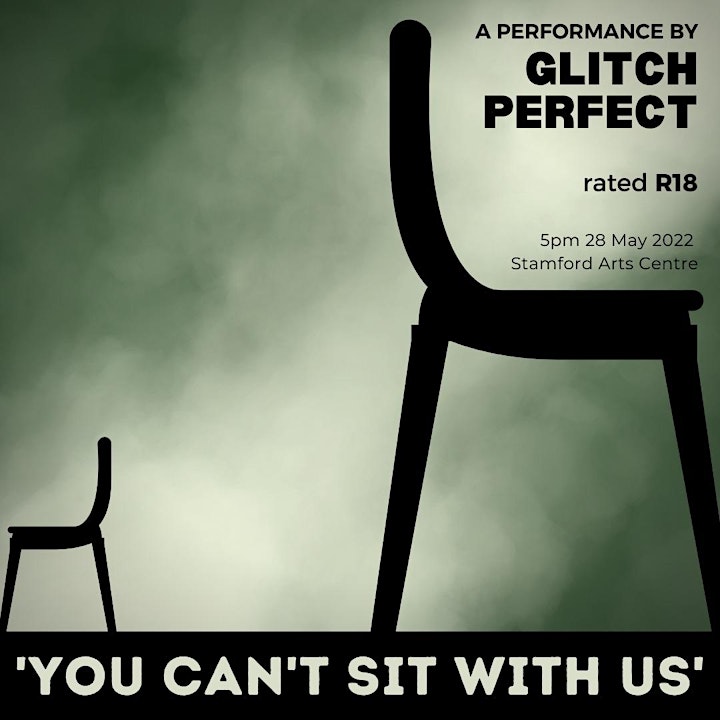 8.00pm = 'THICK. SOLID. TIGHT.'
Annie and Asher will do a show with the audience in an anonymous chatroom.
Please bring your phones and e-wallets.
CAST: Annie Low | Asher J. Tan
Sun 29 May 2022
5.00pm = 'CHICKEN SOAP FOR THE SOUL' by ASAP Improv
[Cries in Singlish] Have you taken your medicine? NO, you were adopted as a child.
Can we be as dramatic and over the top as what you see on a daytime soap opera? Nope. We are way worse! Come join ASAP Improv as they bring back their signature improvised soap opera format and enthrall you with DRAMA. SUSPENSE. AND ACTING DESERVING OF A STAR AWARD.
CAST: Hee En Hua | Isaac Long | Jess V. | Joel D. Chua | Pamy Tan | Timothy Yeo | Too Xing Ji
8.00pm = 'JUST FRIENDS'
Wa Singapore improv got gay meh? (Yes, we are here, we are queer and we are also chaotic theatre people.) Catch improv team Just Friends as we dream up and devise stories that are unapologetically "alternative", and also very human and possibly even quite funny.
We don't know what the show is going to be about exactly, but that is up to the audience to decide. Part "choose your own adventure", part "improv at the pace of life", and most definitely with queer folx at the centre of the story – this is a show that seeks to normalise and celebrate that all love is the same.
All proceeds for this show will go to TransBefrienders.