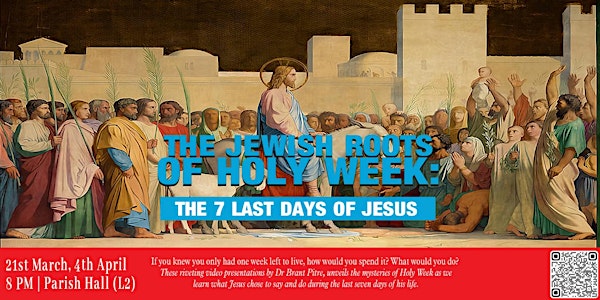 Multiple dates
The Jewish Roots of Holy Week: The 7 Last Days of Jesus
Two video presentations by Dr Brant Petrie, that unveils the mysteries of Holy Week.
Date and time
Starts on Tuesday, March 21 · 8pm +08
Location
Church of Divine Mercy, Parish Hall (L2) 19 Pasir Ris Street 72 Singapore, 518771 Singapore
About this event
Date: 21st March, 4th April
Note: Only one registration is needed for both dates.
If you knew you only had one week left to live, how would you spend it? What would you do?
Most people know that Jesus celebrated the Last Supper on Holy Thursday, died on Good Friday, and lay dead in the tomb on Holy Saturday. But what about the other days of Holy Week? What did Jesus choose to say and do on the last seven days of his life?
In these riveting presentations, Dr. Brant Pitre takes his knowledge of the Jewish roots of Christianity and uses it to unveil the mysteries of the most sacred and solemn week of the entire year: "Holy Week." In these two presentations, you will discover:
Palm Sunday: Why did Jesus ride into Jerusalem on a donkey?
Holy Monday-Tuesday: Why did Jesus curse the fig tree on holy Monday?
Spy Wednesday: What is the hidden meaning to Judas' betrayal of Jesus? And why is this day called "Spy Wednesday"?
Holy Thursday: How exactly did the disciples prepare the Passover for Jesus?
Good Friday: What is the meaning of the blood and water that flowed from Jesus' side?
Holy Saturday: Why did Jesus rest in the tomb? Where did Jesus' soul go on Holy Saturday?
Easter Sunday: Why did Jesus rise on the "first day of the week"?
If you're looking to get more out of the season of Lent this year and to truly enter into the mystery of Holy Week with Jesus, then this Bible study is for you.