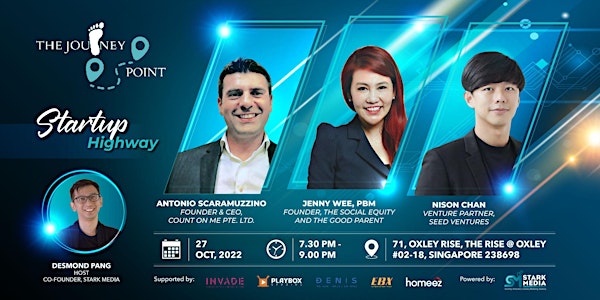 The Journey Point: Startup Highway
Are you a startup, entrepreneur, business owner or one who wishes to learn more about starting up a business? We hope to see you!!
When and where
Location
71 Oxley Rise 71 Oxley Rise #02-01 Singapore, 238698 Singapore
About this event
Are you a startup, entrepreneur, business owner or one who wishes to learn more about starting up a business? We are excited to invite you to join us for the 2nd instalment of The Journey Point: Startup highway in Singapore!
The Journey Point is a community and networking event where esteemed guest panelists share their career journeys and insights. It is a panel sharing series that runs monthly live on-site. It also provides opportunities for people from different walks of life, industry and profession to create or enhance collaboration among individuals within an industry, trade, profession or with a common need or interest.
Why Attend?
Our invited panelists provide insights into their career paths and highlight the challenges that startups face. Additionally, these industry experts will discuss how startups can overcome hurdles despite such obstacles and how to succeed despite them.
Learn about upcoming business trends and impact for the near future:
Learn how to overcome startup business challenges such as fundraising, hiring, and accounting-related matters.
Get inspired by connecting with others
Make some friends, network, and meet our invited panelists on Thursday, 27 October!
Light refreshments will be provided, but please have your dinner before joining us!
Host
A stroke patient and survivor, the skills and knowledge Desmond possesses stem from his life experience and also those he acquired in different industries. An entrepreneur by heart, Desmond is a man who isn't unfamiliar with setbacks. While going through multiple trials in the course of his career as an educator and entrepreneur, he has also achieved numerous positive milestones.
Since 2013, Desmond has launched several startups and businesses, including manufacturing and distributing Korean ciders to Singapore, selling baby apparel, operating a hawker stall and starting a media & marketing company. Among his ever-green passion for doing good, he has also built three water wells in Cambodia, Banteay Srey and Siem Reap.
As a strong believer in stories and videos, Desmond has also produced more than 150 documentary interviews and video productions, totaling over 500k views and 2000 social media shares. While being a member of SAFRA Entrepreneurs Club, he is also a mentor for MyStartUp Pre-Accelerator, which is designed specifically for pre-seed and early-stage startups in Malaysia.
For decades, Desmond has lived by the motto, "Persevere, believe, and work hard to find your own success."
Guest Panelist 1
Antonio Scaramuzzino is an experienced CFO with over 15 years of experience managing finance functions for MNCs across Europe and APAC. A team of experts and cloud accounting solutions ensure the best possible optimization of finance departments, compliance and taxation matters for SMEs.
Count on me offers high-quality, CFO-like services to its clients, 100% online. This makes everyone's life easier since there are fewer Excel spreadsheets, fewer human errors, and less time wasted.
Guest Panelist 2
A microbiologist trained at NUS, Jenny Wee, PBM holds a Bachelor of Science degree (First Class) in Microbiology. Her entrepreneurship journey started with a parenting forum and eventually launched a baby product distribution company, then a retail store in the aesthetics and pet supply industry. She is also the founder of The Social Equity and The Good Parent, which aim to address social gaps and uplift the most vulnerable members of our society. During the early days of the Covid-19 pandemic, Jenny consulted for Makansutra and helped the company pivot.
Guest Panelist 3
Nison Chan is a Venture Partner at SEED Ventures, a venture capital firm that invests in pre-seed and seed-stage startups.
With a strong background in entrepreneurship, Nison also ran We The People, a global retail and consultancy marketplace for crowdfunded products and brands. WTP expanded across Singapore, Silicon Valley, St Louis, Korea and Malaysia. At its peak, it had 8 physical stores and organised countless pop-up events that generated more than 6 million in revenue over 3 years.
Today, Nison structures equity-based deals and evaluates early-stage startups for investment opportunities. He also builds partnerships with companies and schools to develop business for the VC.