Who Should Attend? Fresh Graduates | Mid-career Switch | People Who Are Just Simply Curious
About this Event
Let's be honest with each other. Nobody else knows what they are doing in life either. As an analogy, you could say life is a gamble as we will never know what comes next.
Join Illuminate Co. and our invited guest speaker, Ms Angel Liew, an Enneagram Practitioner, Financial Consultant and Career Coach, in this webinar on The Journey to Career Clarity as she shares with you insights on how the Enneagram Personality Profiling Framework can help you learn more about yourself, achieve better clarity about your career path and decide on your next step!
What to Expect?
💎 Explore & discover your Enneagram Type and what drives your decisions and career choices
🔮 Understanding your most suitable career path
🎯 Strategies for career growth
🎁 Participate in our Lucky Draw Giveaway. Up to SGD$100 worth of NTUC/Grab
💥 First 30 registered gets to do an Enneagram Personality Test for free!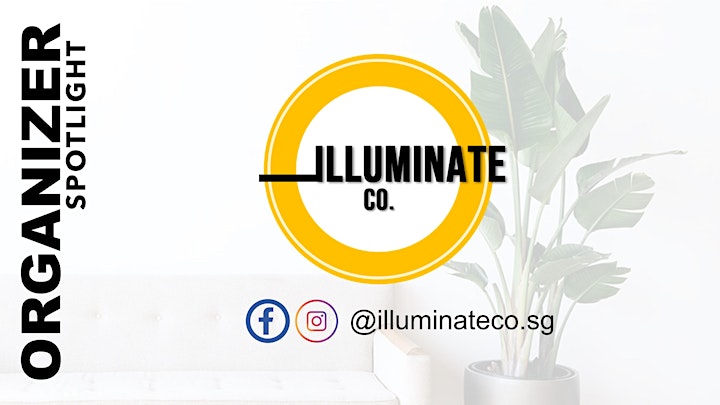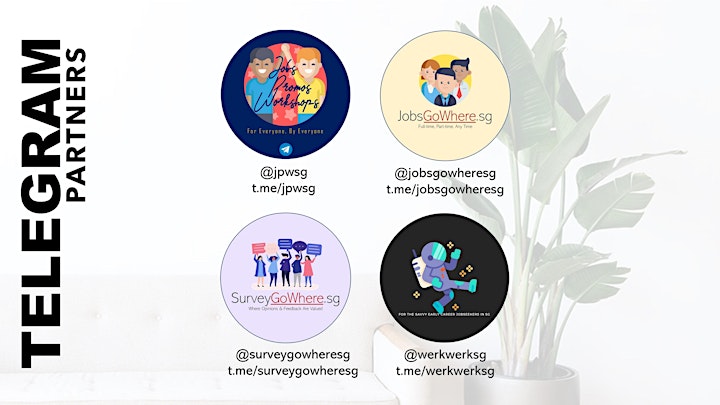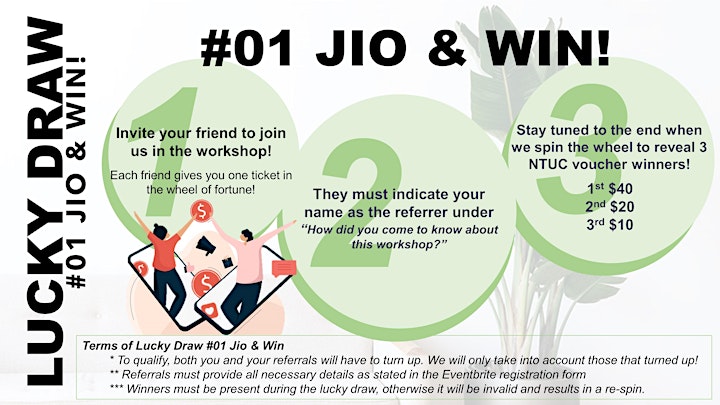 Terms of Lucky Draw #01 Jio & Win
* To qualify, both you and your referrals will have to turn up. We will only take into account those that turned up!
** Referrals must provide all necessary details as stated in the Eventbrite registration form
*** Winners must be present during the lucky draw, otherwise it will be invalid and results in a re-spin.
**** Winners must use their first and last name registered with Eventbrite for verification and will be contacted via their mobile number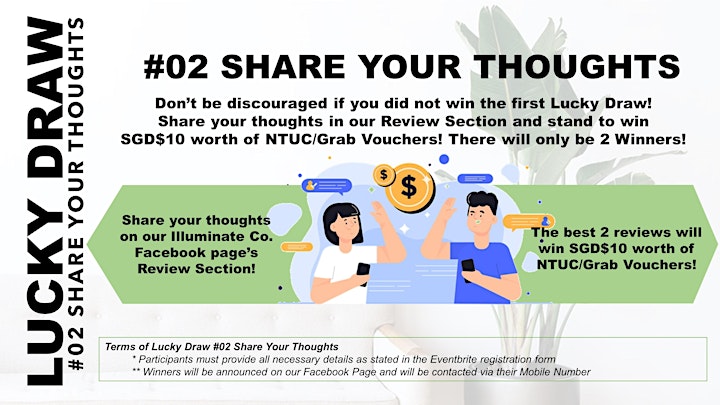 Terms of Lucky Draw #02 Share Your Thoughts
* Participants must provide all necessary details as stated in the Eventbrite registration form
** Winners will be announced on our Facebook Page and will be contacted via their Mobile Number
Terms of Registration
By signing up for this workshop and submitting this registration form, you consent to allow Illuminate Co. , its associated persons/organizations, their third party service providers and its and their representatives to collect, use, disclose, store, retain and/or process all personal data and information that had/has been provided by you for the purposes of conducting consumer, marketing related or other similar research and analysis and to provide marketing and promotional information relating to existing or future products and/or service.
Please note that Illuminate Co. will send out emails, Short Message Service (SMS) and/or WhatsApp Messages to all registrants of Illuminate Co.'s online and offline events/workshops. All personal data held will be kept confidential.
Important Notes Regarding The Workshop
Attendees will be contacted via WhatsApp to perform Workshop confirmation and be provided the ZOOM session password. This is to prevent any unregistered turn-ups.
Illuminate Co. reserves the rights to make any amendments and changes to the lucky draw mechanics, prizes/giveaways, amendments to the workshop and/or reject attendees/winners should there be any foul play.