Description
** NB. This Is NOT A Motivational Speaking Event **
This is a Teaching Workshop Where All Will be Revealed to YOU,
~ WHY you are where you are.
~ HOW to achieve the Results YOU really WANT.
~ RSVP today only if you really really want to pursue what you truly desire.
** Inline with #SkillsFuture, this event is brought to you FREE as we aim to inspire those who are willing to learn & pursue what they truly desire. **
---
The Law of Attraction Is BS?
Yes, you read it right. The Law of Attraction Is Basically Simple. That's IF you know the underlying Universe Law.


What's the Underlying Law?
Do you know the when you know this underlying Universe Law your whole life could change dramatically? Once you are aware of it, you can make permeant changes to your life. You are almost guaranteed to achieve the results you always desire.


Imagine how good your life will be
when you know what's the underlying law & HOW to apply the Law of Attraction....
What exactly is the key to Success (& the key to Failure..)?
You probably already know and that is, WE BECOME WHAT WE THINK ABOUT
Earl Nightingale (who is named as the "Dean of Personal Development") said, "this is the strangest secret. Actually, it isn't a secret at all. It was first promulgated by some of the earliest wise men. But very few people have learned it or understand it. That's why it's strange, and why for some equally strange reason it virtually remains a secret."


RSVP for a 2-hour packed workshop to learn
1) What is the Underlying Law that makes people successful & why not Me?
2) The #1 thing that is keeping me away from my goals & my desires.
3) 3-income earning strategies that I was never taught in school


AGENDA:
7:30 PM - 7:45 PM: Registration
7:45 PM - 9:00 AM: Cover above points
9:00 PM - 9:30 PM: Q&A . Lucky Draw,
THREE (3) lucky winners will walk away with a 2.5-days Paradigm Shift seminar by Bob Proctor (worth $2,650)
You will receive a recording of a 2.5-day seminar held in Los Angeles, USA by Bob Proctor and Sandy Gallagher. They will cover how YOU can have YOUR paradigm shift in great depth and create a new one that frees you to create the life you really want.
Feedback from attendees
Read more here on our Facebook page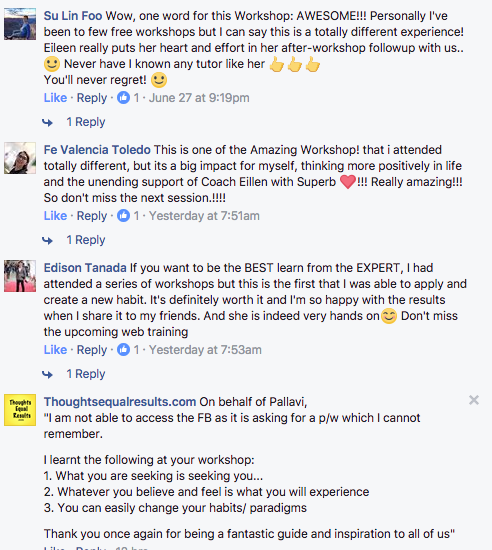 Privacy Policy: I confirm that by providing my personal data and contact details as above, I have agreed to receiving messages (in sound, text, visual and other form) including via the above Singapore telephone number in accordance with the Personal Data Protection Act.