The Leadership Masterclass

Monday, 20 February 2017 from 08:30 to 13:30 (Singapore Standard Time Singapore Time)
Event Details
Delivering Delight, The Flame Centre and Deep Impact jointly present…
The Leadership Masterclass 
Elevate Leadership, Enhance Positivity and Engage Talents

 
Do you want to:

Engage and retain your talents?

Shift to solutions and results quickly?

Develop your people with future-ready skills?

Create a culture of possibility, positivity and passion?

See your people lead with values and delighting customers?
Find out all these time-tested solutions in The Leadership Masterclass:
Why do Exit Interviews, when you can do Stay Interviews? Small Steps To Big Changes and Delivering Delight and Leading with Values on 20 February 2017 (Monday).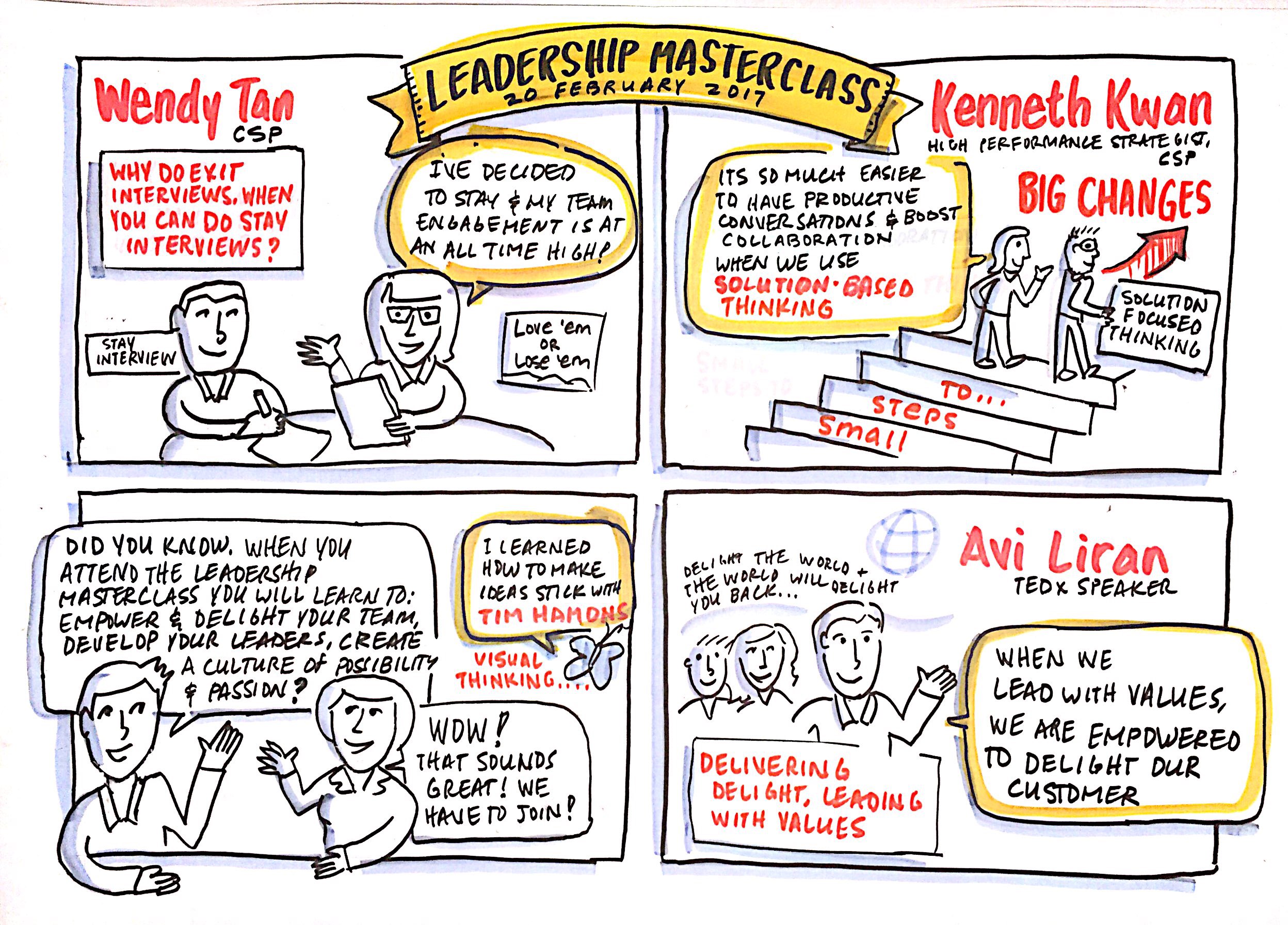 Why do Exit Interviews, when you can do Stay Interviews?
Consider this:

Research suggests that uncertainty and change, increases 

the risk of losing top talent. 

Younger employees, being mobile and adventurous, call it quits more readily.

Attrition costs between 100 to 400% of annual salary, not to mention the loss 

of experience, impact on morale and relationships with customers. 
 
How can you help mitigate these risk? Conversations. Yes, conversations. Not routine conversation on daily work. But meaningful, authentic and personal conversations between employees and their managers.
Such conversations are critical to keeping your top talent now. They have a direct impact on employee engagement and retention which in turn, has an impact on an organisation's performance and bottom line.
Join Wendy Tan, founding partner of Flame Centre, to learn about:

Stay factors across different generations

A to Z strategies managers to retain employees

How to do a Stay Interview, instead of Exit Interview
Based on findings from a research with 18,000 globally and bestselling books, Love 'Em or Lose 'Em and Hello Stay Interviews, Goodbye Exit Interviews. 
Speaker: Wendy Tan, CSP 

 

A consultant, writer and speaker, Wendy Tan integrates wholeness at work so we act with wisdom to create greater good. Wendy has 

co-

founded Flame Centre, a talent development and instructional design practice based in Asia. Our work in integrating pedagogy and technology for learning advantage has recently won the InnoPlus Spark and HRO Today Thought Leadership Awards. She has received her Certified Professional Speaker (CSP) award from National Speakers  Association as the profession's international measure of professional platform competence. She is also an accredited trainer in Dr Beverly Kaye's career development and talent engagement solutions and Peter Block's Flawless Consulting workshops. She is also the author of upcoming book, "Wholeness At Work: Gifts from East and West".

 



Small Steps To Big Changes
Creating possibilities and quickly move towards it
How do you help people from being trapped in a sea of problems and quickly move them to be solution focused? What if there is a set of techniques that can help a person master internal resources to effectively solve their own limitations? You will be learning a powerful model for helping people quickly focus on what they want and move towards that direction.
Join Kenneth, High Performance Strategist, to learn how to:
Build resilience and self-belief within yourself and team members.

Adopt a more "solution-conscious" mindset rather than being "problem-focused".

Understand how to create change, optimism and sustain progression. 

Discover the micro skills to elicit quick action steps towards your desired future.

Overcome negativity in the workplace by using what works and evidence-based techniques.
Speaker: Kenneth Kwan, High Performance Strategist, CSP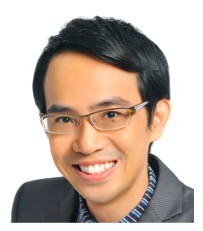 As an international renown Leadership and Motivational Speaker, Kenneth Kwan has trained and spoken to over tens of thousand of people across 11 countries about developing intrinsic motivation and what is required to lead high impact teams. Businesses who work with Kenneth say that they have increased staff engagement, retention and a sense of individual ownership. He is also a Merit Award Holder of JCI Singapore's Ten Outstanding Young Persons (TOYP) of the World. Kenneth is also the author of an upcoming book "Small Steps to Big Changes".

Delivering Delight and Leading with Values
Imagine a delightful workplace where people are engaged with purpose and empowered to delight, where employees connect and thrive with their WHY.
Are your teams facing misunderstandings, eroding trust, disengagement, lack of collaboration, loss of talent and resistance to change?
What if you could positively transform your organisation to delightful performances? Learn practical tools to combine heads with hearts to deliver delight. Find out how leading with shared values can help realign teams.
Join TEDx speaker Avi Liran of Delivering Delight, to learn about:
 
Delivering Delight Model


Practice tools to create Delightful Employees Experience (DEX)

Playfully learn about your personal and team members WHY


Connect and respect diversity by playing the values game.
Based on a decade of research working with thousands of leaders and top Fortune 500 companies, Delivering Delight book and 14 years of research about values.
Speaker: Avi Liran, TEDx Speaker

 

 

TEDx (IDEASx) speaker, Avi Liran (Economist, MBA and basketball coach) is a leading expert on Delivering Delight and Leading With Values. He is one of the leading experts on happier and positive workplaces that deliver results by combining heads with hearts. He is an engaging, inspirational and entertaining global speaker.

Known also as the Chief Delight Officer, Avi has been on a mission since 2006 to help workplaces to transform into more humane environments where individuals flourish and teams thrive. He helps positive leaders to replicate their positivity rapidly by a combination of coaching, consulting and delivering training programs.
Facilitated Summary with Tim Hamons, Visual Illustrator
He will be visually scribing each of our presentations to leverage on your learning investment and create a valuable takeaway of the key insights from each of the speakers.
      
 

Tim Hamons is a visual facilitator, speaker, trainer from Art of Awakening, with over 20 years experience working with clients throughout Asia and the world.


Tim's passion is bringing individuals and teams to a higher level of performance through engaging creative processes and collaborative work environments. As a visual facilitator, he uses a variety of visual thinking tools to organize ideas and synthesize conversations. This supports groups to leverage on diverse thinking and work together towards a shared vision. As a speaker, he uses live sketching in his presentations to frame key messages and build interactive storytelling.

An American Citizen, Tim has lived and worked in Singapore for the past 25 years.
Here are what our clients have to say: 
"Through the session, I've picked up several valuable insight that I can apply to my job and I'm certain these skills can help improve certain issues my company is currently facing. "

Elaine Khong
Talent Manager, Capita Pte Ltd

 

"This masterclass broadened my awareness of techniques available to managers. There was enough variety in case studies to see how these techniques could work across different scenarios."

Jason Puah
Director, Ruderfinn Asia

 

"This program helped me to understand how we can apply effectively to a team at any performance juncture to a greater juncture. A good program to grow competency of not just leaders, but anyone."

Phyllis Ng
Associate OD Partner, Human Resource, Ng Teng Feng General Hospital
Register Now For The Leadership Masterclass
Date: 20 February 2017 (Monday)
Venue: Unity Room @ 8 Floor, Singapore Chinese Chamber Institute of Business
47 Hill Street Singapore 179365
Time: 8:30am to 1:30pm
Breakfast and Lunch will be provided 
Early Bird Price: S$197 (ends on 14 Feb 2017)
General Price: S$250
Sign up early to avoid disappointment! 
When & Where

Unity Room @ Level 8
47 Hill Street
Singapore Chinese Chamber of Commerce and Industry
Singapore, Singapore 179365
Singapore

Monday, 20 February 2017 from 08:30 to 13:30 (Singapore Standard Time Singapore Time)
Add to my calendar
Organiser
Organisations and government agencies have partnered with Deep Impact to create meaningful experiences that enable more than 12,000 participants to have a sustainable, transformational and long-lasting impact on their business performance. They seek educational experiences that deliver results and real value over a period of time.
With 11 years of diverse experience in conducting keynotes and trainings in twelve countries, Deep Impact continues to deliver high quality programs to empower people to lead high performing lives and make a deep impact in their workplace and homes.