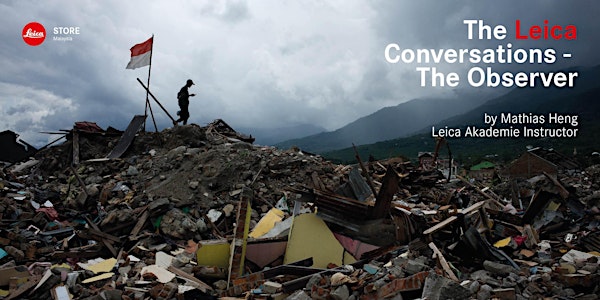 The Leica Conversations - The Observer
The Leica Conversations - The Observer by Mathias Heng, Leica Akademie Instructor
When and where
Location
Leica Boutique Penang @ Gurney Plaza Persiaran Gurney George Town, Pulau Pinang 10250 Malaysia
About this event
About Mathias Heng
Mathias Heng is a photojournalist. His images from humanity issues had a powerful effect on him, for that reason, his decision to become a photojournalist. He spends much of his time on assignments and photo workshops. In his travels to places of war, disaster, poverty and human struggle, Mathias has photographed several conflicts and their effects on the civilian population, producing a body of emotionally moving documentary work that captures key moments and turning points in history. Since then, Mathias devoted himself to documenting war, disaster, poverty, social issues and humanity.
Having covered many conflicts and the effects on the civilian population, Mathias Heng's work appears in The Sunday Times, The Washington Post, The Guardian, The Australian, The Age and newspapers throughout Asia and Europe. His images appear in books and magazines worldwide as well as non-government organization magazines such as Leica Fotografie International, Schwarzweiss, Focus, New Internationalist, The Australian, Eureka Street, Oxfam USA, Oxfam Australia, CARE International, Plan International, Caritas Australia, Australian Volunteers International, AusAID and International Labor Organization (UN). Mathias has published three books.
He has worked on extensive photographic essay in Afghanistan, Australia, Bangladesh, Burma, Cambodia, China, East Timor, France, India, Indonesia, Iraq, Jordan, Japan, Kiribati, Malaysia, Mozambique, Nepal, Pakistan, Papua New Guinea, Singapore, Spain, South Africa, Thailand, Ukraine, United Kingdom and Zimbabwe.
In spite of his exposure to many atrocities, Mathias has never lost his passion and commitment to humanity, or his ability to capture images which speak to people around the globe.
About This Conversations
Journey with a conflict photojournalist, Mathias Heng covering war zones, social issues and humanity for the past 37 years, and recently eye-witnessed the war Ukraine. The observer, Mathias will bring us back into the war with his photos as well as the horrendous stories. He will share his experiences on how he operates amidst the danger.