The Life & Thoughts of Imam Ghazali: Faith and Reason

Saturday, 30 September 2017 at 14:00

-

Sunday, 8 October 2017 at 17:00 (Singapore Standard Time Singapore Time)
Event Details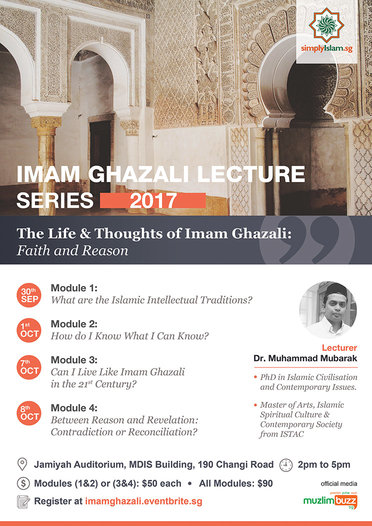 Imam al-Ghazali Lecture Series
When: 30 September - 1 October, 2pm to 5pm,
7 October - 8 October, 2pm to 5pm.
Where: Jamiyah Auditorium, MDIS Building,
190 Changi Road, Singapore 419974
Fees: $90 for both weekends,
or
$50 each for either 30 Sept-1 Oct or 7-8 October
In contemporary times, one of the major dilemmas that a Muslim faces is the wrestling between the demands of worldly living and fulfilling religious obligations. This dilemma is deepened with the general dichotomy between what is religious and what is secular. Many Muslims, especially young graduates and undergraduates, are thrown into perplexity on how to balance the demand of their faith with modernity.
Islam as al-dīn, a comprehensive system and way of life that permeates every aspect of individual and community living, it has been turned into a rhetorical claim without any possible light on its practicality. Revelation, which is supposedly to be the source of everything and anything, seems to become more incompatible with reason. Muslims still believe the relevance of revelation to all times, but they do not know how to uncover the treasures of the revelation within their area of work, studies and specialisation.
Aims of the Lecture Series
The focus of the lecture series is to provide a general view on how Muslim scholars of the past arrived at the balance between revelation and reason. This goal is achieved through a cursory reading and discussions on the works and thoughts of our classical scholars. It aims to provide participants with the tools on how to arrive at their own realisation (taḥqīq) on the balance between revelation and reason within their respective fields.
To achieve the above aims, we will be focusing on the life and thoughts of one of the many Muslim sages. We will discover the thoughts of Imām Abū Ḥāmid al-Ghazālī (d. 1111 CE) who is known as the al-Hujjah al-Islām (The Proof of Islam) through reading and discussion of some of his primary texts that he wrote during his lifetime. There are a couple of reasons to this selection:
1. Imām al-Ghazzālī's interpretations of the 'Ash'ārite and Shāfī'ī schools of 'aqīdah and jurisprudence have shaped the life and thoughts of Muslims in the Malay Nusantara.    
2. Imām al-Ghazālī represents an integrative thought of a philosopher (failasuf), a theologian (mutakkalim), a sūfi, a jurist (faqih) par excellence.
3. Many of his important works have been translated into the English language which makes his works accessible to the masses. 
We will also explore an example on how the balance between revelation and reason was achieved by the intellectual schools by focusing on a scientific tradition, the study of the world of nature, which was present then. It is hope that by providing an example of how revelation guided scientific research and how the relation between revelation and reason was established, participants would be able to utilise the tools and skills to realise personally this relationship within their field of study and work.
Essential Questions
These questions will guide the flow of the workshop and all the discussions:
1.     How do we realise the delicate balance between revelation and reason in our field of work and study?
2.     What are the tools that we can harness from classical texts that will assist us in our realisation?
3.     How are classical works relevant to our contemporary living?
Outline
The series will have 4 modules. Each module will be conducted within a duration of 3 hours. The modules will be conducted through lectures and discussions. Group discussions and presentations may be utilised when appropriate.
Module One: "What are the Islamic intellectual traditions?"
In this module we will explore some of the intellectual schools within the Islamic Civilisation.  These intellectual schools are mainly (i) The Peripatetic School, (ii) The Kalām School and (iii) The Sufi School. We will also explore their respective premises in describing The One and the Many. Some guiding questions for this module are:
1.     Why are there multiple descriptions of The One and the Many?
2.     What are the similarities and differences between these descriptions? 
3.     How do we deal with these differences?
Module Two: "How do I Know What I Can Know?"
In this module we will explore how the different intellectual schools organised knowledge in different hierarchical systems. We will focus the discussion on the methods used by Imām al-Ghazzālī in the different classification systems he used. The guiding questions for this module are:
1.     How are facts and information organised within the different Intellectual Schools?
2.     What are the reasons for different organisational systems of knowledge within a particular intellectual school?
Module 3: "Can I live like Imam Ghazali in the 21st Century?"
In this module we will revisit two crucial moments in the development of Imām al-Ghazzālī's intellectual and spiritual life. Through this reflection we will point out its relevance to our contemporary living. This module will be guided by the following questions:
1.     How was the life of Imām al-Ghazzāli?
2.     What were the natures of the two turning points in his life?
3.     What problem(s) do we want to solve?
Module Four: "Between Reason and Revelation: Contradiction or Reconciliation?"
In this final module, we will explore an example on how revelation and reason were utilised harmoniously within the Islamic Tradition. We will be exploring selected Qur'ānic verses that spur scientific research and some of the scientific exegetes that explained these verses. This module will be guided by the following questions:
1.     What are some foundational verses that defined Islamic vision of the study of the world of nature?
2.     How do we react to apparent contradictions between revelation and reason?
________________________________________________________________________
ABOUT THE LECTURER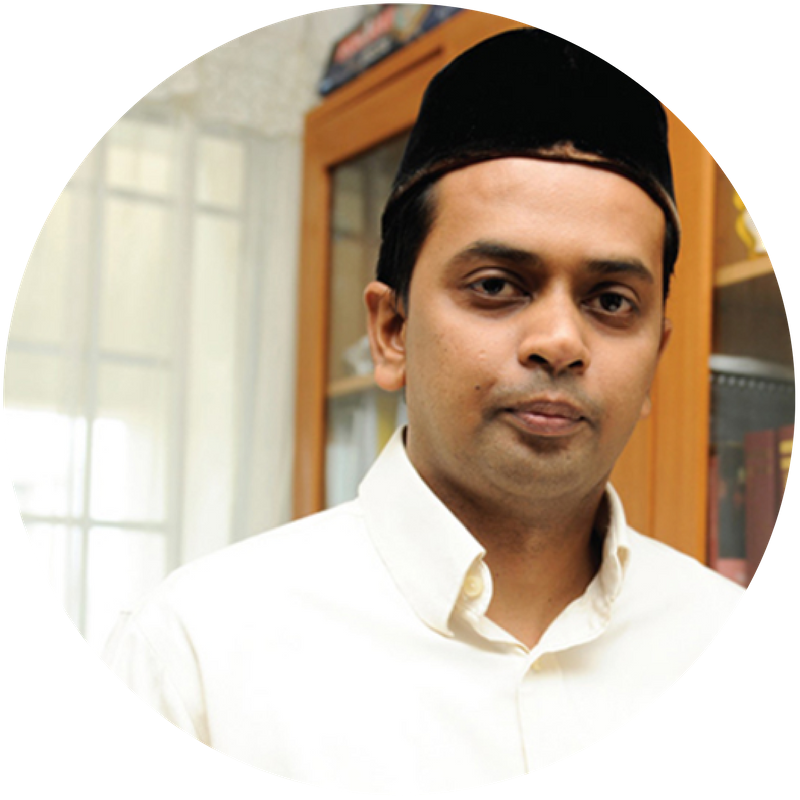 Dr Muhammad Mubarak Habib received his PhD in Islamic Civilisation and Contemporary Issues at Sultan Omar 'Ali Saifuddien Centre for Islamic Studies, Universiti Brunei Darussalam. He has a Master of Arts, Islamic Spiritual Culture & Contemporary Society from the International Institute of Islamic Thought and Civilisation (ISTAC), International Islamic University of Malaysia.
He has previously taught and won awards at Temasek Secondary School and was also a lecturer at Jamiyah Education Centre in their Diploma in Shar'iyyah Law. He is a Religious Rehabilitation Group (RRG) Secretariat member since 2009. He has also been teaching voluntarily at Muslim Converts' Association of Singapore since 1998.
When & Where

Jamiyah Auditorium, MDIS Building
190 Changi Road
419974
Singapore

Saturday, 30 September 2017 at 14:00

-

Sunday, 8 October 2017 at 17:00 (Singapore Standard Time Singapore Time)
Add to my calendar
Organiser
SimplyIslam.sg
The As-Siddiq Centre for Islamic Studies Pte Ltd, commonly called SimplyIslam, is a private organisation dedicated towards education, social & community development, literary services and humanitarian services to facilitate progression of society. SimplyIslam is committed to the retention of tradition, culture & esteemed values whilst integrating contemporary challenges facing humanity today.  Its scope of activities:
- Islamic Education
- International Islamic Scholars Program
- Arabic Language Services & Courses
- Online Islamic Magazine
- Online Islamic Store
- Event Management
- Corporate Consultancy
- Charity Works
- Publications
Innovative Approaches 
SimplyIslam's mission reflects its fresh and innovative approaches to communicate the beauty of Islam as a religion that is not only simple but also easy to learn and practice.
Traditional Islam. Progressive Approach. Dynamic Personality.
- Deeply rooted in Islamic Sunni traditions.
- Progressive & dynamic approach to life in the modern world.