Come join us this July for a FREE Storytelling Trial Class for 5-year-olds and above! Available in-person and online!
About this event
The Magic of Storytelling!
Our unique BeeThinkers Story Writing Experience works to inspire your child to deepen their descriptive writing abilities and to cultivate the joy of story writing from the early stages.
Aligning with the primary school English curriculum goals, your child will be able to use the skills learned in primary school and later years.
Advantages of Story Writing:
• Elevates writing preparedness
• Advances creative thinking and presentation skills
• Organizes and communicates ideas innovatively and clearly in writing and/or other forms of written expression
• Scaffolds other literacy skills such as grammar and vocabulary
Our Innovative Approach
• Presents global issues as the story theme
• Uses playful and creative ways to spark your child's imagination
• Guides through the use of storyboard and open-ended questions to create opportunities for your child to extend stories by adding depth and details
Learning Outcomes
• Develops an awareness of real-world issues and the role of global citizenship
• Engages the imagination to explore new possibilities
• Formulates, develops and articulates ideas clearly, including connection between scenarios and characters, resulting in a well-designed plot
• Understands the objectives of each part of the story – introduction, body and conclusion
What we're covering
Refer to the image below or here for more information on our lesson content and class schedule.
Save your seat!
Spots are limited for our FREE trial classes available both online and in-person! Class schedule available here.
- You may only register for ONE date for each program (Readers, Writers or Storytellers).
- If you have previously attended a free trial class (since Nov 2020), you will not eligible for to register for this and future trial classes.
- There are 4 in-person spots and 4 online spots per class. All in-person spots will take place physically at our centre.
Kindly note that these classes are designed for children who are 5 years of age and above. If you are registering for more than 1 child, please fill out a separate registration.
We also offer other FREE trial classes this July - register now to save your seat!
The BeeThinkers Advantage
We're a preschool literacy program that nurtures young learners to be changemakers for an altruistic and equitable world. As the world becomes more connected, the awareness and understanding of global issues becomes increasingly vital – and we can start at any age.
In particular, we're focused on getting our learners ready for their next step - primary school. All our programs have defined academic outcomes which are mapped out in individualized learning portfolios charting your child's progress. Some key measurable components include: idea formulation and critical thinking; grammar and its use in speech and writing; vocabulary; reading.
Downloads:
Lesson content and class schedule (July 2021)
Website: beethinkers.com
Tel: +65 6336 6558
WhatsApp: +65 9637 2852
Email: hello@beethinkers.com
Address: 61 Stamford Road, #01-01, Stamford Court, 178892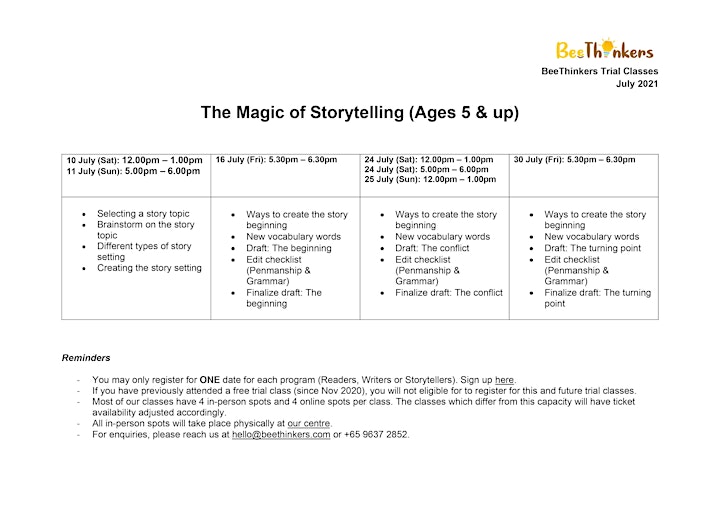 Organiser of The Magic of Storytelling for Ages 5 & Up (July 2021)