About this Event
Summit website: https://www.themartechsummit.com/singapore
The annual gathering of 300+ Savvy Marketers, as well as senior level professionals from Technology, Digital, Strategy & Innovation fields, together we aim to break the old cycle, stimulate innovative ideas, and facilitate fresh collaborations via workshops, roundtable discussions, 30+ case studies, 1-2-1 meetings throughout the 2 days event.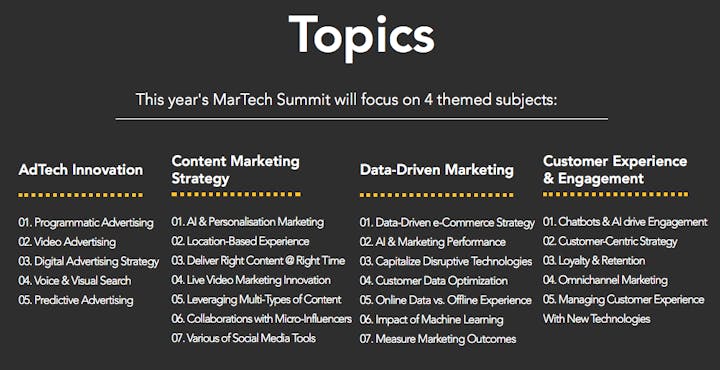 30+ Confirmed speakers include (updating weekly):
⁃ Chief Digital Officer, Orica
⁃ Chief Digital & Agile Transformation Officer, Allianz
⁃ Chief Sales & Marketing Officer, Pan Pacific Hotels Group
⁃ Head of Marketing & Comms, APAC, Knight Frank
⁃ Head of SEO, Lazada
⁃ Marketing Technologies Lead, APAC, Coca-Cola
⁃ VP, Product, Solaria Labs, Liberty Mutual Insurance
⁃ Deputy VP Marketing, Digital Marketing Lead, Prudential
⁃ Director, Adoption and Engagement Directorate, Smart Nation and Digital Government Office, Prime Minister's Office.
⁃ VP, Head of Brand Strategy & Online Marketing, Telenor Myanmar
⁃ Senior Manager, Digital Marketing, A DrBrand
⁃ Senior Manager, Marketing, Casio
⁃ Digital & Ecosystems Lead, DBS
⁃ Head of Marketing, iSwitch Energy
⁃ Chief Marketing Officer, StashAway
⁃ VP, Bank of America Merrill Lynch
⁃ Chief Marketing Officer, My Doc
⁃ Deputy Head of Strategy & Marketing, Airbus
⁃ Regional Lead, Digital Marketing & Social Media, HP
⁃ VP, Brand & Marketing, The Ascott
⁃ AVP, Digital Acquisition, Citi Bank
⁃ Director, Marketing and Communications, The American Club
⁃ Head of Brand, WWF International
⁃ Head of Digital, Social Media & Product Marketing, OCBC Bank
⁃ Regional Marketing Manager, Asia Pacific & Japan, Intel
⁃ General Manager, Fave
⁃ VP, Marketing & Strategic Planning, Kerry
⁃ VP, Digital, Chubb
⁃ MarTech & Digital Lead, ASEAN & APAC, Coca-Cola
& more...