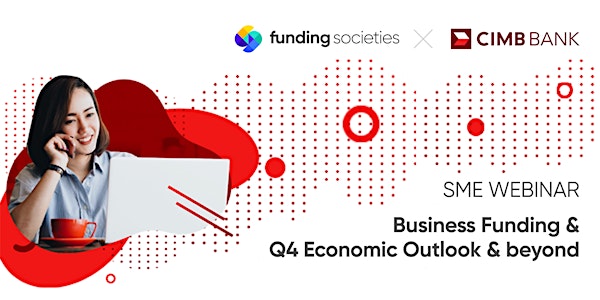 The New Normal for SMEs - Business Funding for Growth Beyond COVID-19
Financing doesn't have to be difficult - join us to learn how local SMEs can weather out this COVID-19 storm with the right support!
About this event
After months of strict social distancing and control measures across the country, Singapore is cautiously phasing into the "New Normal". As construction works resume and MICE events to restart in October, businesses are cautiously hopeful that the economy is set to begin its recovery. Even so, many SMEs are struggling to keep afloat amidst the COVID-19 storm and seeking a lifebuoy to tide them through.
In addition, with the Government stepping up the push for digital solutions' adoptions, how does digitalisation in banking really benefit SMEs? How can you finance your business digitalisation and will the economy recover in time to reap the benefits of digitising?
Join Funding Societies co-founder, Kelvin Teo and CIMB Private Banking economist, Mr. Song Seng Wun to discuss the business outlook for Singapore SMEs in the new normal, how we can best prepare for economic recovery and grow beyond COVID-19.
This webinar aims to cover
The COVID-19 impact on businesses in Singapore
How FinTech can support SMEs' growth beyond COVID-19 and in the new normal
Singapore's business outlook for Q4 2020 and beyond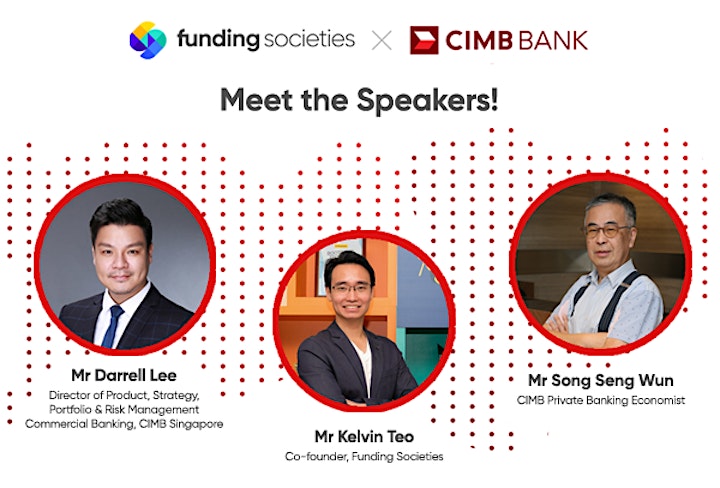 By registering for this event, I acknowledge and agree that I shall only provide business contact information in this form and hereby consent to submit the information provided herein to Funding Societies Pte. Ltd. ("Funding Societies") and CIMB Bank Berhad, Singapore Branch ("CIMB Bank").
Trade marks or logos appearing on this website may belong to third parties, and not Funding Societies Pte Ltd. All intellectual property rights attached to such trade marks or logos belong to the respective third party owners. None of these marks may be used without the express prior permission of the respective third party owners.