Description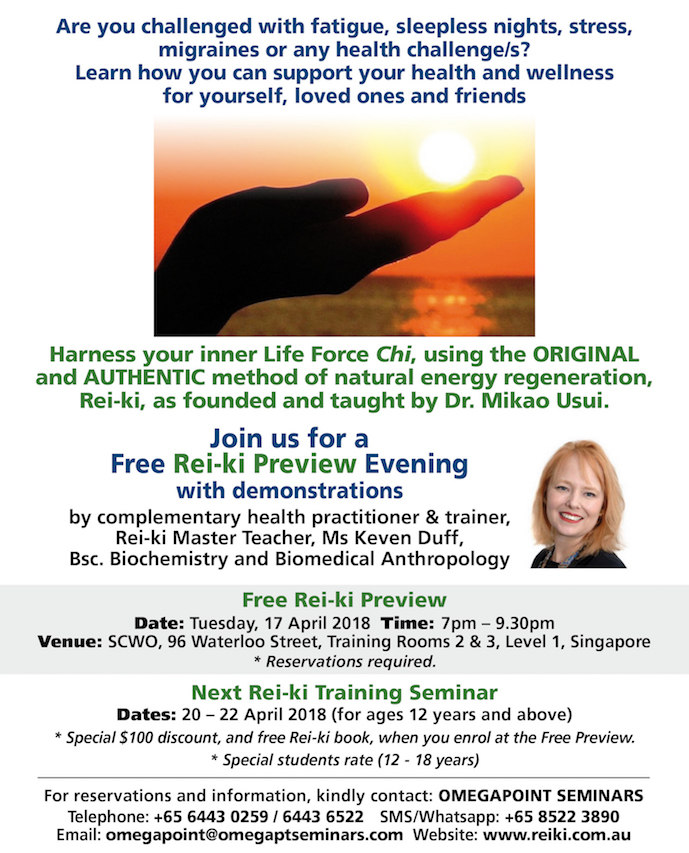 "Reiki is amazing! I not only use it on myself, my family but also as well as people in hospitals for pain relief, depression, eye strain, over fresh wounds, and elevating energy levels. I feel blessed to have this gift of Reiki in my hands to be of service for those in need. There is not a day that I do not use Reiki on myself, for my family and those in need. I find Reiki Master Teacher, Ms Keven Duff, to be very professional and most informative in the area of nutrition,
complementary health and holistic remedies.

If there is any gift to give yourself in your lifetime, this would be the most invaluable gift, which will last you a lifetime, and the fantastic thing is that you can review the seminar at no charge, anytime it is presented."
- Anna Chan, senior citizen
"Before my Reiki I graduation on Jan 2007, I always had migraines. I had this since I was 13 years of age. After Reiki I, miraculously, the migraine that was bothering me for 40 years had disappeared. I do have some minor headaches now and than but it disappears after a few minutes of rei-king my forehead. The constant migraines are gone.


Beginning of 2005, my daughter, who is now 16, became epileptic. She is a long distance runner and in the girls' football team. She is a very energetic person. As soon as I finished my Reiki I, I began reiki'ing her. And whenever I reikied her, she would always says, "Daddy, you are making me sleepy" and then she would always fall asleep. I realised that her body needed a lot of rest and sleep. My rei-king her went on for about 2 months or so. There were no reoccurrences of epileptic seizure during any period of time after I started reiking her. About 3 months ago (April 2007), she went for a Brain-Scan/EEG and she was pronounced very fit by her doctor. Her scan showed no abnormalities in her brain-waves. She has been taken off her heavy dosage of medicine (Epilium) ever since. I have many more smaller experiences after my Reiki II, but my daughter's recovery is the most precious and memorable for me and my wife."
- S Kamalanathan
"As I was convinced of the blessings of having Reiki in our hands, I sent my 14-year-old daughter to attend Reiki. There was an occasion when her classmate baked a cake for celebrating the birthday of another classmate in school. They ate the cake during the morning break. Half an hour after lessons resumed, my daughter experienced palpitations and breathing difficulties... symptoms showing that this was an acute allergic reaction, otherwise known as anaphylaxis The easiest thing to do then was to place both her hands on her chest. The symptoms subsided after 5minutes, without taking any ventolin and antihistamine as medication which such situations would have called for. It was a great relief for me as a parent, as I cannot be everywhere with her to ensure that she is alright. especially in this case which by default commands immediate medical attention."
- Bean Chau, Mother
"Both my wife and I attended Rei-ki I & II. We had our two children attend as well and found that Rei-ki instilled something very profound in them. They became more responsible and we were pleased that they were diligent in their studies and now young adults performing well their careers."
- Benny Sng, Marketing.