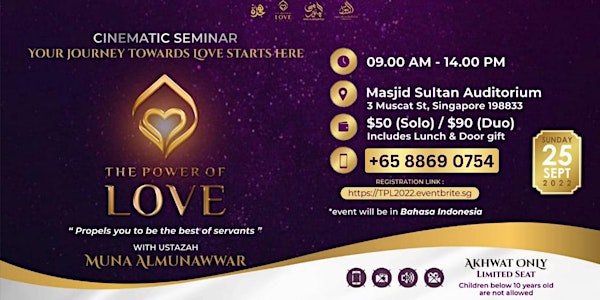 The Power Of Love
Your journey towards Love for Allah begins here. Find out how Love can propel you to be the best of servants
When and where
Location
Masjid Sultan 3 Muscat Street Auditorium level 2, Annex Building Singapore, Singapore 198833 Singapore
About this event
LOVE, a 4-letter word that you will never be able to explain the emotions unless you experience it.
Are we doing our acts of worship, the way Allah has commanded and asks of us. Are we loving the acts of worship that we are doing,, or
Are we forcing and just doing the acts because of....
Do you question why..
I do acts of worship but never taste the sweetness
I fast but only feel tired and hungry
I attend circles of knowledge but it has yet to push me to do more
I am in the same state or being tested all the time...
Learn how we need to plant the seed of Love to make it grow and propels us to be the Best of servants. Your journey towards Love for Allah starts here...
THE POWER OF LOVE
Highlights of the event:
~Maulid Ad Dhiya Ulami, Qasidah,
~Full 4hour Cinematic-style Seminar (extended and more content)
~Heartfelt video by Ustazah Muna AlMunawwar, herself. Prepare some tissues!
⚠NOTE:⚠
📍There are limited seats available so registration will be closed on 23 September 2022 or till sold out
📍Our most sincere apologies; children below 10 years old are not allowed 🙏🏾
📍To gain the most benefit, kindly set your handphones to silent or Flight mode 🙏🏾