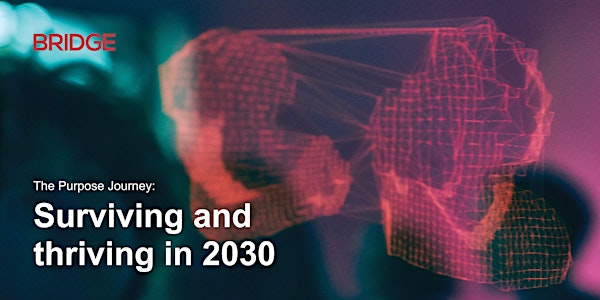 The Purpose Journey: Surviving and thriving in 2030
Join BRIDGE for an exclusive series of events, on a journey towards making purpose matter for you and your organisation.
When and where
Location
Prudential Tower 30 Cecil Street #30-00 Singapore, Singapore 049712 Singapore
About this event
The Purpose Journey
The organisations that will survive and thrive in the next 20 years will look unrecognisable to the ones we see today. They will be purpose-led, existing for the good of all society. They will provide products and services that are relevant in a changing world and benefit consumers, employees, stakeholders and shareholders. Their leaders will be even more conscious and courageous in their actions, leading with humility and care, and driving innovation and growth.
In our exclusive event series, we will create the space for you to explore and apply new thinking and practical experience from thought leaders, already on their purposeful journey. The series will include four topics of discussion:
• Exploring the future: where purposeful leaders, cultures and organisations will matter even more.
• Building a Purposeful culture: creating healthy human systems where employees feel cared for, their work has meaning, and internal and external brand aligns for maximum impact.
• Conscious leadership: how conscious and awake leaders will inspire and drive growth and lead with a purpose beyond themselves.
• Purpose-led strategy and impact: making purpose matter across the entire organisation and its ecosystem to achieve both increased profitability and wider societal impact.
The Purpose Journey: Surviving and thriving in 2030
To launch the series, we start with a journey into the future. Get ready for the unexpected as Futurist Benjamin J Butler challenges our thinking, answering questions such as: what surprises might there be for organisations? How can we future-proof in these uncertain times? What do we need to build in ourselves and our organisations to navigate an increasingly complex world?
Benjamin is a Futurist, Writer, and speaker who is dedicated to coaching leaders and change makers on their life journeys in these turbulent but exciting times. He is Co-Founder of Quantum Futures, sits on the Global Future Council on Computing at the World Economic Forum, and is a member of the faculty at the European Institute of Exponential Technologies & Desirable Futures. He is passionate about understanding the human mind and imagination and has practised Zen for nearly 20 years.
At the end of the session there will be plenty of opportunity to ask Benjamin questions, followed by networking with like-minded peers over a glass of wine. Places are limited so please RSVP as soon as possible and join us in making purpose matter.
*Please note that photographs and footage will be taken throughout the event. These will be used by BRIDGE for marketing and publicity in our publications, on our website and in social media or in any third-party publication. Please contact the event organiser if you have any concerns or if you wish to be exempted from this activity.