Description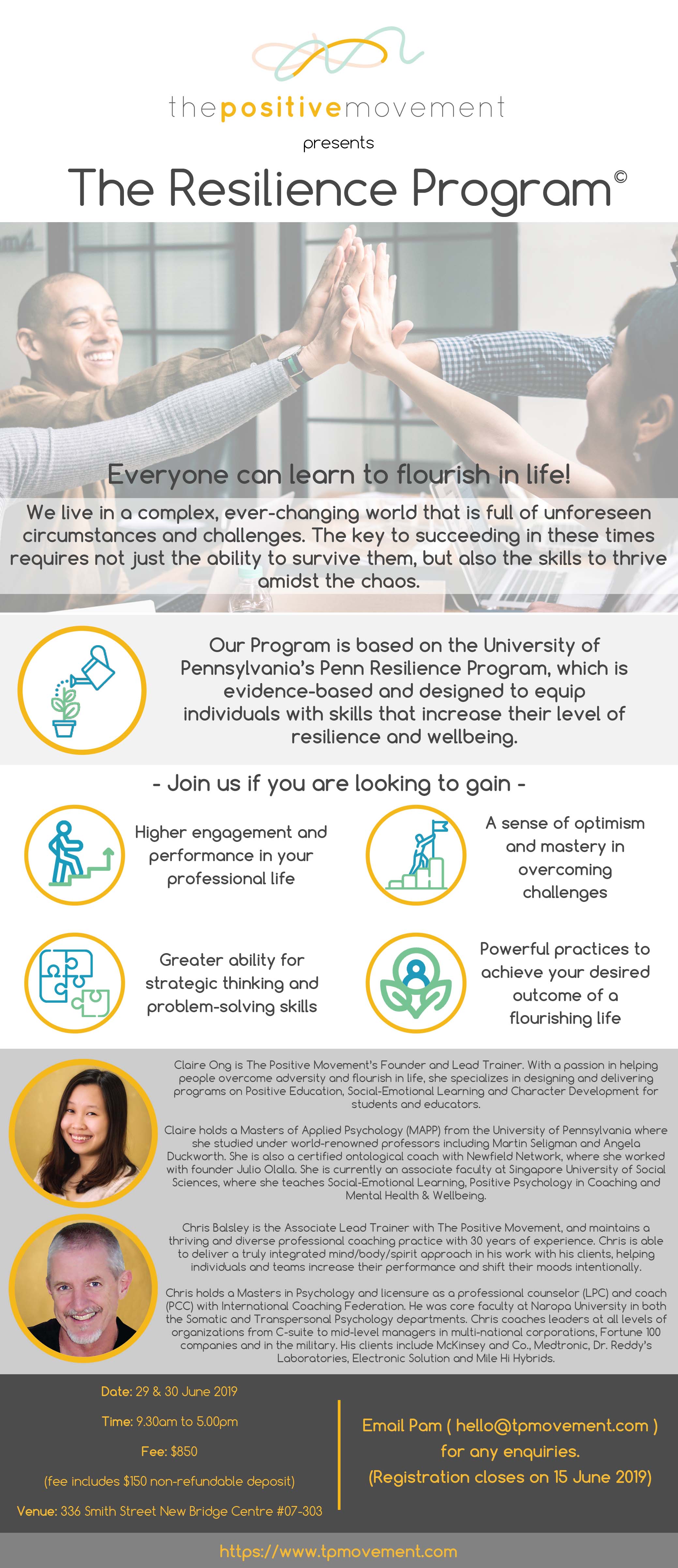 Everyone can learn to flourish in life!
We live in a complex, ever-changing world that is full of unforeseen circumstances and challenges. The key to succeeding in these times requires not just the ability to survive them, but also the skills to thrive amidst the chaos.
Our Program is based on the University of Pennsylvania's Penn Resilience Program, which is evidence-based and designed to equip individuals with skills that increase their level of resilience and wellbeing.
Join us if you are looking to gain:
Higher engagement and performance in your professional life
A sense of optimism and mastery in overcoming challenges
Greater ability for strategic thinking and problem-solving skills
Powerful practices to achieve your desired outcome of a flourishing life
The Resilience Program is a 2-day workshop:
Date: 29 & 30 June 2019
Time: 9.30am to 5.00pm
Our Trainers:
Claire Ong is The Positive Movement's Founder and Lead Trainer. With a passion in helping people overcome adversity and flourish in life, she specializes in designing and delivering programs on Positive Education, Social-Emotional Learning and Character Development for students and educators.
Claire holds a Masters of Applied Psychology (MAPP) from the University of Pennsylvania where she studied under world-renowned professors including Martin Seligman and Angela Duckworth. She is also a certified ontological coach with Newfield Network, where she worked with founder Julio Olalla. She is currently an associate faculty at Singapore University of Social Sciences, where she teaches Social-Emotional Learning, Positive Psychology in Coaching and Mental Health & Wellbeing.
Chris Balsley is the Associate Lead Trainer with The Positive Movement, and maintains a thriving and diverse professional coaching practice with 30 years of experience. Chris is able to deliver a truly integrated mind/body/spirit approach in his work with his clients, helping individuals and teams increase their performance and shift their moods intentionally.
Chris holds a Masters in Psychology and licensure as a professional counselor (LPC) and coach (PCC) with International Coaching Federation. He was core faculty at Naropa University in both the Somatic and Transpersonal Psychology departments. Chris coaches leaders at all levels of organizations from C-suite to mid-level managers in multi-national corporations, Fortune 100 companies and in the military. His clients include McKinsey and Co., Medtronic, Dr. Reddy's Laboratories, Electronic Solution and Mile Hi Hybrids.