Description
THE SINGAPORE HR AWARDS 2017
Organised annually by Singapore Human Resources Institute (SHRI) and in its 12th year, The Singapore HR Awards celebrate leading organisations and HR professionals in their drive for impactful human capital strategies. It serves as a valuable platform to promote and recognise excellence within the HR profession in Singapore by highlighting leading, innovative organisational HR practices and individuals that have greatly impacted the quality of organisations and the workforce.
SHRI is pleased to invite you to The Singapore HR Awards 2017 Presentation Gala on Friday, 14 July 2017, from 6.15pm to 10.30pm, at Marina Bay Sands (Sands Expo and Convention Centre), 1 Bayfront Avenue, Peony Ballroom (Level 4), Singapore 018971.
The event will be graced by Minister of State, Ministry of Manpower, Mr Sam Tan, as Guest-of-Honour, and attended by 500 guests comprising HR professionals, employers, business leaders, media and overseas partners.
This year, 72 awards will be presented to start-ups, public and private sector organisations with exemplary people management practices, across various sectors such as healthcare, education, construction, transport, FMCG, telecommunications, IT and hospitality.
Programme Outline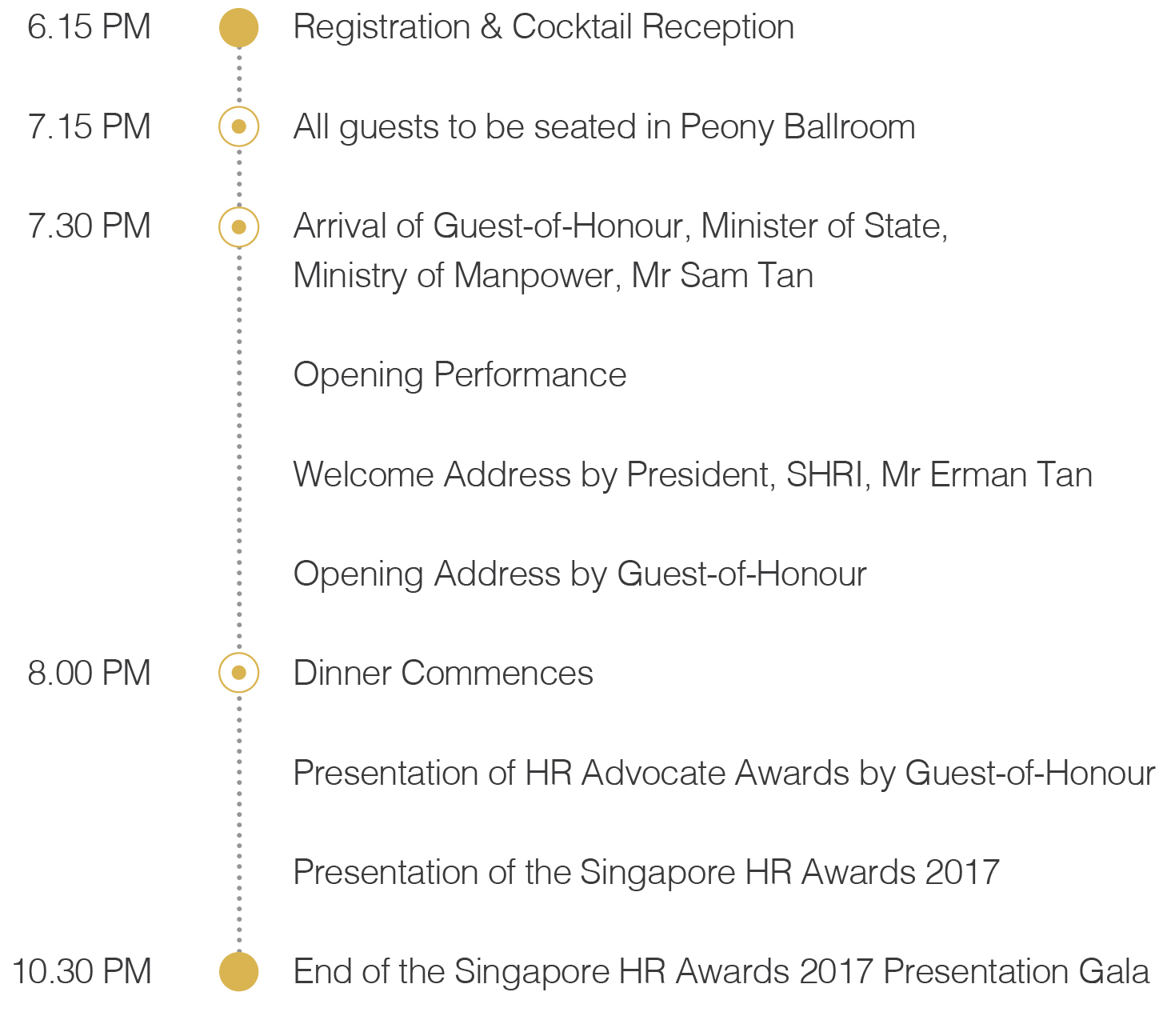 Objectives of the Awards
Each year, leading HR trailblazers and people management practices are honoured at the Singapore HR Awards, and new benchmarks and standards for the HR profession developed. Each Award is a distinctive recognition by SHRI to mark the successes and accomplishments of people managers.
Through the Awards, SHRI strives to equip people managers for their increasingly critical responsibility as Singapore enters its next phase of transformation, and reinforce the importance of developing our most important asset (human capital), so that we can continue to have an innovative and resilient workforce on the global stage.
The annual Presentation Gala provides a platform for the HR fraternity to come together and celebrate their achievements, showcase successful HR initiatives and build a sense of shared identity and purpose.
Sponsors and Partners