Description
Dr Tee has trained over 10000 students (short courses) and over 10000 graduates (5-day course). You will learn simple and powerful strategies which deliver incredible results in stocks. Take 5mins to read this !

3.5hr Investment Course (FREE, worth $500) by Dr Tee:
High Dividend Blue Chip Stocks with Optimism Investing Strategy
(What to Buy? When to Buy? When To Sell?)


Date: 01 March 2018 (Thursday)

Time: 6.30pm-10.00pm (Stock diagnosis for early birds starts from 6:30pm)
Venue: 55 MARKET STREET #03-01, SINGAPORE 048941

Learn the Secrets of Making Money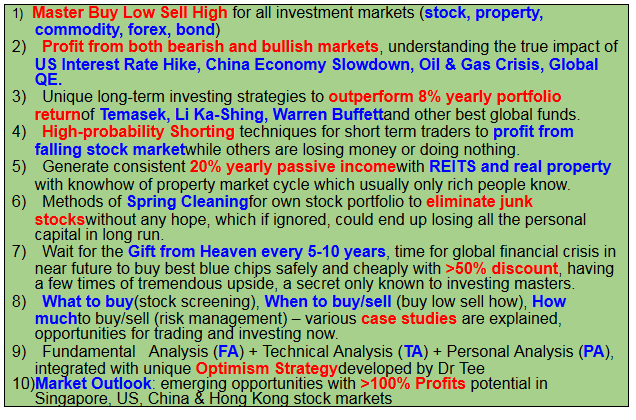 Investing Master, Jim Rogers' open secret of success is "Buy Low Sell High", but how low is considered low? The world's richest investor, Warren Buffett, has a famous saying of "Be Greedy when others are Fearful", but how fearful is considered too fearful? The Optimism Strategy developed by Dr Tee will provide the answers: Secrets of Making Money for both traders and investors.
This High Quality investment course (worth $500, FREE for you) will explore the Investment Clocks (timing of entry / exit) and Hidden Opportunities in global stock markets (US, Singapore, China, Hong Kong) and other investment markets (property, commodity, forex, bond).
Audience in the past few years have Benefited from the Sharing, eg rally of China A50 ETF (China SSEC from 2000 to 5000 points, 150% gain), SMRT ($1 to $1.80, 80% gain), alerts of bearish Singapore property market and speculative China stock market, opportunity of commodity/oil crisis, and potential of many strong fundamental stocks, applying both long and shorting Strategies to Make Money.
This is NOT a sales talk, you will learn REAL and SOLID stock trading and investing knowledge from Dr Tee, a multi-millionaire investor/trader, who is willing to share his secrets of success, when meeting face-to-face with you. Free seats are limited for this popular program. ACT NOW to register for FREE course to start the journey of Financial Freedom!
---
3 BONUSES for Attendees:
1) Free eBook by Dr Tee on Market Outlook, complementing the program, suitable for offline reading.
2) Freestock diagnosis by Dr Tee using FTP Analysis (FA, TA, PA) based on early birds' stock of interest.
3) Freestock screener applying Dr Tee strategies to search for global stocks with strong fundamentals.
---
Testimonials
#2) "Very informative, comprehensive and practical."
Aw Lai Huat
(#3) "This course provided detailed techniques that I can apply to determine market entry and exit investment strategy to maximize capital gain return than just taking some profits. Thanks Dr Tee for making your efforts to share your Ein55 Styles with us."
Chang Chew Lik
(#4) "Very well prepared course and well-thought through. The 2 games are well-designed to reinforce the ideas."
Derrick Pang
(#5) "I am very glad to be able to attend this course. I have learned a lot from the trainer as well as the course content. I am confident that I will be able to apply what I have learned from this course and be more successful in my stocks investment journey."
Desmond Ngo
(#6) "Dr Tee is very dedicated in sharing and imparting knowledge. I am very grateful and truly appreciate his selfless sharing."
Gillian Lin
(#7) "The course is very informative for beginner as it covers multiple tools such as FA, TA & PA. I am very impressed with Ein55 Style #9, it helps me to understand the chain effect of money flow. Educator is very passionate to teach and coach, clear explanation and good examples. I am confident that I will benefit from the tools learned in this course. Quality of the training exceeded the value more than 4X."
Jasper Quek
(#8) "I am glad that I signed up for this course. The knowledge that I learnt were very informative and useful for my investment journey. I have been making a lot of mistakes throughout my investment journey and I can say that I have found the answers for my mistakes. It is also good to know that I can personalise my investing methods with all these knowledge."
Low Wing Soon
(#9) "Good course to attend to invest time and money. Course leader is very keen to ensure attendees learn and understand."
Tan Kim Lan
Dr Tee has trained over 10000 students (short courses) and over 10000 graduates (5-day course). You will learn simple and powerful strategies which deliver incredible results in stocks. Take action now to surprise yourself!
MPORTANT NOTES FOR SEMINARS
Please note that under the Singapore Personal Data Protection Act (PDPA) 2012, CyberQuote Pte Ltd respect the privacy of all our customers and visitors, and are committed to safeguarding the personal information you provided to us.
For the event registrations, you will be requested to provide your personal particulars, which include but are not limited to the following:
a) Full Name
b) Contact details, including telephone number/s and/ or email addresses
Please note that CyberQuote Pte Ltd will send out "Email Confirmation", Short Message Service (SMS), events / seminars and marketing via email to all registrants for all CyberQuote Pte Ltd events.
Should you wish to withdraw your consent from receiving events information, please contact us at CQCourse@cyberquote.com.sg. All personal data held by CyberQuote Pte Ltd will be kept confidential, will not use and disclose to third parties.
Disclaimer
The contents of this document, including the terms and conditions, are subject to change and may be modified, deleted or replaced from time to time and at any time at the sole and absolute discretion of CyberQuote Pte Ltd ("CPL"). CPL accepts no responsibility for the results of any actions taken by students after attending our courses, nor for the accuracy or completeness of any material contained herein. Information on courses or any other arrangement for courses, including fees, staffing and class sizes are an expression of CPL's intentions only and do not constitute a firm offer or undertaking to you. CPL reserves the right to discontinue or vary courses without notice and to impose limitations on enrolment in any course. Opinions and projections reflect our opinion as of the date of the analysis and are subject to change without notice. Investors should make their own investment and trading decision based on their own final analysis. All forms of investments carry risks, including the risk of losing all of the invested amount. Such activities may not be suitable for everyone.Past performance is not indicative of future results.

Copyright © 2018 CyberQuote Pte Ltd. All rights reserved. No part of this publication may be reproduced, stored, transmitted in any form of by any means without CyberQuote Pte Ltd's prior written consent.