| | |
| --- | --- |
| The Vault: #3.2 For The Time Being | |
Event Details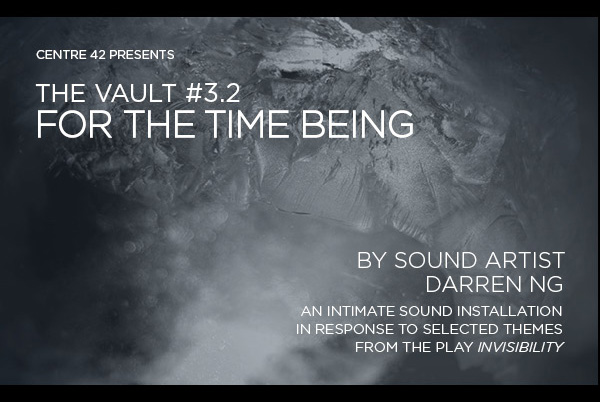 The second of the series, #3.2 For The Time Being is an intimate sound installation in response to selected themes from the play Invisibility by Quah Sy Ren.
It takes an approximate 80 milliseconds for our brain to process all the relevant sensory input from our perceptions, before it experiences the "now". As such, we are constantly living in the past, an 80 milliseconds of liminal disjuncture.
Set as a quiet transitional experience, the sound installation highlights the restlessness of this ephemeral and liminal state of "now"; and the meaninglessness and futility of living in the present. For The Time Being hopes to accentuate the dichotomy of being and nothingness by augmenting the sound of ice melting as a way to alienate and/or heighten meanings from our perceptions.
Visitors will engage in this discreet and metaphysical conversation brought about by chance, as a matter transits from one state to the other in time and space.
----
For more information on The Vault: #3 Three series, the artist Darren Ng, the play Invisibility, and the playwright Quah Sy Ren, visit: http://centre42.sg/the-vault-3-2-for-the-time-being/

When & Where

Black Box @ Centre 42
42 Waterloo Street
Singapore, Singapore 187951
Singapore

Organiser
Centre 42 is a non-profit organisation committed to the creation, documentation and promotion of texts and writings for the Singapore stage. We incubate original writing for production development; provide space for artists and new work creation; and develop a functional archive documenting the histories and processes of Singapore theatre.
Centre 42 is developed in collaboration with the National Arts Council, and officially opened in 2014.

For more information on Centre 42's programmes and initiatives, please visit www.centre42.sg.