| | |
| --- | --- |
| The Vault: #3.3 scale 1:333333.333... | |
Event Details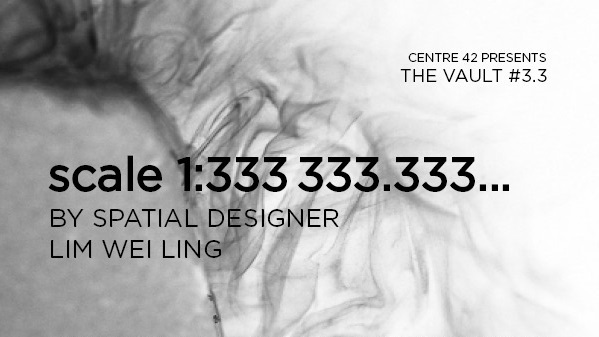 The third of the series, #3.3 SCALE 1:333333.333... is a bold spatial installation in response to selected themes from the play Invisibility by Quah Sy Ren.
Conceived as a multi-dimensional 'organism', this living installation highlights the ephemeral nature of relationships and the interchangeable, interdependent forces of life that exist in this larger world. Solid and gaseous CO2 is used as a key medium to embody the transitional becoming of a state. In this exploration of an organic spatial construct, the lifespan of a solid block of CO2 evaporating into thin air to that of an average human lifespan is to the scale 1:333333.333... .
Visitors will engage and contribute - by the presence of their energies in the space - to this environment, and may find themselves creating a place to disconnect and reconnect all at once.
----
For more information on The Vault: #3 Three series, the artist Lim Wei Ling, the play Invisibility, and the playwright Quah Sy Ren, visit: http://centre42.sg/the-vault-3-3-scale-1333333-333/

When & Where

Black Box @ Centre 42
42 Waterloo Street
Singapore, Singapore 187951
Singapore

Organiser
Centre 42 is a non-profit organisation committed to the creation, documentation and promotion of texts and writings for the Singapore stage. We incubate original writing for production development; provide space for artists and new work creation; and develop a functional archive documenting the histories and processes of Singapore theatre.
Centre 42 is developed in collaboration with the National Arts Council, and officially opened in 2014.

For more information on Centre 42's programmes and initiatives, please visit www.centre42.sg.