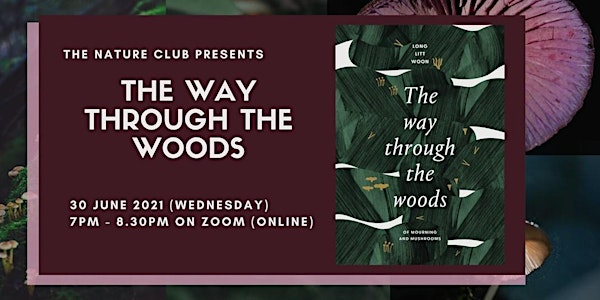 The Way Through The Woods | The Nature Club
Discover, like mycelium networks, our interconnectedness, between beings, ourselves and our emotions.
About this event

Important Notice
This programme/event is open to members of the National Library Board, Singapore. Please ensure you have your myLibrary ID on hand before proceeding with the registration. If you do not have a myLibrary ID, you can create one here: https://account.nlb.gov.sg/.
About the session
What does it mean to care and relate with the world around us? How do we respond to feelings of grief, loneliness and loss? We probably will come back uncertain, but nature (and mushrooms!) has its way of showing us different possibilities - alternatives from the way things are now. It does not have to stay like this. We can do better. The hope is for us to discover, like mycelium networks, our interconnectedness, between beings, ourselves and our emotions. Whether you are an environmentalist or just curious, we welcome all to join us on this journey of holding space.During this book club session, we will be reading and discussing excerpts in zoom breakout rooms. You can read the book ahead of the session, or just come with a curious mind to share your thoughts!  
About the book
When Long Litt Woon loses her husband of 32 years to an unexpected death, she is utterly bereft. An immigrant in his country, in losing the love of her life she has also lost her compass and her passport to society. For a time, she is stuck, aimless, disoriented. It is only when she wanders off deep into the woods with mushroom hunters and is taught there how to see clearly what is all around her, and learn how to make distinctions, take educated risks and hear all the different melodies in Nature's chorus, that she returns to life and to living. And it is mushrooms which guide her back. In this book, she describes how they saved her, and how they might save you. 
About the clubThe Nature Club aspires to be an intergenerational book club (for all ages), creating a space that centres the narratives and discourse that matter so dearly to us. Crises like the climate crisis - among others - often inject moments of ecological grief, hurt and isolation, and it is in such times, when we need to come together as a community and as people. We hope to find some of that in stories; Stories we read in our younger days, stories we may see in a movie or film, and the stories that speak closest to our hearts. 
Title Tie-up
This programme is inspired by The Way Through the Woods: Of Mushrooms and Mourning, a featured title of Read! Fest 2021. Borrow the title here
For other programmes related to this title, visit go.gov.sg/mushroom
For the full listing of Read! Fest programmes, visit go.gov.sg/readfest21
About Read! Fest 2021
Read! Fest 2021 invites you on a forward-looking journey of self-discovery. With the theme of Reboot, take a moment to re-examine and refresh your lenses on day-to-day aspects that shape our lives.
Anchored by 12 key books and topics, Read! Fest will host over 60 programmes – from talks by world-renowned authors to workshops and experiences – each curated to immerse you in a world of thoughtful ideas for our time.
From myths and minimalism to work and womanhood, stretch out to explore new worlds and perspectives. Where will you find yourself?
For more info, visit go.gov.sg/nrm-readfest21.
Online Programme/Event Administrative Information
This programme is conducted entirely online. You may access Zoom via the app or using a web browser
Please ensure that you enter a valid email address as you will receive an email with the link to the online programme/event near the day of the programme/event
The link of the programme should not be shared with others
Do ensure you have a strong internet connection. Using your mobile data is not recommended
The National Library Board, Singapore (NLB) reserves the right in its absolute discretion to disqualify or refuse admission to any registrant without any reason and notice