Description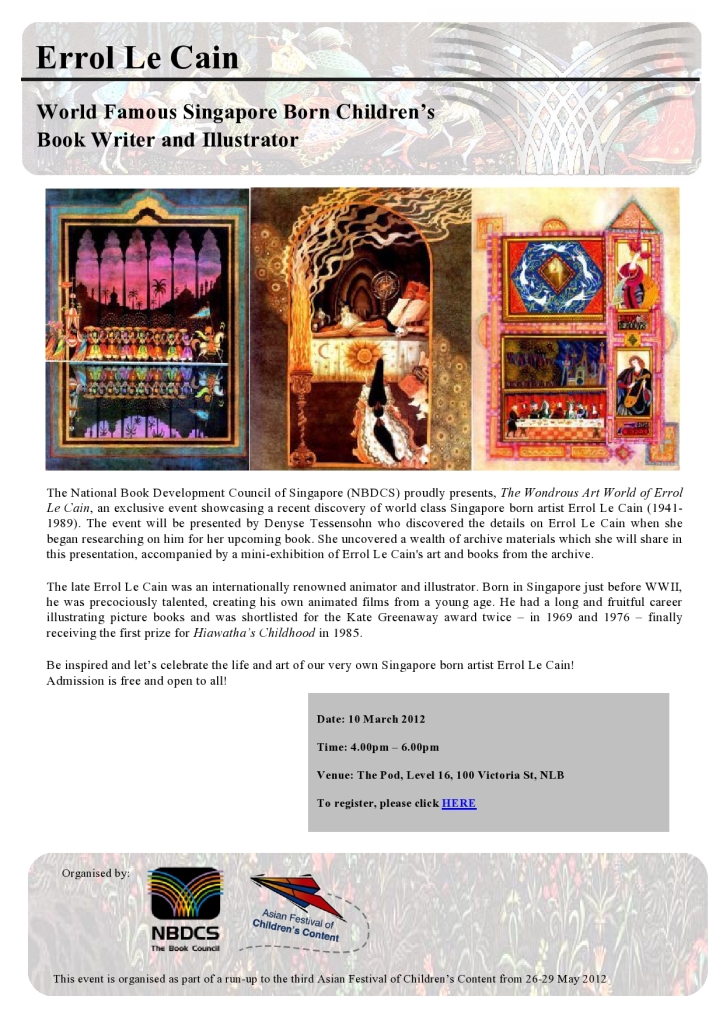 Date: 10 March 2012
Time: 4.00pm
Venue: The Pod, Level 16, 100 Victoria St, NLB
The National Book Development Council of Singapore (NBDCS) proudly presents The Wondrous Art World of Errol Le Cain an exclusive event showcasing a recent discovery of world class Singapore born artist Errol Le Cain (1941-1989). The event will be presented by Denyse Tessensohn.
The late Errol Le Cain was an internationally renowned animator and illustrator. Born in Singapore just before WWII, he was precociously talented, creating his own animated films from a young age. He had a long and fruitful career illustrating picture books and was shortlisted for the Kate Greenaway award twice – in 1969 and 1976 – finally receiving the first prize for Hiawatha's Childhood in 1985.
Denyse Tessensohn discovered the details on Errol Le Cain when she began researching on him for her upcoming book. She uncovered a wealth of archive materials which she will share in this presentation, accompanied by a mini-exhibition of Errol Le Cain's art and books from the archive.
Be inspired and let's celebrate the life and art of our very own Singapore born artist Errol Le Cain! Admission is Free and is open to All!
This event is organised as part of a run-up to the third Asian Festival of Children's Content from 26-29) May 2012.