An informal dialogue session for youth between 13-19 years.
About this Event
An informal dialogue session for youth between 13-19 years.
The Work World is a series that addresses some of the concerns raised by youth about work options and what lies ahead for them. It gives young people the opportunity to learn about jobs that they are interested in, and to get some exposure to jobs they may not have considered. Most of all, the program serves to humanise these jobs for them by showcasing individuals who are already in these roles, and by providing the opportunity to meet these individuals and ask questions.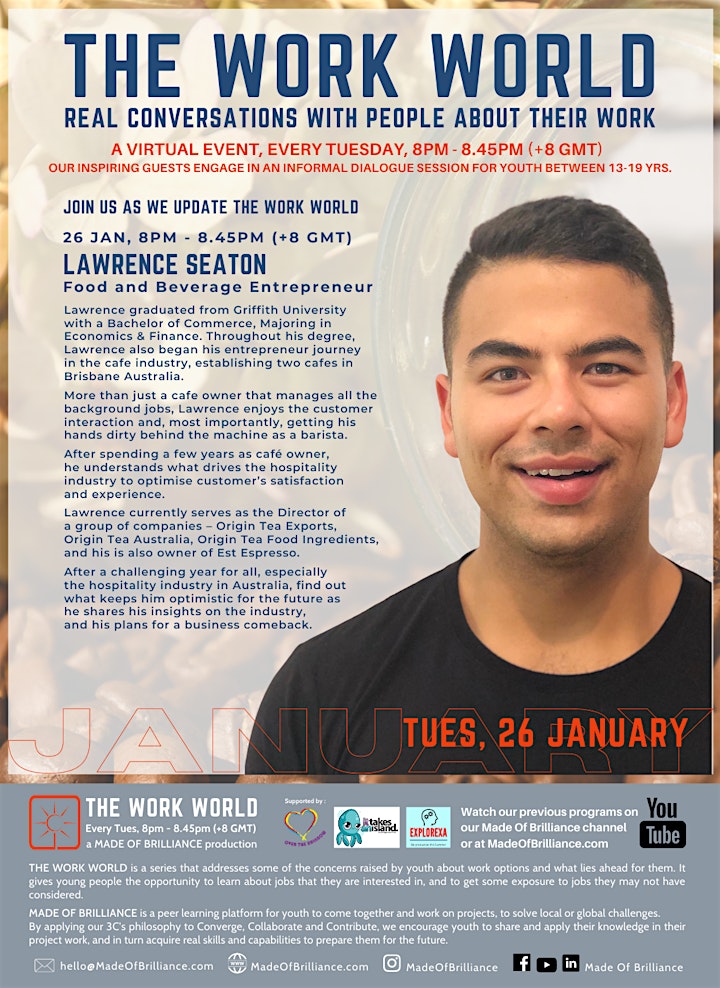 Lawrence Seaton, Food & Beverage Entrepreneur
Lawrence graduated from Griffith University with a Bachelor of Commerce, majoring in Economics & Finance. Throughout his degree, Lawrence also began his entrepreneur journey in the cafe industry, establishing two cafes in Brisbane, Australia.
More than just a cafe owner that manages all the background jobs, Lawrence enjoys the customer interaction and, most importantly, getting his hands dirty behind the machine as a barista.
After spending a few years as a cafe owner, he understands what drives the hospitality industry to optimise customers' satisfaction and experience.
Lawrence currently serves as the Director of a group of companies - Origin Tea Exports, Origin Tea Australia, Origin Tea Food Ingredients, and he is also owner of Est Espresso.
After a challenging year for all, especially the hospitality industry in Australia, find out what keeps him optimistic for the future as he shares his insights on the industry, and his plans for a business comeback.
"We want to infuse hope in young people at a time when job opportunities look bleak. We are particularly interested in showcasing the various routes that can be taken, instead of the straight and narrow route that is prescribed to youth these days."
- Lita Nithiyanandan, Executive Producer