| | |
| --- | --- |
| There's Hope! Cancer Care and Health Management Regime | Free Seminar! | |
Event Details
Attend This Live Sharing Session & Discover For Yourself...

What Immunotherapy Health Regime Has Given Him New Hope?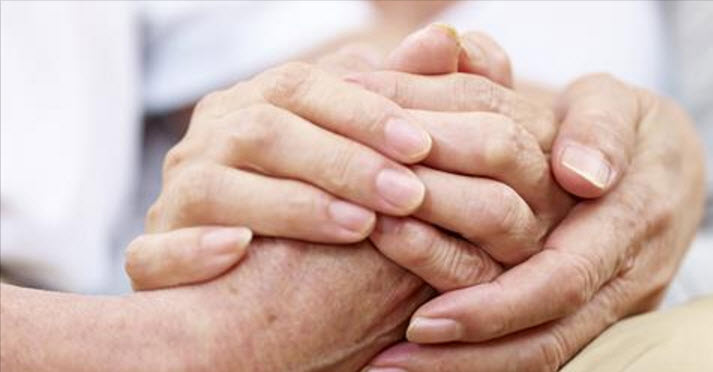 Nicholas was diagnosed on 18th June 2015. Doctors told him it was late stage cancer. He was on the brink of giving up. His family and friends were worried for him. And for the first time in his life, he realised how important having health really is. But just as he was about to throw in the towel...
It Was Like Divine Intervention! 
His nephew introduced him to a special immunotherapy health regime and less than 3 months later, his dangerous (98.7) PSA reading sank back to the normal and healthy (3.73) range.  (0 - 4 is the normal range) 
Attend this event to learn in great details what health regime has sank his cancer marker from dangerous level to healthy level. The same regime has also helped other cancer patients and the outcome are very promising. 
FACT: Top 10 cancers affecting men and women in Singapore.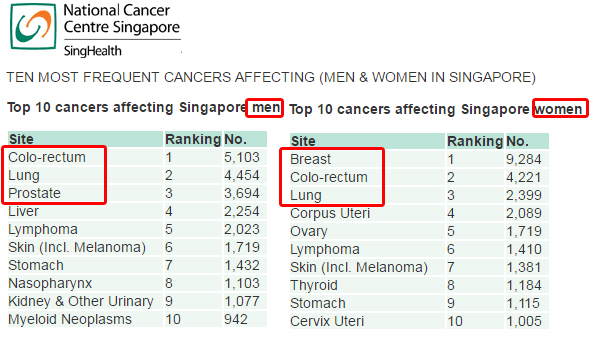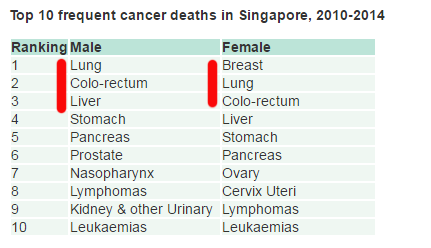 If you know someone suffering from cancer or you're suffering from it yourself (or even if you are simply keen on understanding how to better safeguard yourself and your family against cancer), we want to invite you down for a life-changing 2 hours sharing session.
To show you how this health regime helped a cancer patient reduced his cancer marker from a dangerous 98.7 to a healthy 3.73 within a couple of months. And more importantly, how you could do the same.
FACT: 1 in 4 men and 1 in 5 women here are likely to get cancer
according to the latest cancer report released by the National Registry of Diseases Office.
Are your loved ones at risk of getting cancer? Do you know what are the top 10 cancers in Singapore?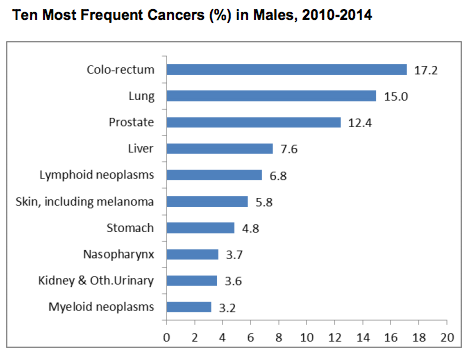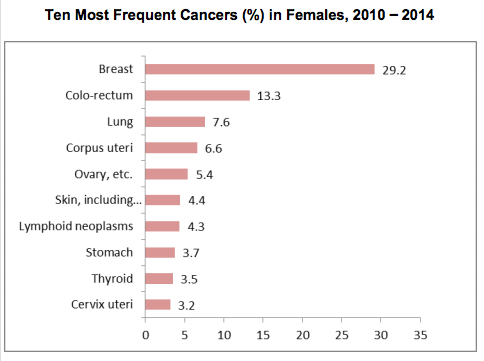 Source: Singapore Cancer Registry Interim Annual Report 
(Trends in Cancer Incidence in Singapore 2010-2014)
Someone You Know is Suffering from Cancer?
we want to invite you down for a life-changing 2 hours sharing session. To show you how this natural health regime helped a cancer patient reduced his cancer marker from a dangerous 98.7 to a healthy 3.73 within a couple of months. In just ONE year, his cancer marker dropped to 0.09, and further to < 0.03 (undetectable). How he did it? What were his diets? Did he on any cancer program?
And more importantly, how YOU could do the same for someone know.
Come join our community in bringing HOPE to cancer patients and fight cancer together.
Register Now & Learn:
1.   Learn in great details exactly how Mr. Nicholas was able to reduce his cancer marker from dangerous level (98.7) to healthy level (3.73) in 3 months (0 - 4 normal range). And what else did he do on the daily basis, e.g. daily exercise, food intake, foot to avoid etc.
2.   Why cancer isn't the end of the road and how to be a more supportive person to your loved ones suffering from cancer – it's more than just the illness they're dealing with, there's also the emotional and psychological pressure they're feeling.
3.   Why randomly eating fruits isn't going to improve your condition and might actually harm your body instead – Adding fruits to your diet is important but you need the right nutrients from the right fruits.
4.   The "Boost Your Immunity" natural health regime program to help fight against cancer and prevent it from resurfacing.
5.   Why an organised Daily Detox Health Regime is the fastest way to force your body to live healthier. (Every day we consume sugar, trans fat, saturated fat and other things that builds up toxicity in our body. Detoxing will help cleanse and destroy these toxins).
6.   How you can put yourself on this detox program and enjoy the many benefits for FREE - you could be feeling healthier, energetic, and stronger.
7.   Why cancer isn't necessarily a 'death sentence'. Learn about a simple but effective preventive 'anti-cancer' health regime everyone should adopt!
Speaker : Mr Nick Goh
Cornell University certified in Plant-Based Nutrition
Guest Speaker : Mr Nicholas Chia
He was diagnosed with late stage prostate cancer and how he reduced his cancer marker from a dangerous 98.7 to a healthy0.09 in just ONE year!
Amazing Feedback from Former Cancer Patients 
---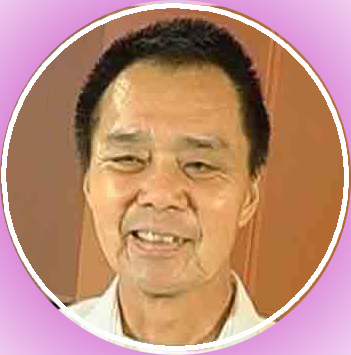 Stage 4 Lungs, Nasopharyngeal and Bone Cancers - Mr. Wong Hooi Sooi (69 y/o)

Since 1994, Mr. Wong has greatly suffered sever pain from Nasopharyngeal cancer. In 2005, it spread to his lungs, lymph nodes and bones. 

 
Despite surgery and treatment, his condition worsen.

 
In 2009, after being on this health regime for 6 months, his PET scan did not show any sign of cancer at all.

 

 
As of Oct 2015, he is declared to have recovered from cancer and living in good health.

 
---

Stage 4 Cervical Cancer - Ms Viji Prajit (63 y/o)
In Jan 2008, despite 52 sessions of chemo and radiotherapy, her cervical cancer stillspread to her lymph nodes and she could no longer continue with her treatments as her weight dropped to 30kg.
In 2010, after 8 months of being on the health regime, no cancer cells were found in her body.
After 5 years of the regime, she recovered from cancer and remains strong and healthy
---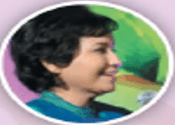 Stage 4 Lymphoma and Bone Cancer - Ms. Supatsara Aimek (52 y/o)
In 2011, she was diagnosed with Stage 4 lympphoma cancer which spread to her right leg bone. It resulted in a fracture and caused her sever pain.
After 3 months with the health regime, bone re-growth occured.
After 12 months, X-rays showed her fracture had fully healed and her skin condition improved after 2 weeks.
As of May 2015, she is declared free from cancer and remains in good health condition.
---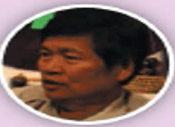 Stage 4 Prostate, Spine and Bone Cancer - Mr Suthep Wanthong (65 y/o)
He discovered he has prostate cancer in 2011. After undergoing surgery and radiation treatment, his body went completely numb.
But after being on the health regime for 15 days, he regained movement of his upper body.
In May 2012, his PSA had fallen to 0.75 ng/ml and he is living his normal daily lifestyle again.



---
Do you have questions about There's Hope! Cancer Care and Health Management Regime | Free Seminar!?
Contact ClickVentures@SG
When & Where

ClickEvents
51 Cuppage Road, #07-22
Singapore, 229468
Singapore