This FREE Workshop Will Reveal The Most Coveted Secrets Of The Stock Market And Show You Exactly Where To Grab The MEGA Profits.

Wednesday, 29 November 2017 at 19:00

-

Tuesday, 9 January 2018 at 21:30 (Singapore Standard Time Singapore Time)
Event Details


The Straits Times Index Has

Shot Up Like A Rocket

And Returned 107%, Would You Like Your Portfolio To

GAIN

 100% As Well?


Fact #1: Since March 2009 until March 2017, the Straits Times Index has returned over 107%.
Fact #2: Over 80% of traders lost money, even in an 8 year Bull Marrket.
Fact #3: The 20% who Made Money, had help from others.


Sign up for this FREE workshop, take your first step to becoming part of the profitable 20% now.
All you need is a simple yet powerful, profitable trading system and give it time.
The opportunity is here for you to TAKE CONTROL of your portfolio and make PROFITS you only dreamed of... till now.
After attending this FREE workshop, you will walk away learning:
How to take your trading onto the Inevitable Path to Profits, >21% returns a year

with little stress

.
3 Simple Principles that will guide you in capturing EXPLOSIVE market moves.
The most common misconceptions about the markets that lead traders to huge losses, and how to

avoid them with simple rules

.
The Key Market Wisdoms to Profits discovered over a career spanning 20 years of trading experience, research and testing.
What Real Market Opportunities look like, you will be Enlightened.


Get Profitable Trades Just Like These Handed To You
On A Silver Platter...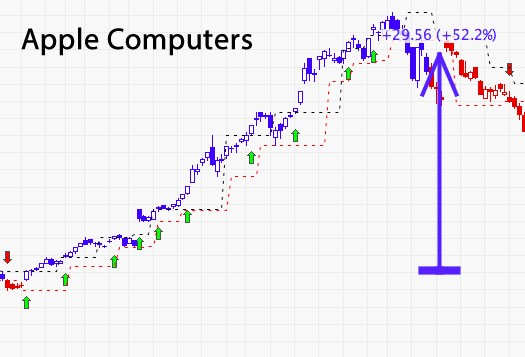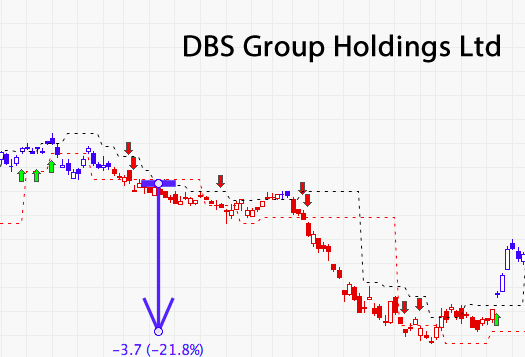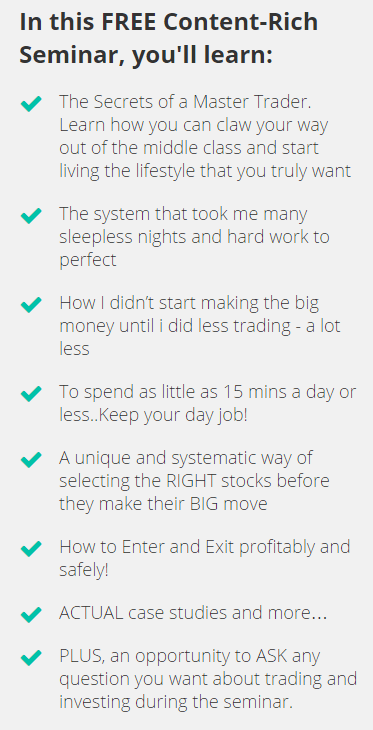 World-renowned stock trader Collin Seow will be sharing his intricate knowledge on the stock markets.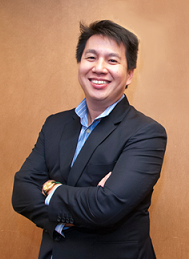 Collin Seow
Certified Financial Technician (CFTe)
Inventor of TradersGPS Algo
Trainer at CyberQuote Pte Ltd
Author of "The Systematic Trader"

Mr. Collin Seow is a qualified Chartered Portfolio Manager (CPM) and holds a Certified Financial Technician (CFTe) qualification. He is a member of MENSA Singapore and Technical Analyst Society Institute (TASS).
Collin is also a regular speaker at conferences and seminars. He was recently invited to speak at the Shares Investment Conference and the MetaStock Conference.
He is a bi-weekly Columnist of Shares Investment Publications and has been featured in the book titled "Secrets of Highly Profitable Traders" which is in The Straits Times national bestseller list for 21 weeks.
Collin combines his unique brand of "street-smarts with heart" in trading.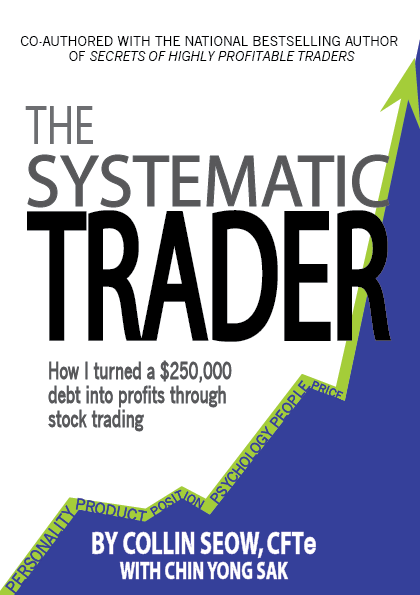 "As a new trader, knowing how to make consistent profits in the market is always the pain. Collin uncovers this mystery for traders. The Book is about you and the market, and tells you how to  set up your mind to become a successful trader. If you are serious about trading, then you must read this Book."
- Shanison Lin
Founder of InvestingNote
"This Book contains the two most important topics in trading-trading a plan and framing a winning mindset. Do yourself a favour by understanding these and you will avoid the money losing traps in trading."
- Ng Ee Hwa
Director of ChartNexus
"Collin has been at the forefront of trading education, contributing various articles to many media channels, including Shares Investment. With his new Book, Collin takes trading education to the next level."
- Simeon Ang
Editor of Tradable, Shares Investment
Do you have questions about This FREE Workshop Will Reveal The Most Coveted Secrets Of The Stock Market And Show You Exactly Where To Grab The MEGA Profits.?
Contact Collin Seow
When & Where

International Plaza
10 Anson Road
#19-14
079903
Singapore

Wednesday, 29 November 2017 at 19:00

-

Tuesday, 9 January 2018 at 21:30 (Singapore Standard Time Singapore Time)
Add to my calendar