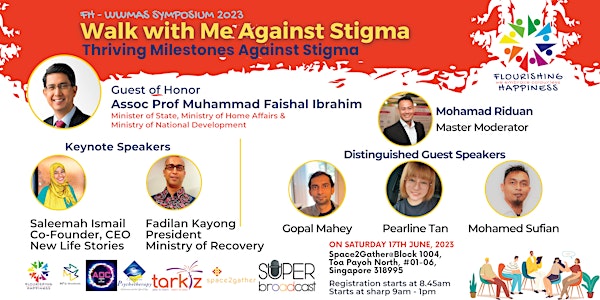 Thriving Milestones Against Stigma
Flourishing Happiness (FH) envisioned a perpetual ripple effect through propagation and advocacy toward a stigma-free society.
By Flourishing Happiness (FH)
Date and time
Sat, 17 Jun 2023 09:00 - 13:00 +08
Location
Toa Payoh North Block 1004, #01-06 Singapore, 318995 Singapore
About this event
Flourishing Happiness (FH) is a perpetual vehicle to a ride and a support platform for your aspirations.
We design a specially curated, safe platform for the individual with telltale stories. It is a profound story that became an enabler that empowers and inspires you to tell your story to move the world. While doing so, it hit hard on others that people get inspired and empowered to get out of their shells and create a flourishing wheel. In particular, for people with mental health conditions and substance dependency issues.
Write-up on Saleemah Ismail
Ms Saleemah is an international development professional, social entrepreneur, and gender equality advocate. She first started her career in the private sector before moving on to work for UN Women and UNDP in Asia and South America.
Saleemah is the co-founder and Chief Executive Officer of New Life Stories, working with children of incarcerated parents, the incarcerated and their families to prevent intergenerational incarceration, reduce re-offending, improve quality of life and increase community inclusion for the families. She also serves on numerous non-profit boards and committees in the region.
Write up of Fadilan A.K.
President, Ministry of Recovery | Credentialed Substance Abuse Counsellor (Lic. No.532); (World Federation of Therapeutic Communities WFTC, New York); National Certified Addiction Counsellor (NCAC I) (NAADAC, USA); Certified Substance Abuse Therapist III (CSAT III)
Fadilan Abdul Kayong has built a legacy in addiction recovery, a legacy he devoted his life to spreading the message of recovery and helping others find recovery. Fadilan is a person in recovery and a certified counsellor, trainer, ambassador and steering committee for International Recovery Day globally. As a former Colombo Plan staff doing addiction professionals certification training and consultation, he also has vast experience working in Afghanistan, Indonesia, Maldives, South Africa, Malaysia and many more regarding demand reduction programs.
Write-up on Gopal Mahey
Mental Health Counsellor (Centre For Psychotherapy); Clinical Member Singapore Association for Counselling (CMSAC)Registered Counsellor (RegCLR)
Gopal Mahey is a qualified Psychotherapist currently engaged as a Senior Counsellor, facilitating access to counselling support for the vulnerable in our communities. He is passionate about corrections work, and his main pillar is engaging offenders and ex-offenders. Having overcome his battle with addiction, he has a heart for those suffering from mental health and addiction issues. It is his humble desire to support others out of its vicious cycle. His experiences have facilitated deep insight into being an addiction counsellor with pro-activity, healing and recovery as the core of his values. He firmly believes that there is immense potential in the pursuit of doing what we love and, from lessons gained from the past, extracting tools of love, forgiveness, healing and the ability to turn your life around from its lowest point.
Write-up on Mohammed Sufian B Mohd Noor
Mohammad Sufian Mohd Noor was in his 40s when he quit drugs. He had been in and out of the drug rehabilitation centre and prison for almost 20 years. Now aged 51, Sufian is helping others struggling with addiction as a peer support specialist in the Institute of Mental Health's (IMH's) National Addictions Management Service (NAMS). His job is to provide encouragement, instil hope and share his personal experience with addicts in recovery. That lived experience helps him connect more easily with people he calls his peers. He is also a Certified Substance Abuse Therapist and Certified Peer Support Specialist.
Write-up on Pearline Tan
Pearline has been a people servant and an active Befriender with Singapore After Care Association since 2009; and graduated with a double Specialist Diploma in Counselling Psychology and Gambling Addiction. She is very passionate, and her work range from working with youth at the Boy's Home to the young man at the Reformative Training Centre (RTC). She also spends plenty of time working with female offenders in the incare before being released to aftercare services monthly in the institution. She volunteered with Singapore After Care Association and the Singapore Prison Services. She is proud to share that she will receive a Long Service Award (10yrs) from the Singapore Prison Service in August 2023.