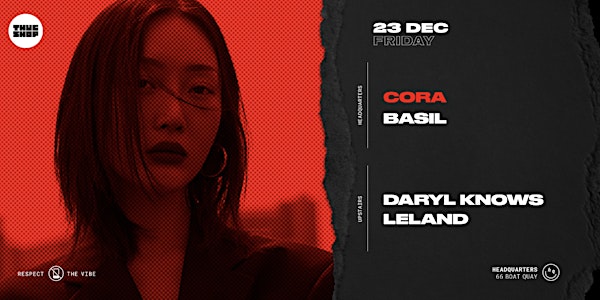 Thugshop Presents - CORA
Thugshop Presents - CORA
When and where
Location
Headquarters 66A Boat Quay Singapore, 049854 Singapore
About this event
The weekend is here, so come grab a drink or two and shake off the week with us as Cora takes over the cage of headquarters.
Searing with Sichuan spice, Cora is bringing the heat from Chengdu. Orbiting the cosmic spectres of techno, trance, house, bass and breakbeat, Cora's ever-evolving sound delivers with compelling momentum and astral intuition - superimposing dramatic subplots and emotional undertows onto unfurling rhythmic narratives, while channelling an acute sensitivity to the kinetic desires of the dancefloor.
All-night basement parties in the sleepless underbelly of Hong Kong's OMA at the fulcrum of the '10s initiated Cora's swift departure from the glitz and glamour of a long-time modelling career and stint as an indie film actor, towards an inspired pursuit of electronic energies and club music catharsis. An intercontinental dance savant, raving from China to Saigon and beyond - Cora has been a vital force in activating meridians between underground club scenes in East Asia and the rest of the world.
Incubated over years of work, sweat and tears at dedicated nightspots The Observatory in Ho Chi Minh City and .TAG Chengdu, her nuanced aesthetic and penchant for ephemeral grooves have now synthesised into a sophisticated style of her own.
Expect a heady mix of twisted techno, driving beats and a whole lot of vicious fun with Cora behind the decks.
🎵
Cora
https://soundcloud.com/corakoala
Opening for Cora, Thugshop's very own - Basil Lam.
A perfect combination of dark sombre groove and hypnotic stomps that will drive your soul to ecstatic relief. A night brimming with dizzying barrage of peaks and troughs, of tension and relief to start the perfect weekend.
🎵
Basil Lam
https://soundcloud.com/0xb
On the decks of Upstairs, Thugshop's very own - Daryl Knows & Leland.
Wander Upstairs as the duo brings the bright, feel-good, swinging house tracks to lift your spirits with a mixed bag of house and disco beats.
🎵
Daryl Knows
https://soundcloud.com/darylknows
🎵
Leland
https://soundcloud.com/lelandt
▶ No ID, no entry.
▶ Minimum age requirement : 23+
▶ No flash photography.
▶ No illicit substances.
▶ No outside food & drinks.
▶ Strictly no smoking indoors.
▶ Please respect the vibe.
Please note that there will be no entry to the event without a valid ticket. The management reserves the right to refuse entry at its own discretion. Club rules apply. Any guest found in violation of the rules will be asked to leave the event.