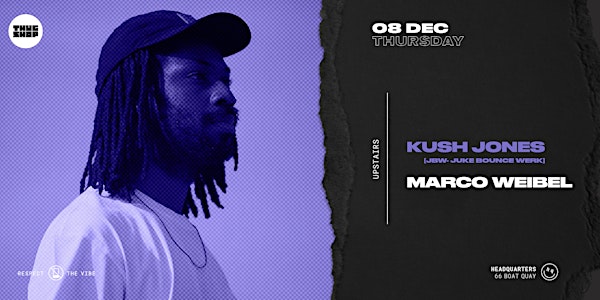 Thugshop Presents - KUSH JONES [JBW. JUKE BOUNCE WERK]
Thugshop Presents - KUSH JONES [JBW. JUKE BOUNCE WERK]
When and where
Location
Headquarters 66A Boat Quay Singapore, 049854 Singapore
About this event
It's Thursday and we're all ready to rumble. Join us as Kush Jones gets behind the decks to serve up everything from melodic techno to the darker grooves to set the floor ablaze.
Born and raised in the Bronx, DJ and Producer Kush Jones' gateway into the world of sound making started at a very young age where he was surrounded by R&B and soul played at home and became interested in the way his parents' records were flipped in modern music. In the late 2000s, he attended Lite Feet battles, one of NYC's homegrown dance cultures, which led him to discover similar scenes around the US, such as Chicago footwork, Jersey club, and more. Still fascinated by the way all these genres reworked classic sounds to form new ones, Kush set off on a path to fuse his influences to form his own voice for the dance floor. Whether locals from the budding scene of his borough, or collaborators met abroad while touring, Kush cherishes feeding off the energy of his friends and contemporaries. He has spent the last few years touring all around the US and Europe and held radio residencies on Rinse FM, and stateside stations such as The Lot, and Halfmoon BK. Churning out homemade creations regularly, Kush is most known for 'Strictly 4 MY CDJZ' - his self-released series of Bandcamp exclusive EPs with 40 volumes planned to drop. Whatever the tempo might be, Kush Jones provides a fresh take on the various areas he chooses to work in, with a genuine respect for the craft and history of dance music, and a strong ear for sounds both current and yet to come.
🎵
Kush Jones
https://soundcloud.com/kush_jones
Joining Kush Jones is Darker Than Wax - Marco Weibel
A DJ, label head, radio host and curator with over a decade of experience in the music industry, Marco Weibel is a connector in the truest sense of the word. Whether crisscrossing genres behind the decks or hosting events, he's known to draw a diverse crowd that quickly become loyal followers. Originally from Singapore but based in New York since 2014, Marco comes from a rich cultural heritage that's reflected in his DJ sets. Drawing similarities to contemporaries like Hunee & Floating Points, his selections traverse a range of sounds, often jumping from Dub to Chicago House to Jungle in a single session - a testament to his deep crates and skilled mixing. Making waves on the global festival circuit and a regular on the US and Asian nightlife circuits, he has played at Dimensions Festival, New York's Nowadays, Good Room, Public Records and many more. Renowned worldwide for co-hosting his six year-old 'Darker Than Wax FM' radio show on New York's The Lot Radio, the weekly program has developed a cult listenership, serving as an essential resource for music lovers across the globe. Spearheading US operations for Singapore-based record label Darker Than Wax (DTW), Marco handles releases, programming and some A&R. DTW has been championed by the likes of Gilles Peterson, Bradley Zero, Mixmag and others.
Can't wait, don't wait while you get your vibe checked and ready for a night of non stop dancing on the top bunk of headquarters!
🎵
Marco Weibel
https://www.soundcloud.com/marcoweibel
▶ No ID, no entry.
▶ Minimum age requirement : 23+
▶ No flash photography.
▶ No illicit substances.
▶ No outside food & drinks.
▶ Strictly no smoking indoors.
▶ Please respect the vibe.
Please note that there will be no entry to the event without a valid ticket. The management reserves the right to refuse entry at its own discretion. Club rules apply. Any guest found in violation of the rules will be asked to leave the event.