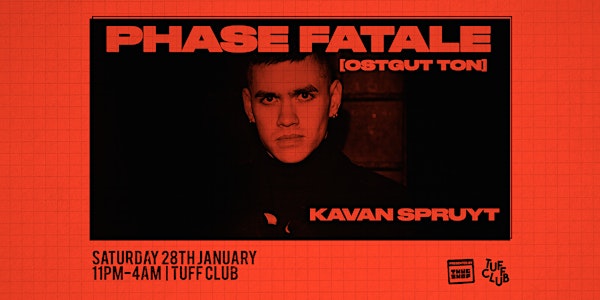 Thugshop Presents - PHASE FATALE [OSTGUT TON]
Thugshop Presents - PHASE FATALE [OSTGUT TON]
When and where
Location
TUFF CLUB 138 Robinson Road ##19-01 Singapore, 068906 Singapore
About this event
Are you ready to get back on your favorite dance floor for some weekend debauchery? Step into Tuff Club and prepare to rumble as Phase Fatale burns the dance floor with stomping bangers and cerebral techno just the way you like it.
Phase Fatale, a Berlin-based techno project of Hayden Payne. Since 2014, the New York native has earned a reputation as a techno innovator, both for the broad spectrum of dystopian, gritty, industrial-laden electronics included in his DJ sets as well as the deep understanding of synthesis and sound design in his own productions.
Having released his debut album Hospital Productions (Redeemer, 2017) and 12"s on labels such as Jealous God, Ostgut Ton and its sub label Unterton, Phase fatale has since settled into residencies at both Berghain in Berlin as well as KHIDI in Georgia's capital Tbilisi. In 2018 Payne launched his own label BITE, where he released his collaboration with Pablo Bozzi as Soft Crash. January 2020 saw the release of his second solo album Scanning Backwards on Ostgut Ton.
Phase Fatale's sharpened rhythmic contours in the context of his DJ sets draw on a vast repertoire of new and classic references: dark ambient drones contrast with the raw, punchy dynamics of industrial and post-punk, cold wave aesthetics combine with 4/4 functionality - all stitched together meticulously with strong atmospheric sensibilities, careful and precise mixing.
🎵
Phase Fatale
https://soundcloud.com/phasefatale
Opening for Phase Fatale - Kavan Spruyt
Having acquired a keen ear for quality sounds through his exposure to a wide spectrum of cutting-edge dance music, he has developed a distinctive style of fusing a myriad of genres ranging from house, minimal to Detroit techno.
🎵
Kavan Spruyt
https://soundcloud.com/kavanspruyt
▶ No ID, no entry.
▶ Minimum age requirement : 23+
▶ No flash photography.
▶ No illicit substances.
▶ No outside food & drinks.
▶ Strictly no smoking indoors.
▶ Please respect the vibe.
Please note that there will be no entry to the event without a valid ticket. The management reserves the right to refuse entry at its own discretion. Club rules apply. Any guest found in violation of the rules will be asked to leave the event.